Sale 6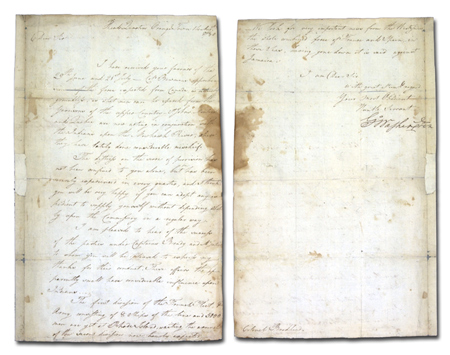 Lot 887

Important Revolutionary War Letter. The timing of this letter is worth noting in that it occured on the heels of a defeat of the American forces by General Cornwallis and only a few weeks before British Major John Andre was captured carrying Benedict Arnold's plans for the surrender of West Point.

Letter shows moderate browning with a few dark stains, as well as weakened folds (some silked and/ or archivally strengthened). It has been very boldly signed by General Washington on the verso. (1732-1799) 1st President of the United States, 1789-1797.

Letter Signed. Two pages, recto/verso, Folio, "Head Quarters Orange Town August 12, 1780." By the time this letter was written in 1780, the Continental Army was in dire straits. However, it was beginning to meld into a well- trained fighting force thanks to the influence of European officers. As result of its French allies, it endured and marched to ultimate victory at Yorktown, Virginia one year after Washington wrote this letter to General Daniel Brodhead, who was then Commander of the Western Department of the Army.

In full (errors intact): "Dear Sir: I have recieved your favours of the 29th June and 21st July - Col. Bowmans apprehension of the force expected from Canada is cetainly groundless, as what men can be spared from the Garrisons of the upper Country - St. Johns, Montreal and Quebec are now acting in conjunction with the Indians upon the Mowhawk River where they have lately done considerable mischief. The distress on the store of provisions has not been confined to you alone, but has been severly experienced in every quarter and I think you will be very happy if you can adopt any expedient to supply yourself without depending wholly upon the Commissary in a regular way. I am pleased to hear of the success of the parties under Captain Brady and McIntire, to whom you will be pleased to express my thanks for their conduct. These affairs tho apparently small have a considerable influence upon Indians… The first division of the French Fleet, & Army consisting of 8 Ships of the line and 5000 men are yet at Rhode Island, waiting the arrival of the second division now hourly expected. We look for very important news from the West Indies, the whole combined force of France and Spain, in those Seas, having gone down it is said against Jamaica. I am Dear Sir with great esteem & regard, Your most Obedient Humble Servant George Washington".


Estimated Value $25,000-UP.
Ex Superior's Paul Richards Estate Sale, Feb 2, 1994, Lot 345.


---
Lot 296

A Pair of Extremely Rare Theodore Herzl Inscribed Visiting Cards (1860-1904) Hungarian Lawyer and Journalist and Founder of Zionism. Inscribed Visiting Card Signed. 4 x 2¼", on cream card stock. With a four line untranslated inscription penned below Herzl's printed name.
Estimated Value $1,000 - 1,500.


---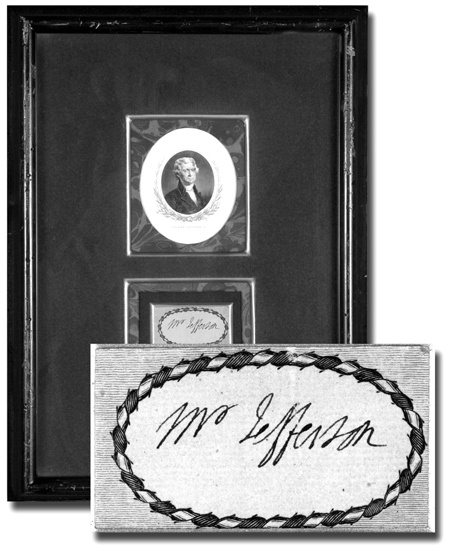 Lot 336

Exceedingly Rare Thomas Jefferson Personal Signature Visiting Card. Only three such cards are known to exist, and this one is considered the finest. When the eminent card collector, Fred Schang acquired his, he wondered if George Washington had not fashioned a similarly designed presentation card. Alas, Schang never found one, but Charles Hamilton, the noted dealer, was able to locate one in time to include it in his well-known book, "American Autographs." Certainly, one of the highlights of the Burg Collection. (1743-1826) 3rd President of the United States. Visiting Card Signed. 2½ x 1¼", on off-white card stock. Jefferson's signature "Mr Jefferson" is centered in an ornate printed oval. The card has been handsomely mounted and framed with a steel engraving to an overall size of 11½ x 16".
Estimated Value $4,000 - 6,000.


---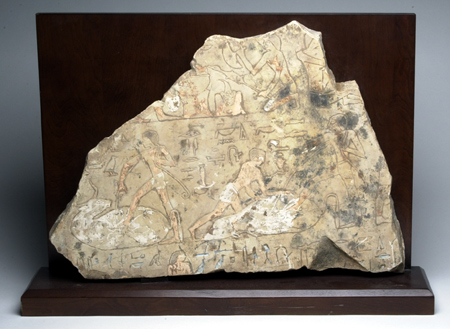 Lot 7

Impressive Egyptian Stone Relief. Limestone fragment of a tomb wall showing scenes of butchering and cooking. Upper register : Man roasting a duck over an open hearth and fanning the flames. Middle register: Bull slaughtering scene; left, standing figure pulls collar tight saying "You should take out its heart." Right, kneeling figure replies: "You have to give me a way (to get at it)." The kneeling figure continues: "I will do according to your pleasure." Far left, standing figure, facing left and holding collar tight (part of a second slaughter scene). Bottom register: Inscription at top reads: "You should give me a hand so that I can throw him down." This is the caption to another slaughter scene in this register, now lost. Left, standing figure; the inscription behind his head reads: "See, it is cooked." Excellent condition with considerable polychrome decoration remaining. Height 15 ½" (37.0 cm); length 22" (53.0 cm).
Estimated Value $12,500-UP.
This fine fragment depicts the proper way of quartering the animal's front section in providing an offering to the gods.


---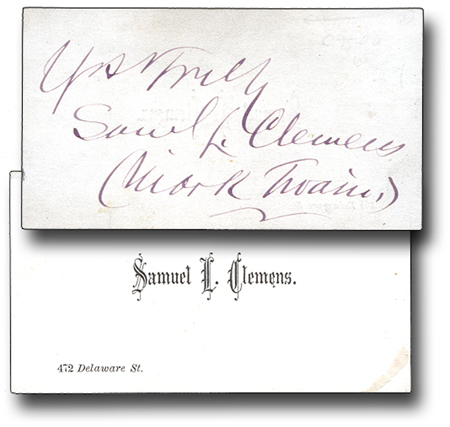 Lot 122

Desirable Samuel Clemens / Mark Twain Signed Visiting Card. This visiting card is extraordinary in being signed twice by the author, once as "Samuel Clemens," and again as "Mark Twain." Inscribed Visiting Card Signed Twice. 3¼ x 1 3/4", on off-white card stock. Inscribed on verso, "Yours Truly Samuel L. Clemens / (Mark Twain)." Twain's address is given as "472 Delaware Street."
Estimated Value $850 - 1,250.


---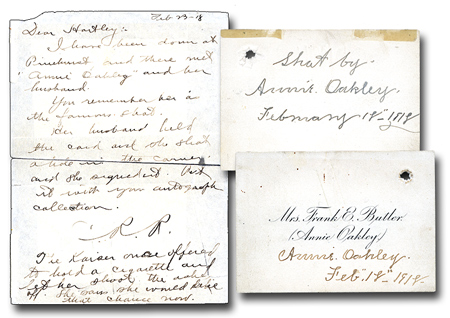 Lot 447

Fabulous Annie Oakley Inscribed and "Shot" Visiting Card (1860-1926) American Sharpshooter, part of "Buffalo Bill's Wild West Show". Inscribed Visiting Card Signed Twice. 3¼ x 2¼", on cream card stock. Signed "Annie Oakley / Feb". 18" 1918" on the front, with the legend "Shot by Annie Oakley February 18- 1918" also written by Annie Oakley on the verso. The card bears a bullet hole in the upper right-hand corner, put there by Oakley as a souvenir of her sharpshooting skills while her husband held up the card.

This wonderful card has an immensely rich history, preserved in part by a letter from the card's original owner describing a visit to the home of the famous sharpshooter and the trick shot which left a bullet hole in the corner. This letter (split at the folds) which is also included, reads as follows:

"Feb. 23 1918 Dear Hartly: I have been down at Pinehurst and there met 'Annie Oakley' and her husband. You remember her as the famous shot. Her husband held the card and she shot a hole in the corner and she signed it. Put it with your autograph collection. C.R.R." In an ironic postscript, the author of the letter adds, "The Kaiser once offered to hold a cigarette and let her shoot the ashes off. She says she would like that chance now." Mounting traces on verso, not affecting signature.
Estimated Value $4,000 - 6,000.
Acquired from The Scriptorium, 3/77.


---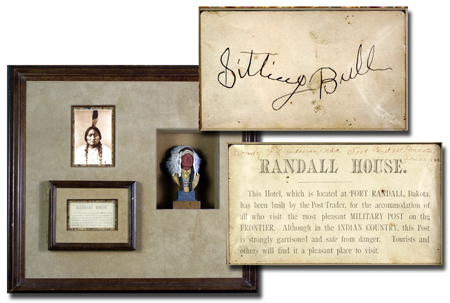 Lot 536

Excessively Rare Sitting Bull Signed Visiting Card. Probably the finest of less than a dozen examples known, most of which are impounded in institutions. (1834-1890) Sioux name, Tatanka Iyotake. Native American Statesman and Warrior. Sitting Bull was a leader in the Sioux war and led the defeat of Custer and his men at Little Big Horn. Toured with Buffalo Bill's Wild West Show. Visiting Card Signed. Approximately 5 x 3", on an imprinted "Randall House" hotel card. Four years after defeating Custer at Little Big Horn and successfully evading the U.S. Army, Sitting Bull finally surrendered to U.S. troops at Fort Buford, in Montana. He was sent to Standing Rock Reservation, but when his reception there raised fears that he might inspire a fresh uprising, he was sent further down the Missouri River to Fort Randall, where he and his followers were held for nearly two years as prisoners of war. Despite its misleading text, which describes "Randall House" as a pleasant frontier Hotel, this was an imposing U.S. Army garrison in which the greatly feared Indian leader was kept prisoner. Sitting Bull used this as his "Calling Card" while he was incarcerated at Fort Randall. Boldly signed, "Sitting Bull" on the verso, the card is matted, framed and set within an impressive curio cabinet display. The display measures 27 x 25", weighs 27lbs and includes a sepia-toned photo and a small hand-colored sculpted bust of the Sioux warrior.
Estimated Value $8,000 - 12,000.
While perusing in a rare book store in San Francisco, I saw a book by Nelson Appleton Miles, General in the Civil War. Upon thumbing through the book I found the card signed by Sitting Bull. It apparently was used as a bookmark! I, of course, purchased the book and it's bookmark!!! It is now among the cards I treasure most. -- Gerry Burg.


---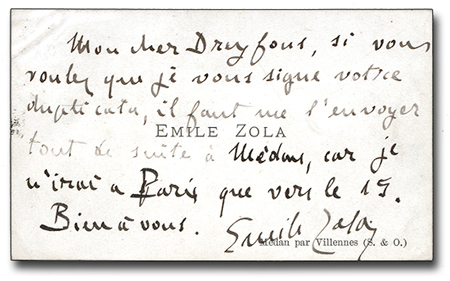 Lot 621

Fantastic Emile Zola Inscribed Visiting Card to Alfred Dreyfus!! Curiously, Zola misspells Dreyfus' name at the beginning of his inscription. This may suggest that the card was written early on in their relationship. (1840-1902) French Novelist, who pushed literature towards naturalism with such masterful studies as Nana (1880) and La Bête Humaine (1890). In 1898 he espoused the cause of Dreyfus in his open letter J'accuse, and was sentenced to imprisonment (1898), but escaped to England, and was given a hero's welcome on his return after Dreyfus had been cleared. Inscribed Visiting Card Signed. 3½ x 2", on cream card stock. Written to Alfred Dreyfus, the Jewish army officer framed for a crime he didn't commit and vanquished to Devil's Island. His ire aroused, Zola wrote his celebrated "J'accuse", which eventually led to Dreyfus' re-trial and exoneration. Inscribed above and below his printed name: "My dear Dreyfous [sic], if you want me to sign your duplicate, it needs to be sent to me right away, because I will be in Paris only around the 15th Emile Zola."

With this extraordinary card, Zola makes arrangements to meet with Dreyfus in order to sign some document or manuscript binding the two together. Mounting traces on verso.
Estimated Value $1,000 - 1,500.
Acquired from Renato Saggiori, 6/60.


---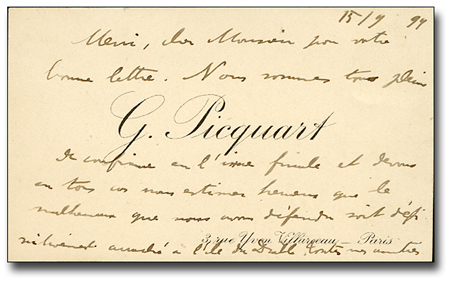 Lot 206

Important Association "Dreyfus Affair" Visiting Card. Picquart, Georges Marie.
(1854-1914). French Army General who defended Alfred Dreyfus, was imprisoned, and then restored to office and exonerated. Inscribed Visiting Card. 3½ x 2", on cream card stock. An impressive inscription pertaining to Alfred Dreyfus: "9/ 15/1899 Thank you, dear Sir, for your good letter. We all are full of confidence about the final result of our affair. And above all we feel happy that the unfortunate man whom we are defending is definitely pulled away from 'the island of the devil' / All my friendship."
Estimated Value $400 - 600.


---
Lot 368

Lincoln, Abraham (1809-1865) 16th President of the United States. Visiting Card. 3½x 2", on manila card stock. A simple, facsimile rendering of the President's signature made up Lincoln's old-fashioned visiting card.
Estimated Value $500 - 750.


---