Sale 55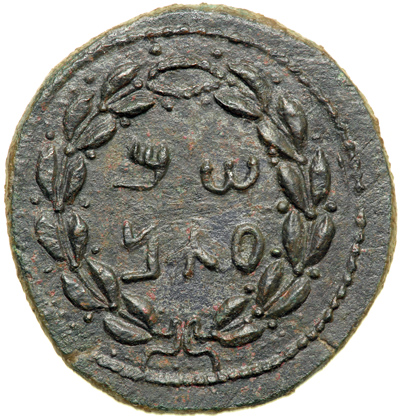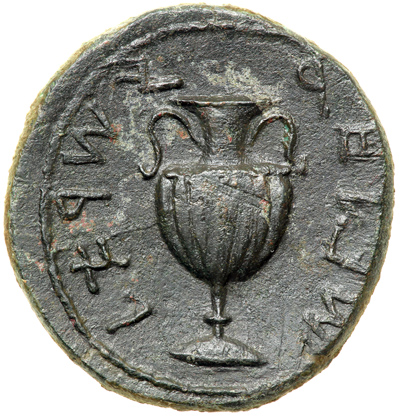 Lot 86

Judaea. The Bar Kokhba War, 132-135 CE. Large Bronze (32. 5 mm.; 21.19 g), dated Year Two, struck 133/134 CE. This coin is essentially as struck, and so we consider the piece a Superb Extremely Fine at the least. Filleted olive wreath, Palaeo-Hebrew inscription in two lines within ("Shim'on"). Reverse: Twin-handled, fluted amphora; Palaeo-Hebrew inscription around ("Year two of the freedom of Israel"). Mildenberg 19 (11 examples cited); Hendin 705; Mesh. AJC II, p. 270, 39. Exceptionally even strike, with the elegant reverse design. Smooth, blackish dark green patina, with occasional lighter dusky coloring. An extraordinary coin in all aspects - strike, flan, metal, style, and preservation. Without a doubt, the finest of its type. Very rare. NGC graded Extremely Fine.

Leo Mildernberg, who wrote the important corpus analyzing the Bar Kokhba coin series, considered the reverse die of the large bronze series, bearing the fluted amphora (seen on the above coin), as the finest and most beautiful design "in the entire Bar Kokhba coinage."
Estimated Value $30,000 - 40,000.
Illustrated in Money of the World, coin 25. Ex Millennia Sale, lot 55.


---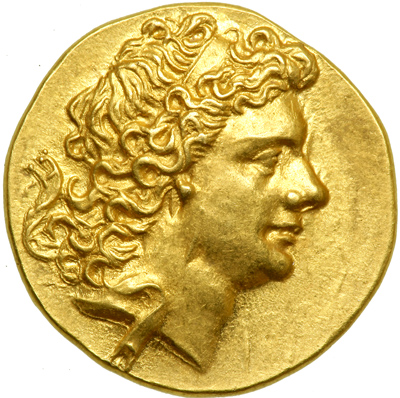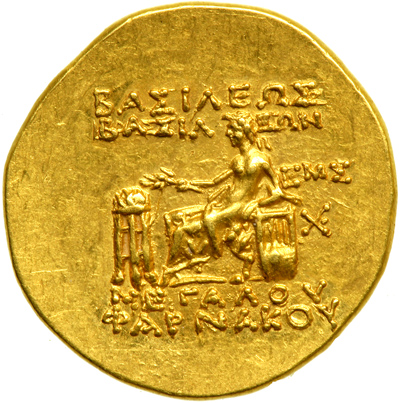 Lot 51

Kingdom of the Cimmerian Bosporos. Pharnakes II, 63-47 BC. Gold Stater (8.24 g), Panticapaeum mint, struck 53/52 BC. Diademed bust of Pharnakes right, with luxuriant hair. Reverse: Apollo, semi-draped, seated left on lion-footed throne, holding laurel branch over tripod, left elbow resting on kithara at his side; name and titles above and below, X monogram to right, EMS above (year 245, Pontic Era). Golenko & Karyszkowski, "The Gold Coinage of King Pharnaces of the Bosporus," in Numismatic Chronicle, 1972, no. 6 (same dies); Fr-156. Finely centered on a spacious, nearly round flan. Lustrous. Exemplary, sensitive portrait -- among the finest in this series. Very Rare. NGC graded About Uncirculated.

Pharnakes is, in general, little known to history, but for being the subject of an acerbic quip, made famous in Caesar's chronicles of the Civil Wars. Typical of the politics of the era, Pharnakes II, who was the son of Rome's implacable enemy, Mithradates VI, "the Great," forced his father to commit suicide in 64 BC to placate the Roman general Pompey, who had surrounded Pharnakes' citadel at Panticapaeum. In compensation Pompey granted Pharnakes the title King of the Bosporus and left him alone to his own devices. Meanwhile Rome went on to annex large swaths of the Middle East and Asia Minor.

With the death of the Armenian king Tigranes II, the Great, in 55/4 BC, Pharnakes felt safely ambitious enough to assume the deceased king's title of "Great King of Kings" - that seen on the above gold coin. Later, sensing opportunity at reclaiming some of the vast empire created by his father, Pharnakes quickly threw in his lot with Pompey when civil war broke out between Caesar and Pompey in 49 BC. His initial military successes in the area evaporated with Caesar marching north into Asia Minor in 48 BC, in order to restore the situation and avenge Roman losses. Pharnakes' army proved no match against Caesar's battle-hardened troops at the battle of Zela, in mid-47 BC, and were quickly routed. Thus Caesars' "Veni, Vedi, Vinci" -- one of the more famous literary quips to survive from antiquity.
Estimated Value $20,000 - 25,000.
At the time of the Numismatic Chronicle survey, Golenko & Karyszkowski had assembled a corpus of 15 known specimens of the Pharnakes gold coins, ranging in date from c. 55-50 BC. Since then a few more examples have surfaced, with a total known population probably not exceeding 25. Of these, 10 are located within museum collections. The famed Hunt specimen, with nearly as fine a portrait, but of a somewhat lower grade (Extremely Fine), realized $29,700 (including the 10% premium) in the Sotheby New York sale of June 19, 1990 (lot 115). Illustrated in Money of the World, coin 22. Ex Millennia Sale, lot 35.


---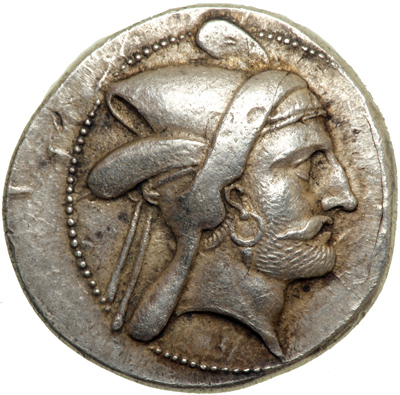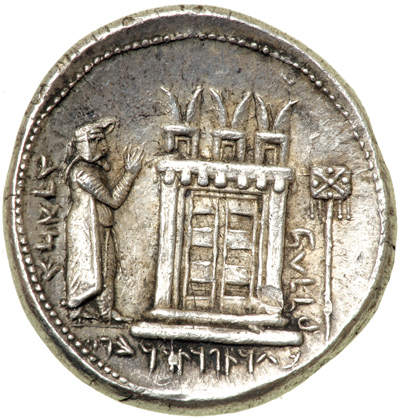 Lot 94

Kingdom of Persis. Bagadates I, c. late 3rd or early 2nd century BC. AR Tetradrachm (15.62 g). Head right, with short beard and mustache, with large earring, and wearing satrapal cap (kyrbasia) with flaps tied up. Reverse: Fire temple of Ahura-Mazda with Bagadates on the left and standard to the right; Aramaic legend around. Alram 515; BMC p. 196, 2; Sear GC 6186. Overstruck on uncertain coin. Superb high-relief portrait; lightly toned. Very rare. Among the finest known examples. NGC graded About Uncirculated.

Persis was located in what is now southwestern Iran. 'Persian' peoples settled the area as early as the 8th century BC, in an area that flourished earlier under the powerful Kings of Elam. As a region it comprised the sandy coasts of the Persian Gulf, with its date palms, plus the fertile upland and mountain valleys, along with parts of the mountainous central plateau. Persis rose to importance as the homeland of the Achaemenid Persians at the beginning of their empire. Darius I was especially proud of owning this territory.

The Achaemenid Empire collapsed under onslaughts by Alexander the Great. After his death, rule of Iran passed into the hands of the Seleucid Kings of Syria. However, Persis remained in the hearts and minds of the Persians as their ethnic and religious homeland -- as the source and wellspring of their "Persian-ness." Arsaces I, around 238 BC, initiated a successful rebellion, broke from Seleucid control, and became the first king of the new Parthian dynasty. Persis and a number of other kingdoms followed suit, yet remained independent. The kingdom of Persis never became a part of the empire of the Arsacids, although her kings recognized Parthia as their suzerain -- when they had to of course.

In its heyday, the authority of the Persis kings extended over the shores of the northern Persian Gulf, and the opposite coasts along Arabia. Persis endured as kingdom for four centuries; the wealth of land and sea trade from the further Orient providing a stable fiscal foundation. Again, as the religious center for the Persian's Zoroastrianism, pilgrims and royal privileges added further to the country's wealth.
Estimated Value $18,000 - 20,000.
Illustrated in Money of the World, coin 27. Ex Millennia Sale, lot 61.


---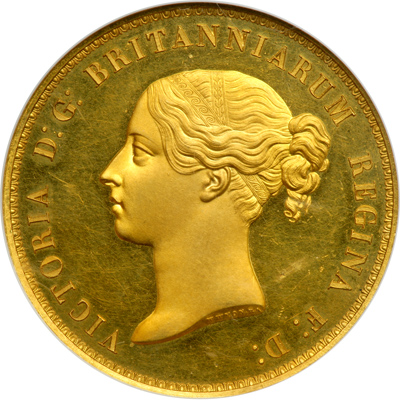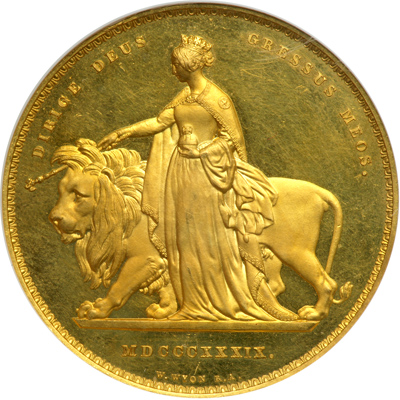 Lot 1020

Great Britain. 5 Pounds, 1839. S.3851; Fr-386; KM-742. Victoria. Young Head. Engraved by William Wyon. This type is among the most famous and desirable of British coins. the obverse design features a young bust of Victoria, aged 20 years. Reverse: Queen dressed a Una leading the British lion. A minimum amount of hairlines and scuff marks. Brilliant fields and with a cameo effect. NGC graded Proof 62 Ultra Cameo.
Estimated Value $25,000 - 30,000.


---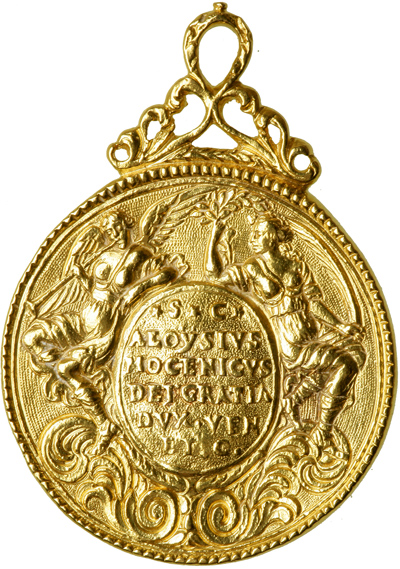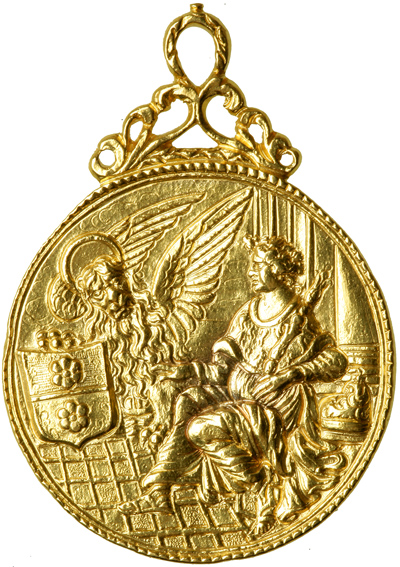 Lot 1093

Italian States - Venice. Gold Medal, Undated. Similar obverse designs as Voltolina #1069 (Vol. II, 255) and Voltolina #933,#102. Weight 82 grams. 54 mm in diameter. Alvise Mocenigo II Doge CXX, 1700-1709. Obverse: Angel blowing horn left and woman figure holding leaf branch right; in center oval shield with legend: * S. C * / ALOYSIVS/ MOCENICVS / DVX. VEN/ ET. C. Reverse: Seated woman figure seated right placing hand on Wing Lion holding shield. Voltolina identifies such pieces as an award medal resulting from a decree of the Senate commending the doge for worthy service. Made with frame to be worn. This spectacular medal is certainly a museum-quality piece, of the highest rarity. Extremely Fine.
Estimated Value $12,000 - 15,000.


---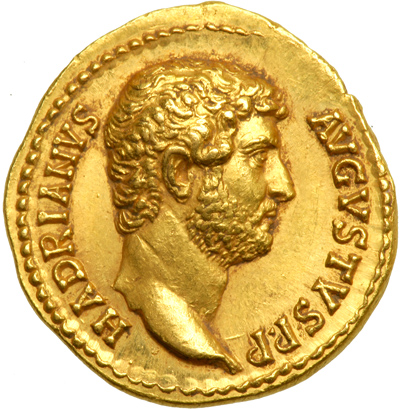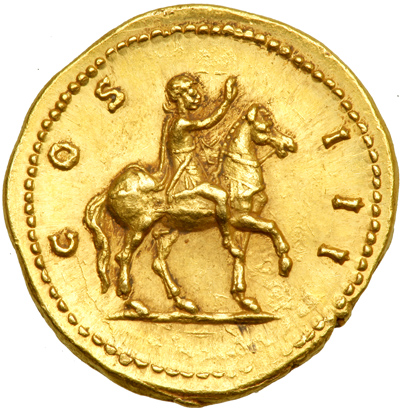 Lot 165

Hadrian, AD 117-138. Gold Aureus (6.92g). Bare head right of Hadrian. Reverse: Hadrian on horseback right, raising right hand. RIC 348a; Calicó 1219. Elegant portrait style, struck in very high relief. Lustrous, superb; Virtually Mint State.

Possessing a most impressive and highly detailed portrait of Hadrian, this remarkable aureus was minted late in AD 128, when the emperor returned to Rome after visiting Africa as part of his provincial travels. During 12 of his reigning years, Hadrian ruled from Rome for no more than two or three years! At the close of AD 128, Hadrian and his entourage were again abroad, this time, visiting Athens.
Estimated Value $15,000 - 20,000.


---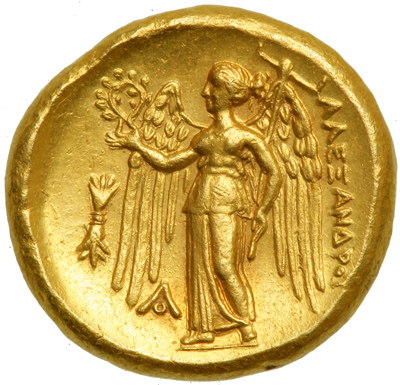 Lot 32

Kings of Macedon. Alexander III, the Great, 336-323 BC. Gold Distater (17.27 g), Aegeae mint, struck c. 336-323 BC. Head of Athena right, wearing triple-crested Corinthian helmet, adorned with coiled serpent. Reverse: Nike standing left, holding wreath in extended hand, stylis in other; vertical thunderbolt at left, monogram below. Price 191. A superb example, with choice centering, beautifully struck in high relief, with a delicate touch of red toning -- mostly on the reverse. NGC graded Choice About Uncirculated.

Continuing to utilize the wealth of Macedon's mines, which Alexander's father, Phillip II, had employed to finance his own and Macedon's imperialism, Alexander set himself up as conqueror and empire builder. In the process, his massive minting of coin would in essence create a new world class currency, in the manner of today's dollar, or like that once held by the silver "owls" from the time of Athens' imperial ascendancy. In adopting the Attic weight standard, Alexander's coinage would easily fit into a scheme that had already been established, and thus cause no new disruptions to trade. In addition, Alexander's insistence on the obvious and easy 10:1 ratio of exchange between silver and gold made for a system that was recognized and utilized even in cities that adhered to their traditional minting standards. The ease of use and rationality of Alexander's coining standards quickly came to serve as the basis for financial systems throughout much of the Greek world, not only in Alexander's time, but for a number of centuries afterwards.
Estimated Value $10,000 - 12,000.
Ex Millennia Sale, lot 18.


---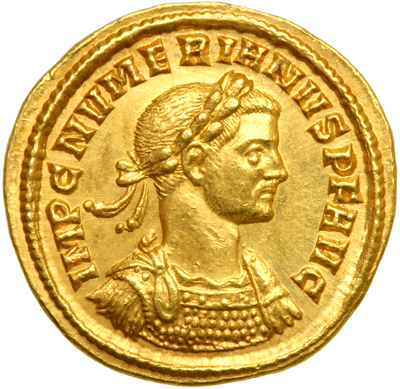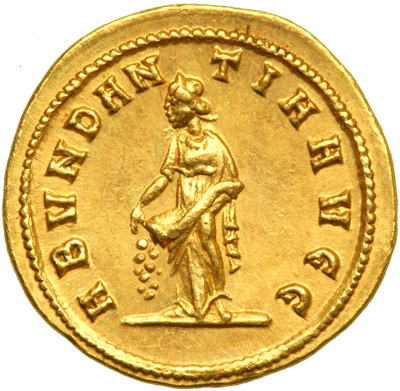 Lot 197

Numerian, AD 283-284. Gold Aureus (4.39g). Laureate bust of Numerian facing right. Reverse: Abundantia standing left, emptying cornucopia. RIC V, part II, 451 [as R2]; C. 2. Well struck and perfectly centered. Lustrous, superb Nearly Mint State.
Estimated Value $15,000 - 20,000.


---
Lot 1022

Great Britain. Pattern Shilling or Half Florin, Struck in Gold, Undated. Similar to ESC-1395 (ESC-1391 on holder). Not in Wilson and Rasmussen. Plain edge. By C H Wiener and W J Taylor. Victoria, 1837-1901. Coronetted head facing left, with legend type VICTORIA REGINA. Reverse: Crowned shield in garter. Presumably Unique. NGC graded Proof 64 Ultra Cameo.
Estimated Value $22,000 - 25,000.
Ex: Murdoch Collection Part III, Lot 536 (Evan Roberts was the buyer in the Murdoch sale and this coin has been sourced from the Grandchildren of Evan Roberts).


---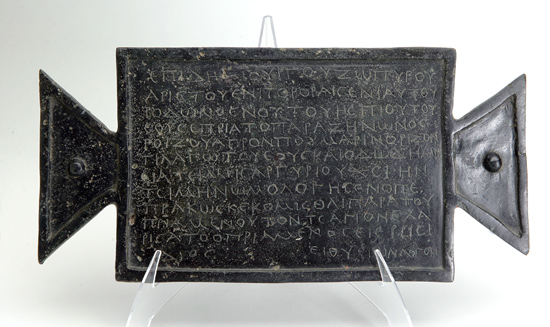 Lot 846

Roman Bronze Inscription Tablet. 1st Century A.D. Bronze document with inset inscription, the edges thickend, a boss on each of the handles. Tablet regards the purchase and subsequent gift of farmland to the priests of Zeus. Greek inscription:

"Under the rule of Sopyros (the son of Aristoss) for the year of Rhodon, bought from Zenon (the son) of Rhoizos a field through ______ and through, the public street for the price of 210 denarii which price the seller has declared to have received from the buyer. The ____ was gifted by the buyer to the Priests of Zeus." Ends in a prayer "When from sacrifice the written Word".

Choice condition. Size: 12½" x 6".
Estimated Value $15,000 - 20,000.
Coll. Siblings. P. and F., Southern Germany.
Slg. Geschwister P. und F., Suddeutschland (ca. 1970-1990).


---