Sale 5
Lot 1290

The Historic Rarity 1798 Small Eagle PCGS Graded EF 40. PCGS graded EF-40. We are proud to present to the numismatic public one of the foremost opportunities to purchase this extremely rare coin. Many of the recent gold sales failed to have an example of this variety including the Charles Kramer sale in 1988. As stated by Breen, "The roster of survivors includes some of the most honored names in American numismatics." This coin was last offered in our Dr. Richard Ariagno Sale in May of 1999, but went unsold. This was the only example of this rarity offered for public auction during the 1990's. Prior to that, the last chance to purchase this variety was the Garrett Collection sale in November of 1979 and another specimen was offered in the Eliasberg gold sale in 1982. Of the seven known specimens, two are located in the Smithsonian Institution and we suspect that another is located in the Harry Bass Foundation holdings, and won't be sold from that reference die variety collection.
We can only speculate why such a coin was struck. The Philadelphia Mint seemed to be operating in chaos during the first few years, if the half eagles are any reflection of their operating methods. Just think of the changes taking place; once Tennessee joined the Union on June 1, 1796, obverse dies needed 16 stars crammed onto them, up from 15 used in 1794-96. The Mint had prepared obverse dies in advance with 15 stars, and left off the final digit pending use. It is reasonable to conclude that at least two 1797 obverse dies were engraved in 1795 or early 1796 (with 15 obverse stars) and had the final 7 engraved when needed in 1797. Later, a 16 star obverse die was used, but the timing is uncertain if it was before or after the 15 star obverse dies were used. For 1797 in half dimes 15, 16 and 13 star obverse dies were used, for dimes both 16 and 13 star obverses. Needless to say, the changeover to new designs and star counts was accomplished as dies cracked or were worn out, not when the new designs were adopted.
In 1798 the star counts continued to show a variety of changes, on silver dollars 1798s are known with 15 obverse stars and a small eagle reverse as well as a 13 star obverse with a small eagle reverse, but most known are the new 13 star obverse with large heraldic eagle reverse. On dimes, some are known with both sixteen or thirteen star reverses for 1798. On half eagles, virtually all 1798s are the heraldic eagle reverse except for the 7 known with the small eagle reverse. Another curiosity from 1798 is the 1795 heraldic eagle reverse half eagle, which must have been struck sometime in 1797 or later, again using leftover dies.
Apparently the Mint was simply taking orders, the supervisor would come in and need a group of half eagles struck, two dies were taken off the shelf, the coins struck, the dies returned and the coins delivered. Die steel was scarce and very expensive, the Philadelphia Mint couldn't afford to throw away out of date dies, or dies with old designs or last years date, it simply didn't matter, the dies were used until they fell apart. Don't forget to throw into the mix the annual closing of the Mint for the yellow fever epidemic, which was quite severe in 1797, enough so that reopening of the Mint didn't occur until late 1797. Breen logically assumes that these 1798 small eagles were produced in late 1797 and delivered January 4, 1798 or early in 1798 and delivered February 28, 1798. Either way, as Breen notes, we are unlikely to have a definitive answer to the question of when exactly they were produced, what is much more important is how many survive. To this we know far more, there have been seven known specimens for decades including the Garrett coin missing from the original Breen roster (1966). No rumor of an eighth specimen has been heard.
Turning to the actual coin itself, we note that there are faint adjustment marks running vertically through Liberty's upper curls over her ear up to the lower edge of her cap. There is a short, microscopic cut (planchet flaw?) hidden in the middle of her central curls above the 7 in the date, horizontally across from the third star. On the reverse, there is another short planchet flaw sticking out of the left thigh of the eagle near the top but below the junction with his body. The top of the second T in STATES has a planchet flake at the top of the post, weakening that area, similarly, the top right of the I of AMERICA is also weak. No signs of repairs, rim marks, problems, bumps or the usual bothersome and misguided attempts at improving a coin are present.
Numismatists through the decades have always loved this variety. At a glance one notices the heavy ridge along the base of the date, apparently a compass guide line deeply carved into the die so the half-blind engraver Robert Scot could line up the digits in the date, and also to help him place the dentils around the edge. One can imagine the scene back in Philadelphia 202 years ago, it was winter, cold and miserable in the Mint, the dimly lit engraving room with a table covered with metal punches. The room heat was most likely from the glowing forge fires used to heat the die steel for engraving. Scot must have been the only available person that day to engrave dies, Breen attributes many of the botched engravings to him and his lack of artistic talent. Curiously, the digits are of varying sizes, the 9 and 8 are clearly not of the same set of punches, with the 9 substantially smaller. Scot's artistic talents were challenged by the size of the head punch of Liberty, therefore he squeezed 8 stars on the left and LIBERTY and 5 more stars on the right, giving the coin an unbalanced appearance. The reverse is more balanced artistically, with the graceful eagle holding the laurel wreath above his head, perched on the palm branch.
The 8 known specimens are as follows as noted in the Eliasberg gold sale, Bowers & Ruddy, 1982:
1). The Ten Eyck specimen, sold by B.Max Mehl for $5,250, an incredible sum, in 1922. Classified as Extremely Fine by Walter Breen; Fine by B. Max Mehl; and About Uncirculated by Stack's in 1955. Owned at one time by Col. E.H.R. Green, the eccentric millionaire (son of Hetty Green, "the Witch of Wall Street"); then by King Farouk of Egypt; then to Farish Baldenhofer. We believe this is the present specimen offered.
2). The Raymond L. Caldwell specimen. Correspondence between Raymond L. Caldwell and John Work Garrett relative to rare half eagles can be read in Appendix II of The History of United States Coinage As Illustrated by the Garrett Collection. Illustrated in Caldwell's article in The Numismatist in 1935, page 212. Later in the Flanagan Collection; then in the James A. Stack Estate. This piece is graded Very Fine.
3). The John A. Butler specimen. Owned by John Butler, a Burlington, New Jersey druggist, around the turn of the century. The coin later passed to his son. One of two specimens known to Adams in 1909 when he published a study of this series. Later in the Earle Collection; then to Col. James W. Ellsworth; then to William Cutler Atwater. Grading Very Fine, it has scratches between R and I of AMERICA on the reverse.
4). The Davis-Graves coin. Close to Very Fine with several bad reverse digs and scratches according to Breen, who considered the piece to possibly be the same as the one in the Rev. Foster Ely Collection sale as Lot 17, November 17, 1886. Later in the Davis-Graves sale by Stack's; then to C.T. Weihman.
5). The George Woodside specimen. Appearing in the sale of the collection of Lorin G. Parmelee as Lot 758. Very Fine with scratched reverse. Presently in the Smithsonian Institution.
6). The Mehl coin. Sold by B. Max Mehl, the Fort Worth, Texas coin dealer, in 1924, to John H. Clapp. From that point it went to Louis Eliasberg and was sold as Lot 330 in the famous Bowers & Ruddy United States Gold Coin Collection in 1982.
7). The Mickley coin. Formerly owned by Joseph J. Mickley, America's pioneer numismatist. Later in the collection of William Sumner Appleton; then to T. Harrison Garrett. Then it passed to Robert Garrett, then to John Work Garrett, then to Johns Hopkins University. Sold as Lot 437 in the Garrett Sale by Bowers and Ruddy and graded EF 40 with numerous planchet marks.
8.) This coin. Recently discovered by John Dannreuther. About 4 years ago Tony Terranova sold this coin to Dr. Gene Sherman. About one year later, Dr. Sherman through Terranova sold this coin to Dr. Jon Kardatzke through Dave Liljestrand.


---
Lot 1756

A Monumental 1870-CC $20 Gold PCGS Graded EF 45. PCGS graded EF-45. We are proud to offer this magnificent rarity, the 1870-CC. What is remarkable about this coin is that it is so well preserved, with little wear to speak of. Many dealers who examined this piece believe it may actually grade a bit higher than the conservative grade given by PCGS. With rarities such as this, the grade on the holder doesn't matter nearly as much as the coin itself. There are some moderate handling marks, as always seen on this date and mint. The worst is a field cut below stars five and six on the obverse, near Liberty's forehead and on the reverse there is a small series of marks between the N and G of IN GOD. Furthermore, the reverse die is rotated clockwise about twenty degrees. Rather well struck for an 1870-CC, with the stars showing most of their radial lines, and full curls on Liberty. The reverse too, is well struck and without problems from circulation.
Nearly identical to the Bass Sale coin offered in October of last year, both currently grade EF 45 by PCGS, although this is the other die pairing with the CC mintmark slightly left when compared with the other reverse die. The PCGS Population Report now states that there are 7 coins in this grade, with 3 graded higher (all AU-50). As noted in the Bass Sale: "As is the case with virtually all American rarities, certification data are largely useless, as valuable coins such as this 1870-CC $20 are apt to play tag or musical chairs and be submitted and resubmitted to various services, thus ballooning the number beyond any reasonable estimate of the actual quantity of different pieces extant."
While most seen are heavily abraded, this coin has only moderate bagmarks, which is quite unusual for the date and mint. A foremost rarity, far and away the rarest "CC" $20 and the first year of issue from this Mint. A low mintage of 3,789 were coined, and with a survival rate probably less than one percent, means perhaps 35 coins are extant today. Only 5 auction appearances during the last decade, some of those may be the same coin too, attesting to the extreme rarity of this issue. To find one of the very finest known is a real treat, and an opportunity not likely to be repeated anytime soon. We would not be surprised to see this coin bring a new record for the date, possibly breaking the six figure mark. As a point of reference, the Bass Sale II coin realized $97,750 last October.


---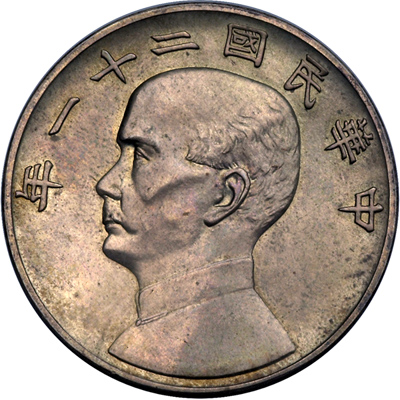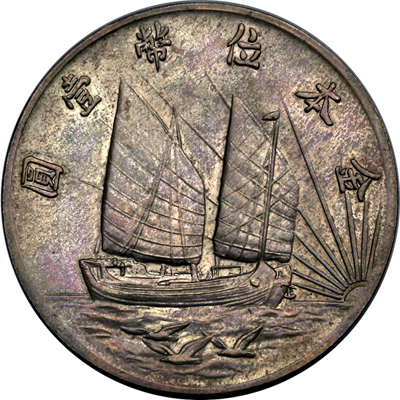 Lot 4358

Extremely Rare Essay Dollar. K-628 variety; KM-Pn134. Struck in silver. 26.7 grams. Plain edge. Dr. Sun's head left. Reverse: Two sail junk at sea, three birds flying above water. Toned. Extremely Rare. Choice Extremely Fine.
Estimated Value $5,000-UP.
Purchased from Ira S. Reed, PA, 5/3/45 for $7.50.


---
Lot 1267

The Extremely Rare 1875 $3 Gold PCGS Graded Proof 60. PCGS graded Proof 60. A classic rarity in any grade, the 1875 is only available in Proof condition. None were struck for circulation. The Philadelphia Mint only struck 20 of these, with perhaps a few more struck later as restrikes (See Breen). This coin appears to be one of the originals, as it has the die characteristics of the first group struck. Apparently most of the original 20 were lost, as PCGS has only graded 5 coins, one that slipped into circulation as an EF 45, this coin and three graded higher. A glass will note some very minor dull marks on Liberty's face, and the fields show the familiar hairlines expected on a Proof 60 coin. The color is a pleasant orangy-gold tone, with reflective mirroring and nicely contrasted devices. There are a few similar dull scrapes on the left side of the reverse wreath, but they are hidden by the busy devices and a glass is needed to detect them. This is a fabulous rarity and one that is seldom offered in any grade, so don't expect to find a better one anytime soon. You may be waiting years and years. With the price of gold being so low for so many years, what could be a better time to put this date away?


---
Lot 34

A Lovely 1792 Half Disme NGC Graded AU 50. NGC graded AU-50. Always popular with collectors, this storied issue was struck on July 13, 1792 at the direction of Adam Eckfeldt and other workmen hired for the Mint. Almost certainly the letter punches were by Jacob Bay, of Germantown, Pennsylvania who worked for the Mint until his death in one of the yellow fever epidemics a few years later. The striking was done in John Harper's cellar, Sixth and Cherry Streets, a few blocks from the yet to be acquired site of the Philadelphia Mint. The source of the silver has long been attributed to George Washington, and this has been confirmed by researcher Walter Breen some years ago. Surviving presidential tableware at George Washington's estate in Mt. Vernon is Sheffield plate. It is estimated that approximately $75 worth of silver was used to strike these coins, making a total about 1,500 pieces. The issue was distributed by then Secretary of State Thomas Jefferson and given out to foreign dignitaries and statesmen as examples of the first circulating coins from the United States.
Washington referred to the issue in his Annual Address of November 1792 as "a small beginning" in coinage. This was very important as coinage of silver, for centuries a royal prerogative, was understood everywhere to be an expression of national sovereignty. These half dismes obviously circulated, as many are known in lower grades. Of the 1,500 or so struck, about 200 to 250 remain today for collectors.
This particular coin is a choice light gray in color, with full device detail on the obverse. Liberty's short curls show very little wear except for the highest curls above her ear. The reverse has the usual weakness on certain letters, probably seen on most survivors, with the central parts a touch weak on the A's and M's. Minor adjustment marks are visible on the rims and at the center of both the obverse and reverse. One minor scrape is noted below the RY of INDUSTRY in the field. There is a curious thread-like line on the reverse on the right side, most likely there was a thread on the planchet when this coin was struck, and it can be seen with the aid of a glass. The usual trivial hairline scratches can be seen in the fields, but these are normal on a coin of this era and grade. An exciting example of this enormously popular coin, and the first we've offered since January 1999.


---
Lot 1303

1810 Small Date, Small 5 NGC Graded AU 50. NGC graded AU-50. This coin was recently discovered in the Midwest and sold in the Harold Rothenberger Collection by Superior Galleries in January of 1994. Long known as a rarity in any grade, this variety has been missing from most of the major collections offered the past several decades. The current NGC census notes 4 graded, one as MS-62, another AU-55, and two as AU-50. The PCGS Population Report notes 3 coins, two in EF-45, and one as AU-55. With crossovers and regrades, it is probable that some coins are counted twice between the services. Breen only noted two in his Encyclopedia and stated "fewer than 8 seen, none uncirculated". Today, it appears there are about 8 known of this important and sought-after Guide Book variety.

This particular coin is a middle die state, the obverse die broke very quickly, and the few known are usually found with a die crack horizontally through the date, and another heavier crack between the 18 of the date up through Liberty to the rim above the eighth star. The reverse lasted a bit longer, although it is also cracked through the denomination. Shortly after this coin was struck, the obverse cracked even further as evidenced by the recently offered Harry Bass example of this rarity, with additional cracks from the third star to the lower part of Liberty's nose, and a heavy die break from the twelfth star to Liberty's third curl from the bottom. The obverse die was then replaced with a Large Date obverse, and a few more Small 5 reverse coins were struck before the reverse die also cracked, failed and was replaced. Turning back to the particulars of this piece, the surfaces show numerous tiny abrasions from other coins, as the abrasions are located either on the devices or in the fields slightly away from the design elements, implying that other round objects were jostled in a small pouch, perhaps as some 1810 business person rode from one city to another on horseback. These are simply circulation marks, but there are more than one would expect for the grade. As to the color, it is splendid, in the fields near the stars and lettering there is a delicate orange gold tone which gives the coin an antique appearance. Original mint surface remains in the tiny field areas near the devices and lettering. Boldly struck on Liberty and the eagle, and conservatively graded for the amount of wear on the devices.

Here is a list of the known specimens we could locate:
1). NGC graded Mint State 62, not seen or auctioned that we could locate, but reported in the NGC Population Report. Possibly from Haseltine's sale of the W. J. Jenks Collection, June 6, 1883, lot 345 described as "Proof" earlier from Harold P. Newlin who purchased it from Phineas Adams, same as 3 below?
2). PCGS graded AU 55, early die state, identified by a rim bump on the obverse by the first star, and a tiny nick in the field below the last feather on the left wing of the eagle near its body, this coin appeared in Auction '88, lot 900; later in Heritage's Sale, 6-97, lot 6399, possibly the same as number 3) or 5) below. According to Stack's in the Kramer Sale, 11-88, lot 310, this specimen is from W. Elliot Woodward's sale of the J. Colvin Randall Collection, June 30, 1885, lot 914, described then as Extremely Fine, later in the George Earle Collection Sale, Henry Chapman, June 25, 1912, lot 2374; Stack's believes that William Woodin acquired the Earle specimen as Woodin displayed one during the 1914 ANS exhibition; Woodin's half eagles were purchased en bloc by Waldo Newcomer of Baltimore; Newcomer's Collection, in turn, was sold to B. Max Mehl, who sold virtually all of the gold to Col. Green in July 1932, Stack's notes they have a photo file of the Col. Green collection and this specimen appears to match the Earle photo. Col Green's half eagles were sold en bloc to Farouk in 1943, when that collection was sold in 1954, the Small date, small 5 piece appeared in a group of 1810 to 1812 half eagles, lot 232. Our thanks to Stack's for the above information on this coin as printed in the Kramer Sale Catalogue.
3). NGC AU 55, no auction appearance found. (Same as #1 or 2 above?)
4). This Specimen. NGC graded AU 50, middle die state, from Superior Galleries Rothenberger Sale, January 1994, lot 2408 which is believed to be this coins only prior auction appearance, according to Superior Galleries, the coin was a recent discovery from the Midwest in 1993.
5). NGC AU 50, not seen, probably this same coin which has been regraded after Dr. Kardatzke broke it out of the NGC holder to mount it in a Capital Plastics holder.
6). PCGS EF 45, the Harry Bass coin sold 10-99 by Bowers and Merena, very late die state, no previous auction appearance found but possibly the same as number 8 below.
7). Choice EF, Stack's James A. Stack Sale, 3-95, lot 465, fairly early die state, with the bisecting obverse crack light. Identifiable by a small dark spot right of the top peak of cap and a field tick right of the upper pair of leaves near the eagle.
8). EF, Stack's Grant Pierce Sale, 5-65, lot 1303, then Stack's Miles Sale, 10-68, #347, very late die state with the break from the third star to Liberty's nose. Possibly the Harry Bass coin #6 above.
9). EF 40, From Auction '80, lot 923, identifiable by a small tick mark near the rim above the B in LIBERTY.
10). EF 45 cleaned, Heritage 7-97, lot 5200, identifiable by a nick on the bridge of nose near eye and a mark on the central post of the D in the denomination.
11). Damaged EF, initials MIC in left obverse field removed in 1960. Possibly the first appearance of this coin at auction was B. Max Mehl's 4-49, #248, Dr. Charles Green as F/VF, no photo; Stack's Philip Straus Sale, 5-59, #2406 with initials MIC in left obverse field; --repaired-- New Netherlands 55th "Cicero" 12-60, lot 110; Gozan Collection to Kreisberg/Shulman 4-67, #761; Paramount's section of Auction '81, #1426, R.E. Naftzger Collection, Paramount's Fixed Price List at $22,500 in 1982; Paramount's session of Auction '82, #1927; Charles Kramer Sale, Stack's/Superior, 10-88, lot 310 as AU 55 with repair in field; Heritage's 6-97 Sale as AU 50 "whizzed" no mention of prior pedigree or damage, lot 5326, identifiable by a small planchet flake at the top of AT of STATES, and a small tick mark on the dentils above the L of LIBERTY. Remarkably, this same coin was recently offered by Superior Stamp & Coin as the "Large Date, Small 5" variety (!) and graded as AU 55 and described as "…while attractive appearing has been cleaned and buffed-up to give it a false sense of luster." We can only wonder if the next auction appearance this piece will have gone full circle and be offered as mint state!

With probable duplications above, it appears that perhaps 8 coins exist of this variety. Plate matching is challenging, especially with older catalogs and today's challenges of photographing coins through the various grading service holders. Nevertheless, the actual number of coins known is less than the number often reported, as coins are frequently consigned without any reference to what sale they came from, and the necessities of printing deadlines seldom allows time for research of even extremely rare varieties. A foremost opportunity and one of the rarest coins listed in the Redbook.


---
Lot 1232

A Choice AU-50 1854-D. PCGS graded AU-50. We are proud to present the key date to the regular issue $3 gold pieces, the 1854-D. Mintage figures closed the year at a meager 1,120 coins for Dahlonega, this being the first year of issue perhaps a few were saved. History would later know that this would be the only year $3 gold pieces would be produced in Dahlonega. This particular coin boasts lovely satiny gold color, clean fields and devices that show few bagmarks or other surface abrasions. Light wear on the upper curls of Liberty only, specifically the curls over her eye, ear and lower neck curls. Similarly, the reverse wear is noted only on the uppermost leaves in the wreath. In order to help identify this rarity, we note a tiny scratch on the reverse under the letters LLA of DOLLAR, midway between that word and the date. Struck from lightly clashed dies, both obverse and reverse.
The PCGS Population Report currently shows 6 graded this high, with 21 others in slightly better grades of About Uncirculated, and a single mint state 62 coin. As this is the most expensive regular issue date, we suspect that many coins have been submitted more than once and are reflected multiple times in the population census. Breen estimated that only 5 or 6 were known in about uncirculated of this date. The real figure is probably between 10 and 20 in this grade range. As the possibility of a higher certified grade always exists (and higher market value, of course), and with several competent grading services now available, the various population reports are becoming more skewed with higher and higher numbers of some truly rare coins that have been submitted several times for certified grading. As always in numismatics, a knowledgeable collector will take the time to learn how to properly grade, and thus properly value any coin for their collection. We can't emphasize this enough, the more a person learns about coins and their preservation, as well as cleaning techniques (both good and bad), common repairs (seen all too often on coins) the better a collector will be able to properly value coins.
The following history notes from Breen:
"As a denomination, the $3 gold coin was first hatched back in 1832, but was soon dropped in favor of just a $2.50 and $5 gold coin for the Mint Act of June 28, 1834. Later, when the Act of March 3, 1845 authorized issue of postage stamps at the rate of 5¢ for a prepaid letter this amount was reduced to 3¢ for a prepaid letter in 1851. Congressmen appeared to believe (following the faulty reasoning of Mint Director Robert M. Patterson) that the main purpose of the new 3¢ would be to buy postage stamps without using the unpopular, heavy, and often filthy copper cents. Accordingly, the Mint Act of Feb. 21, 1853, best known for authorizing lightweight silver coinage with arrows at date, also included a fine-print clause authorizing issue of a $3 gold coin, to weigh 77.4 grs. at 900 fine, for uniformity with other current gold pieces. Congressmen believed that this coin would be convenient for exchange for rolls or small bags of silver 3¢ pieces, and for buying sheets of 3¢ stamps--always bypassing use of copper cents."
We pick up again later in the introduction to the series from Breen's Encyclopedia: "The usual story has it that $3 gold coins were made only so long as the letter rate remained 3¢, being discontinued when it was changed again, and perhaps in part because of the letter rate change. Whether or not this was the intention of Congress, nevertheless $3's saw little postal use in the West and South, as they were minted in Dahlonega and New Orleans only in 1854, and in San Francisco for circulation only 1855-57 and 1860. Threes thus represent relics of an interesting but abortive experiment; today they are among the most highly coveted of American gold coins. No specific reason was advanced for their discontinuance, though low mintages 1879-89 (testifying to little public demand) may have had something to do with it."


---
Lot 1240

Important "Proof of Record" 1857 $3 Gold. PCGS graded Proof 64. This important Proof rarity (PCGS indicates a mintage of only 5 coins!) is, in effect, what in Europe they call a "Proof of Record." That means none was made for collectors, but rather that Proofs were coined in tiny numbers for the government's record of what was made. Mostly, in Europe, such Proofs were placed in museum collections. It's a good, useful term because it notifies collectors that great rarity and special purpose stand behind such coins. And, therefore, a real opportunity to acquire. That's exactly what we have here: a coin with a mintage so minute that almost nobody can own one. This important specimen, which may forever be identified by a tiny incuse S-shaped lintmark at the 5:30 o'clock position just below the portrait, exhibits a mild cameo contrast on both sides and a glowing deep-gold toning. It's a choice piece of American numismatic culture.

While this neat coin can stand alone for its importance, it may be useful to place it into its historical context. This will only make its value all the more appreciated. In June of this year, the United States signed an early treaty with Japan, then in the early stages of industrialization but socially still a largely feudal society, and very much isolated from the West. The treaty allowed American ships to enter and trade in the port of Nagasaki. Back home, James Buchanan had recently taken office as our 15th President, and his inaugural speech pledged a policy of noninterference with Southern States' slavery. And in March 1857 a momentous Supreme Court decision was handed down, the infamous Dred Scott judgment, in which the Missouri Compromise of 1820 was deemed unconstitutional. It involved a black slave named Scott whose owner moved him from Missouri (a slave state) to Illinois (a free state) and then back to Missouri. Scott sued his owner for freedom, but the Supreme Court ruled that the slave never stopped being a slave, even though he stood on free soil for a while, and as such he did not possess the right of a common citizen to sue in a federal court. By effectively siding with a slave owner, the Court outraged Northerners. The case still stands as a major metaphorical brand added to the bonfire that erupted into civil war only a few years later. It was out of such madness that this wonderful momento of American innocence and purity was born--an image of Liberty portrayed, curiously enough, by an Indian.


---
Lot 1427

1795 $10 Capped Bust. 13 leaves below eagle. EF-45. Obverse rim dents, light adjustments on both sides but none offensive, lovely old golden reddish color. The fields are slightly prooflike and very clean. Scarce and always desirable.


---
Lot 2007

Resplendent 1931 $20 Gold PCGS Graded MS 64. PCGS graded MS-64. A beautiful coin for the grade, this near gem boasts frosty luster and boldly struck devices. The surfaces show only microscopic bagmarks, and none of the usual problems that so often plague these large gold coins. Virtually the entire mintage was melted, and only a few remain. America's depression of the century was just really starting to dig in, jobs were scarce and savings were already gone. People simply couldn't afford luxuries, and setting aside a double eagle was not a choice many people could make. Hence, few went into circulation, and virtually all were later melted when gold was demonetized in 1933. This particular piece has two old copper spots which will serve to identify it for the future, one is located between two rays above the lowest left drapery fold of Liberty's dress, the other is below the eagle's breast on the reverse.
Breen stated that 18-20 survive, we feel its more like 50 to 75 today with the numbers reported by NGC and PCGS. Whatever the true number is, this is a very rare coin and one that is seldom offered in choice or gem grades. Another opportunity for the astute collector to purchase very near gem quality for a bargain price.


---