Sale 48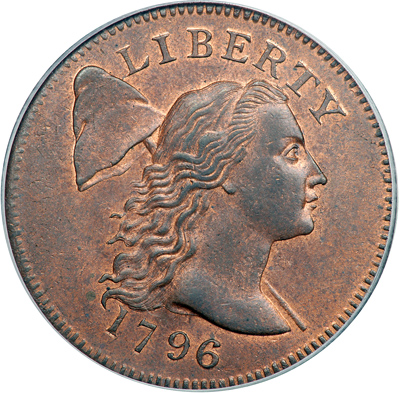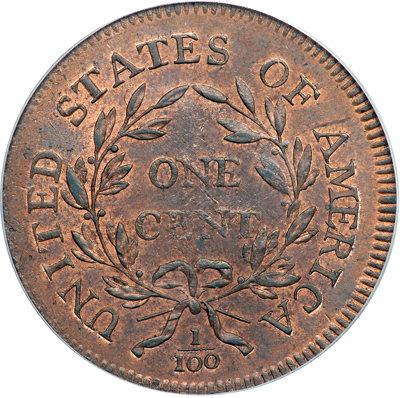 Lot 171

1796 S-84 R3 Liberty Cap. PCGS graded MS-66 Red & Brown. Choice lustrous steel brown with 20-25% of the original mint red remaining on both sides. No spots, stains, or contact marks. A piece displaying a truly remarkable state of preservation, especially for a 1796 Liberty Cap cent. The only defects, if you wish to call them that, are some microscopic planchet chips in the left obverse field near the dentils with a few more inside the wreath. These minor planchet marks were present on the planchet prior to striking and failed to completely press out when the cent was struck by the dies. The best identifying mark is a microscopic vertical planchet fissure passing through the base of the O in ONE, and it takes a strong glass to locate it. Early die state, Breen state I, before any die cracks. Nicely struck with just a bit of weakness on the E in CENT. The obverse is centered on the planchet while the reverse is very slightly off center to K-9 leaving very long dentils along the right edge of that side. Called MS65 Choice and tied for CC#1 honors with one other piece in the Noyes census, his photo #20738. The piece Noyes has tied with this cent is similar but retains far less mint color. Bland says MS63 and CC#1, but his grade is conservative based on seeing a photo rather than the actual coin. Ted Naftzger's envelope for this cent indicates he called it "MS-70 Mint Red" (envelope included with the lot). Our grade is Mint State-65. Comes with a wonderful provenance of numismatic luminaries. PCGS population 1 with none finer.
Estimated Value $80,000 - 100,000.
Ex Major William Boerum Wetmore-S. H. & H. Chapman 6/1906:549-Dr. Lewis H. Adler, Jr., 3/1917-B. Max Mehl-Dr. Henry W. Beckwith, S. H. Chapman 4/1923:8-Henry Chapman-Dr. George P. French-B. Max Mehl FPL 1929:107-T. James Clarke 10/1954-R. E. Naftzger, Jr.


---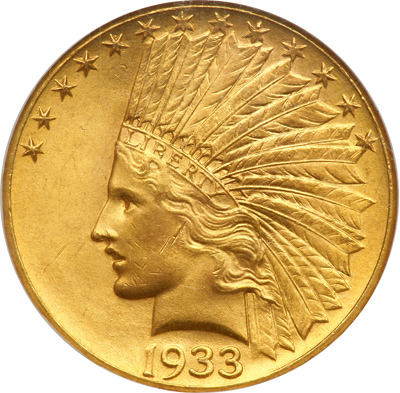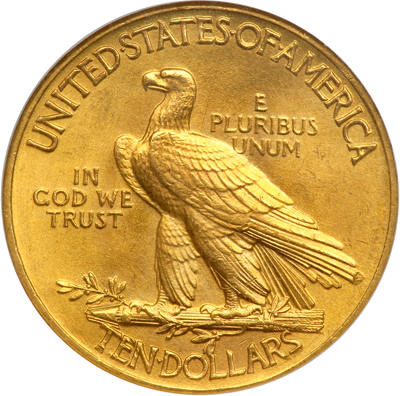 Lot 1285

1933 $10 Indian. NGC graded MS-65. In NGC holder 1825778-002. Well struck and fully lustrous, light golden-orange mint luster. Some stray marks on the cheek and chin are the only imperfections worthy of note. The fields are remarkably clean on both sides. The only collectible coin of this date and the key coin in the series.

Unlike the pre-1920 Indian tens which have a satiny finish, the 1933-dated coins (of which almost all known examples are Mint State) display decidedly frosted mint luster. This piece has, in addition to a golden-orange hue, shades of natural reddish-gold color from the 10% copper alloy used to improve wearability of America's .900 Fine gold coins. The surfaces are very clean even for a Gem, with only a slight contact from stacking at Liberty's face below the area of the ear. The design details are strong throughout, as expected, the 1933 issue being one of the best made $10 gold pieces in the series. A memorable and most spectacular coin for the rarities connoisseur. Pop 4; 1 in 66. (PCGS # 8885) .

In 1933, Franklin Roosevelt assumed leadership of a nation in despair. Banks were closing across the country. Among the country's myriad problems, commodity price deflation had driven many Americans to the point of bankruptcy. One strategy Roosevelt adopted in an attempt to address the commodity price problem was a year-long manipulation of gold. He would attempt to induce inflation, thus raising prices, particularly commodity prices. Roosevelt's strategy moved through three phases.

Immediately upon assuming office, Roosevelt instructed the U.S. Treasury to cease honoring requests from Americans to exchange their paper dollars for gold. This was the first step in removing America from the gold standard. Dollars would, he hoped, remain in circulation and be available for commodity purchases. With prices continuing to drop, however, the President convinced Congress to make unenforceable all contract clauses calling for payment in gold, a common payment requirement in both government and private contracts of the time. This would reduce pressures upon the Treasury to release more gold into the economy. Prices continued to fall. In a final attempt to mitigate the country's economic depression through gold manipulation, Roosevelt and his advisors tried to circumvent market forces by personally manipulating the price that the U.S. Government would pay to buy gold still in circulation. By driving up gold's value, the Administration hoped to pull the metal from the marketplace, to be replaced by paper currency. By January 1934, Roosevelt had revalued the gold price to $35 an ounce from the $20.67 it had been before. (From "Gold Follies of 1933.")

Now, on to the coins: Following its huge mintage of 4,463,000 pieces in 1932, attesting to the panic hoarding then going on, the Philadelphia Mint opened 1933 with a decent supply of 312,500 eagles in January and February. A few of these coins, perhaps 30-40 pieces, were legally released through ordinary channels at this time. The aforesaid presidential order concerning gold withdrawals not only arrested gold coin production, but drove the Philadelphia Mint to melt all residual 1933 eagles. Fewer than 30 came to light in an east coast hoard circa 1952, according to sources. Although a few more individual specimens have since turned up in French and Swiss banks, the 1933 still holds top marks as the rarest Indian eagle in all grades.
Estimated Value $450,000 - 500,000.


---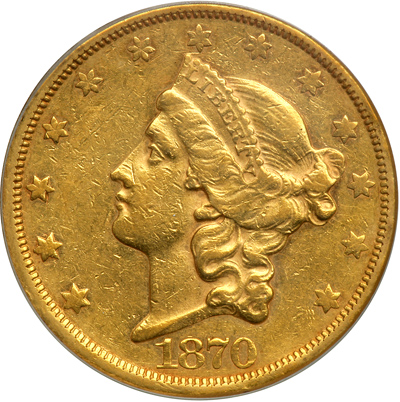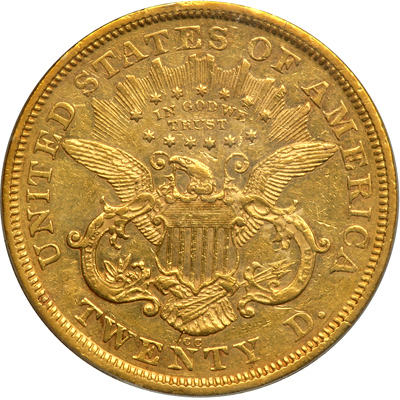 Lot 1292

1870-CC $20 Liberty. PCGS graded EF-45. A lovely bold example, free from the rim bruises and other decernable marks usually associated with this first and rarest of all Carson City gold issues. Some honest wear with only minimal handling marks. The surfaces are mostly untoned with traces of mint luster in the protected areas. Only 3789 coins minted.

We are pleased and proud to offer this magnificent rarity, the 1870-CC. What is unusual about this specimen is how carefully preserved it is, as stated in our opening comments. There is little or no wear to speak of on most of the high points. Many dealers who examined it believe it may actually grade a shade higher than the conservative opinion assigned by PCGS. With rarities of the caliber of 1870-CC, the grade on the holder doesn't matter as much as the coin contained in it. There are some light handling marks, as always seen on this date and mint. Fortunately there is no "worst" mark. About the only ones we feel should be called identifiers (to use the popular weasel word) are: a shallow chattermark below the C of AMERICA on the reverse and another tiny scuff on Liberty's nose. Hardly the sort of things one gets overemotional about. The coin is definitely on the high side of attractiveness. Rather well struck for an 1870-CC too, although the stars are flat, Liberty shows full hair curls. The reverse for its part, is nicely detailed and free from problems from circulation. To repeat: plenty of luster lies protected by the devices.

This is the die pairing with the CC mintmark slightly left when compared with the other reverse die. The PCGS Population Report is given at the end of this description. We noted in an earlier sale: "As is the case with virtually all American rarities, certification data are largely useless, since valuable coins such as this 1870-CC $20 are apt to play tag or musical chairs and be submitted and resubmitted to various services, thus ballooning the number beyond any reasonable estimate of the actual quantity of different pieces extant."

A foremost rarity in its own right, far and away the rarest CC-mint $20 and the first year of issue from this Mint. The survival rate, probably less than one percent, means perhaps 35 to 50 coins are extant today. We would not be surprised to see this coin bring a new record for the date and grade. Pop 10; 4 in AU-50, 1 in AU-53. (PCGS # 8958) .
Estimated Value $250,000 - 275,000.


---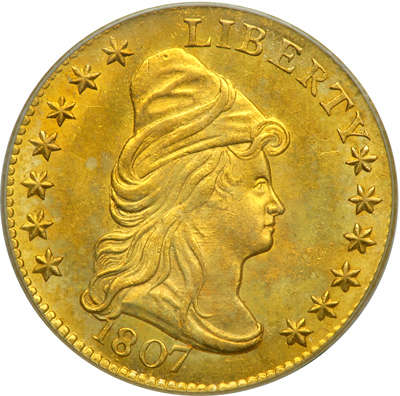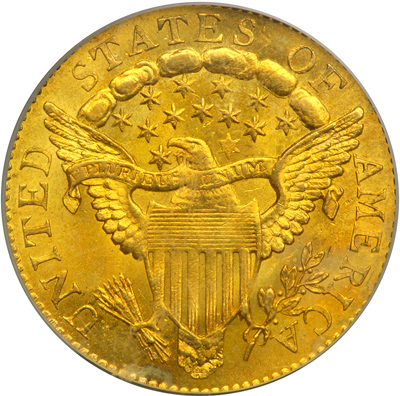 Lot 1225

1807 $2.50 Capped Bust. PCGS graded MS-65. A well struck gem on a problem-free planchet. This fantastic little treasure glitteres with intense undistrubted frosty mint luster. Sunset golden and pale olive hues further adds to its beauty. One of the most incredible offerings of an early Capped Bust quarter eagle ever seen: the Finest Known specimen, highest one graded of the entire date at either service! Precious few were coined nearly 200 years ago, and very few remain in any condition today, let alone Gem Uncirculated. To locate even a choice one is something of an undertaking.

It would be doing yourself a kindness to view this lot in person. This one can be identified by a tiny mark at the middle star just above the eagle's head plus another tiny (diagonal) mark resting on the scroll below the M of UNUM. Nicely struck on the stars and Liberty, with choice if not quite bold curls, similar on the reverse which shows the major elements strong except for some of the central relief, which is weak. No annoying hairlines from handling, no digs or further marks, free from spotting. Great luster and a rarity in any Uncirculated grade. Only 6812 minted. Here is the Finest Known specimen! Pop 1; finest graded at either service (PCGS # 7656) .

Die notes: All Capped Bust quarter eagles use the same head of 1796 with 13 stars arranged 7 + 6. Liberty with flowing hair and a turban-like cap, draped bust, large frontal curl, letters from Letter Set 1. The reverse of 1798 has 13 stars, 5 berries with a short-neck eagle, 6 vertical shield stripes with 3 lines each, 9 complete horizontal stripes with another partially complete, 1 talon on the top of the bundle of 13 arrows arranged irregularly. The reverse of 1807 is from the die used in 1805 where the stars are large (those prior are either small or medium size). Dannreuther notes that "With three early gold denominations, it seems that an intentional change to larger reverse stars was implemented in the early 1800s, starting with the eagles in 1803, the quarter eagles in 1805, and the half eagles in 1807." This date and single BD-1 die variety completes the draped bust, stars Type of quarter eagle. Although demand from the era that they were produced was limited, there were enough coins struck and interesting varieties to make this a very collectible, although difficult series.
Estimated Value $225,000 - 250,000.


---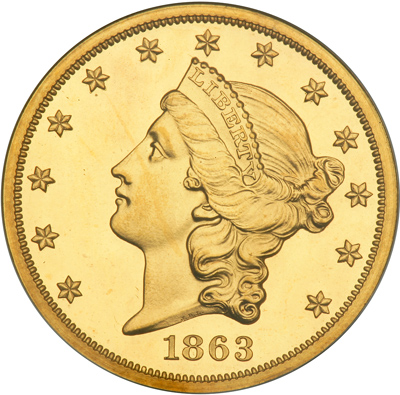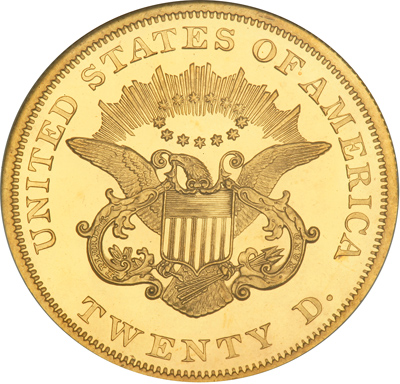 Lot 1287

1863 $20 Liberty. NGC graded Proof 65 Cameo. Housed in NGC holder 1785851-015. An outstanding Gem Proof example exhibiting superb sunset golden color throughout. The bright mirror fields are virtually free from hairlines and the froslted devices are flawless! Only 30 proofs struck for this "no motto" double eagle.

A visually spectacular and thoroughly enticing example of this prized No Motto rarity in the double eagle series. A bright specimen with frosted motifs -- and kept that way, intact and unharmed through wars and tribulation for the better part of a century and a half. What deeply mirrored fields! The fields form a smooth-as-ice platform for the sharp cameo contrast. Though the reported Proof mintage for the year is a meager 30 pieces, it may be that only 10 or so examples can actually be traced with any certainty today. Of those, two are in museum collections, with another two or three being impaired. If the Mint sale in 1863 amounted to 15 or 20 of the 30 Proofs made, this would account for the paucity of offerings. In those days, Proof gold coins bought at the Mint had to be paid for in gold coin (specie), typically available only from a bullion dealer at a stiff premium in terms "greenback" paper currency. For example, one report has it that the "premium" in 1864 (the year after this coin was minted) went to 240% on the New York gold exchange. To buy $100 in gold coin, one had to tender $240 in greenbacks. That would mean the "price" of a Proof $20 (not counting the Proof-minting fee) was more than double face value -- a stiff premium in those days. Neither the Norweb nor Browning collections, which were both notable for their fine runs of Liberty $20 Proofs, contained an 1863 Proof. The present beautiful Cameo Gem Proof double eagle is one of a threesome graded by NGC at this time. This truly is an opportunity for an advanced double eagle buyer! Pop 3, none finer at NGC. PCGS reports 2 in PR-64 Cameo. This gem is certainly a candidate for finest known (PCGS # 89075) .
Estimated Value $200,000 - 225,000.


---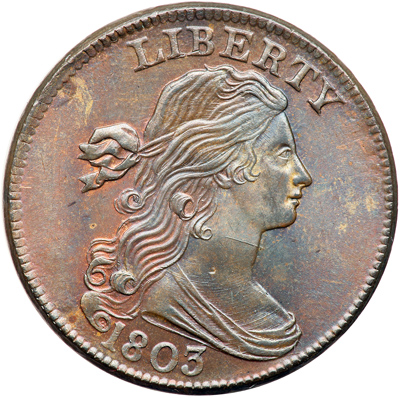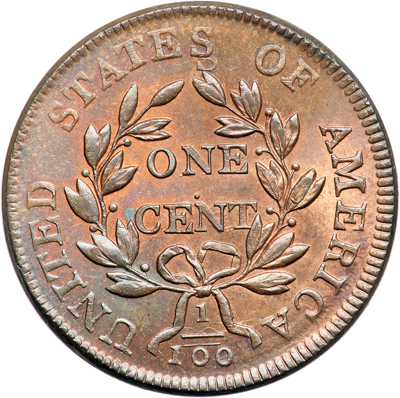 Lot 186

1803 S-243 R2 Stemless Wreath. PCGS graded MS-66 Red & Brown. Highly lustrous light bluish steel brown and chocolate with 10% of the mint color remaining on the obverse and nearly half the mint color showing on the reverse. The surfaces are satiny and the luster is unbroken as it flows over the devices and highpoints of the design. The only marks are a small swipe of lighter and darker toning mixed together in the field near the dentils behind the head and a microscopic planchet flake low on the neck. The reverse is an absolute gem, flawless in every respect. Sharply struck E-MDS, Breen state II, with faintly clashed dentils impressed over ERICA. The repunched second S in STATES and doubled fraction bar features are bold, and the stemless wreath feature is obvious to the unaided eye. This is the finest 1803 cent with a Stemless Wreath, a great mate to the similarly esteemed 1802 Stemless Wreath cent offered a couple lots earlier. This is the Noyes plate coin for the variety. Called MS67 Choice and finest known in the Noyes census, his photo #20006. Bland says MS63 and tied for CC#1 honors. Our grade is Mint State-65. PCGS population 1 with none finer.
Estimated Value $30,000 - 40,000.
Ex Ira S. Reed 9/3/1943-Leonard M. Holland-Pennypacker Auction Centre 5/1959-Louis Helfenstein 2/20/1960-C. Douglas Smith 4/60-Louis Helfenstein 3/61-C. Douglas Smith-Louis Helfenstein, Lester Merkin 8/14/64:30-Richard Picker-R. E. Naftzger, Jr.


---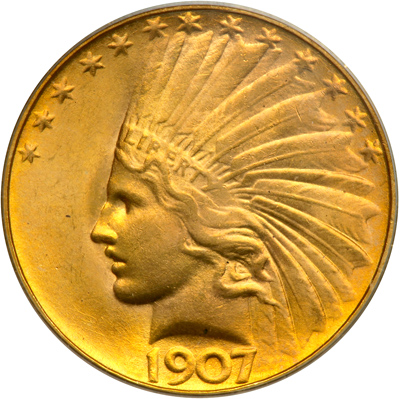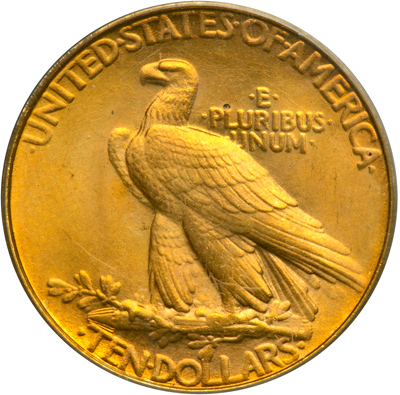 Lot 1283

1907 $10 Indian. Rounded rim, periods. PCGS graded MS-65 PQ. A stunning gem specimen with virtually immaculate satiny smooth surfaces throughout. The rich golden sunset mint bloom colors further adds to its beauty. Definately a Premium Quality coin that deserves an even higher grade. Net mintage 42 pieces.

The great rarity of the 1907 Rolled Edge With Periods $10 gold pieces can be ascribed to a decision made by Director of the Mint Frank Leach. In a letter from Superintendent of the Mint John H. Landis to Leach dated September 25, 1907, Landis says that examples of both this design and the adopted 1907 No Periods design were supplied to Leach and that the No Periods design was more suitable for a circulating coin. The problem with the Rolled Edge With Periods design was felt to be a lack of fine detail and sharpness. The pronounced rolled edge also gave it poorer stacking abilities than the broader edge of the No Periods design. In this same letter, Landis noted that "we have on hand $315,000 of the first model (this 1907 Rolled Edge With Periods design), struck on the coining press, and $500, struck on the medal press." This would seem to imply a total of 31,550 pieces. It is uncertain whether more were made; however, it is believed that nearly all were melted per the wishes of Leach, save for 42 pieces, and mass production of the No Periods design began shortly thereafter.

This is an utterly breathtaking, bold Gem Mint State specimen. The surfaces are smooth as silk in their sheen. Furthermore, we can find nary a distracting spot or serious abrasion on either side. Fully lustrous with a frosted texture to the finish, all areas appear as sharply defined as possible for the issue. As stated, lovely, thick mint frost covers each side while magnification reveals a few small swirling die polishing marks, like the Wire Rim tens only to a lesser degree. The warm colors are immensely pleasing. A tiny, well concealed obverse nick at the top of the feather that ends in T of LIBERTY should help maintain the provenance of this important 20th gold rarity. Above the L of PLURIBUS is a small surface void, possibly a flake of metal (as made). The 1907 Rolled Edge coin has pretty much vanished from auction offerings in recent times, and it may be years before it surfaces again, if indeed it ever does. Pop 16; 14 in 66, 3 in 67 (PCGS # 8851) .
Estimated Value $225,000 - 250,000.


---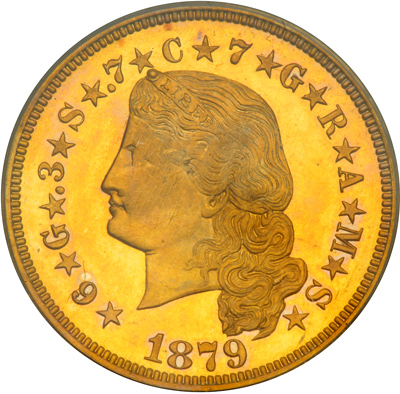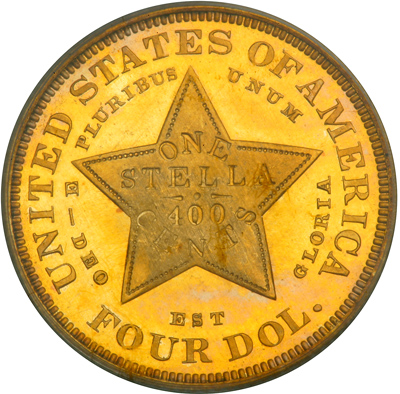 Lot 1245

1879 $4 Gold. Flowing hair. PCGS graded Proof 66 Cameo. An awesome golden Stella! The vibrant mirror surfaces radiate against the richly frosted devices. The eye appeal of this outstanding gem is absoslutely stunning. Rich golden sunset colors turn slightly iridescent to a light source with hints of violet and rose. Only 700 or so struck.

One of the most talked about gold rarities in American numismatics is the 1879 Flowing Hair $4 gold Stella, a Pattern coin that because it has been in A Guide Book of United States Coins since the 1940s, has been accepted as a regular series.

The present piece stands head and shoulders above most examples that have been sold in recent years. Among the finest certified by PCGS, as the stats below indicate. There are many factors propelling it to the head of the line. This includes the eye appeal, well above average in the present instance, the detail in the main devices, and the natural hues of toning from long years in a protected environment. The piece has a warm yellow-orange intensity as mentioned. It really electrifies the numismatist "gene" in any true collector who owns one. The $4 Flowing Hair Stella is ideal for a U.S. gold Type set, or simply as a single Great Rarity to include in a specialized portfolio of gold rarities. Again, without mincing words, this is one of the most attractive specimens we have been privileged to auction, considering the fairly large number of gold rarities that have passed through our sales.

The $4 Stella was promoted by John A. Kasson, United States minister to Austria in 1879. Kasson chaired the Committee of Coinage, Weights, and Measures earlier in his career and was an advocate of a metric coinage that could be used universally throughout Europe and the Americas. Kasson's proposal was forwarded to the U.S. Mint bureau with the $4 Stellas the result. The Philadelphia Mint's two engravers, Charles E. Barber and George T. Morgan, were responsible for designs of the $4 gold piece. Barber made this prototype of Liberty with loosely flowing hair, known quite naturally today as the Flowing Hair type. Morgan's Liberty has her hair in a coil and coiffed, the Coiled Hair type. Patterns in gold (and other metals) were struck in 1879 and again in 1880, but none were ever made for circulation.

Ever since the time of issue, these beautiful and fascinating $4 Stellas have created hours of lively discussion in numismatic circles for the better part of a century and a quarter! Pop 9; 2 in 67 cameo. This one could rank as the most beautiful of them all (PCGS # 88057) .
Estimated Value $200,000 - 220,000.


---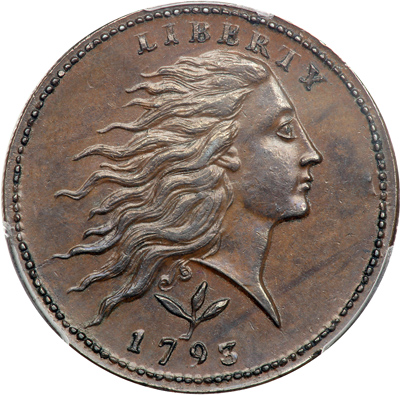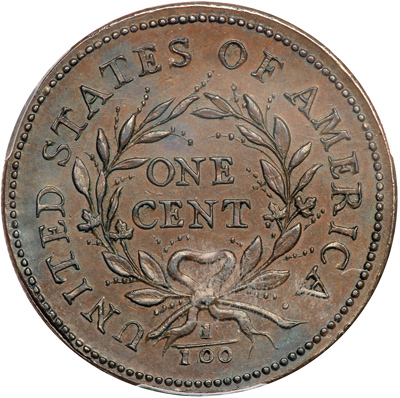 Lot 168

1793 S-10 R4 Wreath Cent. PCGS graded MS-64 Brown. Choice frosty light chocolate brown with faint wisps of darker chocolate and steel toning on both sides. Sharply struck and nicely centered with full border beads around both sides. Just the faintest hint of rub on the highest points of the design. The only defect is a thin planchet fissure on the edge outside the beads over NIT, and this mint-made planchet flaw is located in an area that makes it meaningful only as an identifying mark. Great eye appeal, and Ted Naftzger's envelope for this cent (which accompanies the lot) shows he felt the cent had "proof surface." The strike is from the early state of the dies, Breen state I, with smooth, hard fields. However, calling the surfaces "proof" is a bit optimistic. The reverse of this cent is included on the Crosby-Levick plate and both sides are plated in the 1914 ANS Exhibition Catalog. Bill Noyes also selected this cent to illustrate the variety in his book on the cents of 1793-1814. Called MS60 and tied for CC#3 in the Bland census, but the piece he lists as being slightly finer is weakly struck, as is the other MS60 piece he has tied with the coin offered here, and the piece he shows as finest of the variety is in the ANS Museum. Noyes says AU55 and tied for CC#2, his photo #20001. Our grade is About Uncirculated-58. A wonderful example of the variety, and it comes with an equally impressive provenance. The attribution and Naftzger collection provenance are noted on the slab label on this and all the other slabbed Naftzger cents in this sale. PCGS population 1 with none finer.
Estimated Value $110,000 - 125,000.
Ex Sylvester S. Crosby-Lorin G. Parmelee (privately) 2/6/1892-Dr. Thomas Hall 9/7/1909-Virgil M. Brand-Carl Wurtzbach-Virgil M. Brand 2/7/1941-B. G. Johnson (St. Louis Stamp & Coin Co.) 3/24/1943-Abe Kosoff-Oscar J. Pearl, Numismatic Gallery FPL 1944:9-Charles M. Williams, Numismatic Gallery #68, 11/14/1950:12-R. E. Naftzger, Jr.


---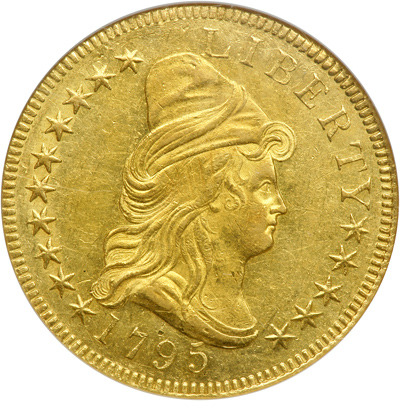 Lot 1270

1795 $10 Capped Bust. 9 leaves. NGC graded MS-61. In NGC holder 2030720-014. The rarest eagle die marriage. An estimate of fewer than 500 made with 20-22 known in all grades. A far better than average struck specimen with the diagnostic die buckling in the field below the palm branch and in the upper half of the first T in STATES and at first A of AMERICA. The surfaces are lustrous with the normal allotment of light handling marks, none of which are worthy of description.

A sterling Brilliant Uncirculated example of the greatest rarity contained in the short-lived Small Eagle series of $10 gold coins, 1795-97. Within this small body of early gold varieties, a 1795 9 Leaves is just about as rare an issue as there is in the entire 138-year history of the denomination.

The 1795 9 Leaves $10 as a variety become all the more popular in recent decades upon the release of pamphlets and researcher work describing them. It was apparently known as early as 1926 when Waldo Newcomer paid $100 for a circulated example, several times the price for a commoner 1795 13 Leaves $10. Since the 1960s, examples have been auctioned an average of once every two to three years.

Designed by Robert Scot, 116 pieces were struck on March 30, 1796, according to Breen, plus an unknown (but presumably small) number struck on March 1, 1796 on Warrant No. 58, which had a total mintage of 1,169 pieces, not all of them from this pair of dies.

A small mark is located in the field by the 9 of the date; several light scuffs in the surface at Liberty's throat, with some faint signs of adjustment in the shallow-struck central hair region above and behind the ear. Such minor ephemera are apparently common to most, if not all 9 Leaves coins, and their presence indicates nothing more than little pointers when differentiating one coin from another. It may be that the dies were inspected often and quickly condemned when flaws were found since the 1795 9 Leaf reverse developed some breaks including a lump break at the tip of the second leave and another from the edge looping through the top of the first T in STATES (both present here). According to some, gold coins were important public relations items for the United States, ambassadors to the world, as it were. Because of this, care was taken to avoid releasing gold coins with die breaks or other blunders into circulation. The fields are semi-reflective, as often seen on 1795 Eagles. Today, it is believed that there are approximately 20 examples known, making it the rarest of the seven known Small Eagle varieties this year.

According to Dannreuther, "It is not known whether the 9 leaves on the branch indicate an experiment or a die cutting error, but the fact that the reverse was changed to 11 leaves for 1796 and 1797 indicates that it was an intentional experiment. Perhaps the arrangement of 13 leaves was considered too crowded and grouping of 9 leaves was thought too sparse, leading to the introduction of 11 leaves on the branch in 1796." We shall never know for sure. Pop 1; 1 finer at MS-63 (PCGS # 8552) .
Estimated Value $200,000 - 220,000.


---