Sale 46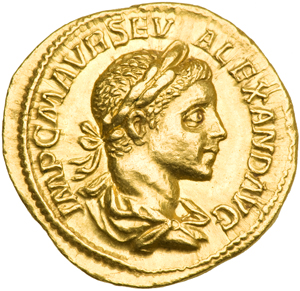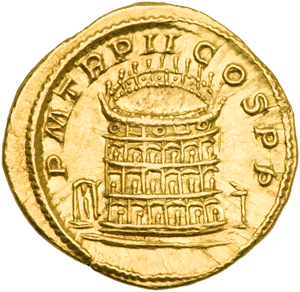 Lot 126

Rome. Severus Alexander, 222-235 AD. Gold Aureus (6.31 g), Rome mint, struck 223 AD. Laureate and draped bust of Severus right. Reverse: View of the coliseum (the Flavian Amphitheater): the building has four stories, the first three are arcades with each containing a statue, and the top being of solid masonry with windows and supports for the wooden masts that held the great awnings which protected the spectators from Rome's fierce sun; at the left, a shrine with statue within; at right, a section of a building's column and pediment (perhaps the temple of Jupiter Victor); P M TR P II COS P P. BMCRE -- (but see p. 54 and pp. 128-129, 156-158); cf. C. 247 (silver); cf. Foss. 7 var. (bronze); cf. RIC 33 (silver); Calicó 3095; Sear II 7825 (= Calicó 3095); Vagi 1976. Finely centered and superbly struck, with all the minute details of the building clear and sharp. Of the highest rarity, this the second of two known specimens, and perhaps the finer. NGC graded About Uncirculated.

The name Coliseum, for the Amphitheatrum Flavium as it was originally designated, began to be used around 1000 AD. Begun by Vespasian, inaugurated by Titus in 80 AD, and actually completed during the reign of Domitian, the amphitheater was one of the most remarkable Roman structures to survive to this day. Designed to seat 50,000 spectators, it had around eighty entrances to speed the attending crowds through -- whether they were departing or arriving. Its construction is surprisingly "modern" in its utilization of different combinations of types of construction and materials: concrete for the foundations, travertine marble for the piers and arcades, tufa (a soft and easily worked volcanic rock) as infill between piers and walls of the lower two levels, and finally brick-faced concrete being used for the upper levels as well as for most of the vaults.

In 217 AD, early in the reign of Macrinus, the building was struck by lightning and badly damaged. (This was seen as a very ill omen for the tenure of the new emperor, who had replaced the recently assassinated Caracalla, and whose death he was intimately involved in.) By 218 the Severan dynasty was once more on the throne, in the guise of Elagabalus, and repairs to the Coliseum were begun. Work continued under Severus Alexander so that by 223 AD the building was sufficiently restored to be used once more be used (work on the structure would continue for well over another decade, to be finished during the reign of Gordian III, who celebrated its completion with a small issue of medallions).

In honor of the Coliseum's reopening, Severus Alexander struck a very small issue of commemorative coins: a number of sestertii and asses are known today, a denarius was recorded by Cohen but is now lost, and of course the two aurei, of which this coin is perhaps the finer.
Estimated Value $150,000 - 175,000.
The first example: Biaggi 1323 (=Kent/Hirmer 424 = Steinberg 649 = Hunt III 88 = Bank Leu 79, no. 318 = Hess-Leu 24, no. 333; same dies). These exceptionally important coins came from a small hoard of aurei found in the early 1960s. This other example, ex Hess-Leu 24, now resides in a private Swiss collection (Calicó 3095). Illustrated in Money of the World, coin 51.


---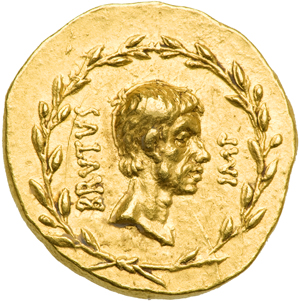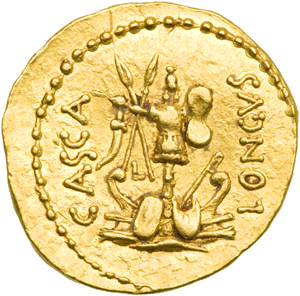 Lot 75

Imperatorial Rome. Marcus Junius Brutus, d. 42 BC. Gold Aureus (8.07 g), traveling mint in Macedonia or Western Asia Minor, struck summer/autumn 42 BC. With moneyer, P. Servilius Casca Longus. Bare head of Brutus right, with short beard, BRVTVS IMP on either side, all within laurel wreath. Reverse: Combined military and naval trophies, with prows and shields at base; a small L to left of trophy; CASCA LONGVS on either side. Fr-24 (this coin); Craw 507/1b; BMCRR 62; Syd. 1297; Vagi 94; Kent-Hirmer 99. Faint double striking at back of head, otherwise a splendid likeness, in high relief. Lustrous and sharp! One of the most historic of Roman issues, gold or silver! Excessively rare. Probably the finest of only 8 recorded specimens. NGC graded Choice About Uncirculated.

After Julius Caesar, the second most recognizable name of the imperatorial era is Marcus Junius Brutus. Was he the last guardian of the Republican age or only an infamous and most vile assassin of Caesar? Born about 85 BC, Brutus was thrust into the political realm and early became a follower of Cato, a staunch Republican. Later, Brutus built a fortune by lending money at usurious rates and eventually became a Roman senator.

There grew a great friendship between Caesar and Brutus, but during the Civil War it was clear that Caesar would never return to the former Republican government. Instead, Caesar was swayed by his many victories and public adulation, ultimately accepting the title "dictator for life." Caesar's portrait graced many coin issues, and his likeness was the first of a living person to be depicted upon the specie we now revere. It is ironic to also find the portrayal of Brutus on Coinage.

The ensuing struggle, the loss of life and of ideals, and the change of government are witnessed and related on this wonderful coin. Shakespeare (perhaps one in the same with Francis Bacon) gave us the perfect glimpse into the stage as life; Joseph Mankiewiez and John Houseman created a magnificent vision in their 1953 film Julius Caesar. With Marlon Brando, James Mason, John Gielgud, Greer Garson, Deborah Kerr and other stellar actors, it is a movie to view and view again. The next time you see it, ponder this aureus and the previous denarius.
Estimated Value $350,000 - 400,000.
Ex John Whitney Walter Collection, Stack's-Berk Auction (11-29-90), lot 7; ex NFA Auction XXII (06-01-89), lot 23; ex Leu Auction 22 (05-08-79), lot 184. Illustrated in Money of the World, coin 30.


---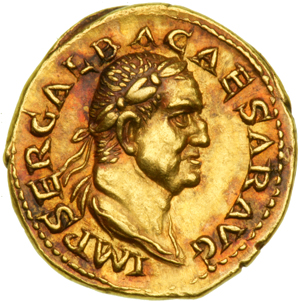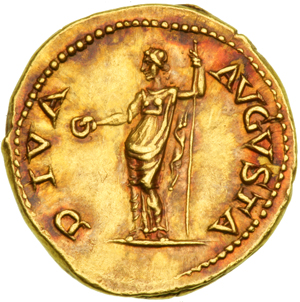 Lot 90

Rome. Galba, April 68 - January 69 AD. Gold Aureus (7.28 g), Rome mint, struck late 68 AD. Laureate and draped bust of Galba right. Reverse: Livia stands left, holding long scepter and patera. RIC 188; BMCRE 3; C. 54. Superior strike and centering, on quite a round, full flan. With bold and impressive portrait of the aged Galba. The handsome deep red toning typical of Bosco Reale coins. A stunning coin, virtually as struck and perfectly centered with a powerful portrait. Very rare. NGC graded Choice About Uncirculated.

Galba chose this reverse type, which he employed on a number of denominations, to refer to Livia's assistance in his early career.
Estimated Value $60,000 - 70,000.
Ex Metropolitan Museum of Art, J.H. Durkee bequest, sold Sotheby & Co., Zurich, November 10, 1972, lot 41. From the Bosco Reale hoard of 1895. Illustrated in Money of the World, coin 39.


---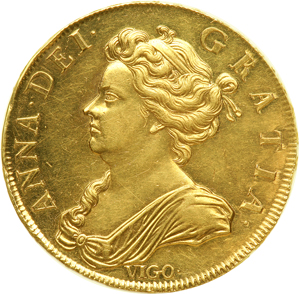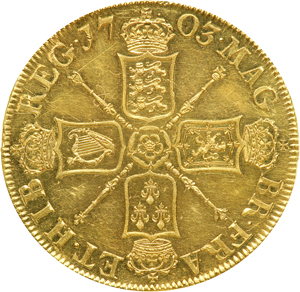 Lot 354

Great Britain. "VIGO" Five Guineas, 1703. S-3561; Fr-183; KM-520.1. 41.69 grams. SECVNDO on edge. Queen Anne, 1702-1714. Draped bust left; VIGO below bust. Reverse: Crowned cruciform arms, with alternating scepters and a central (Tudor) rose. Uncirculated, a wonderful specimen blessed by superb eye appeal, with all details sharp, and complimented by deep, proof-like luster. Scattered faint hairlines (from being in important collector cabinets over the past 300 years). Historical, and excessively rare. Perhaps the finest known. NGC graded MS-61 Prooflike.

Throughout the 17th century, the British and the Dutch played off and on the game of "Friend/Enemy." Sometimes Spain would be pulled in on one side or the other of its two erstwhile enemies. By 1701 Britain and Holland were once again "friends," and soon would be making common cause against Spain again. This time it would be in the form of the War of Spanish Succession (1702-1713), fought simultaneously in the North American Colonies as Queen Anne's War. This would be the last of the general European wars resulting from France's Louis XIV's efforts to expand French power and territory.

The childless King Charles II of Spain, advanced in years, with increasingly precarious health, found it necessary to choose among three principal candidates as his successor. These were Louis XIV, on behalf of his eldest son, a grandson of King Philip IV of Spain (Louis had been married to Philip's daughter); the Electoral Prince of Bavaria, Joseph-Ferdinand, a great-grandson of Philip IV of Spain; and the Holy Roman Emperor Leopold I, who had married a younger daughter of Philip IV but claimed succession on behalf of his son by a second marriage, Archduke Charles (later Holy Roman Emperor Charles IV).

England and Holland, of course, were opposed to a union of French and Spanish realms, since this would have heavily tipped the balance of power to France, making it the leading world power, a consequence undoubtedly being the diversion of Spanish trade from England and Holland to France. On the other hand, England, Holland and France were all against the choice of Archduke Charles, since this would have reunited the Spanish and Austrian branches of the House of Hapsburg; again, a significant power shift.

Agreements and two treaties were promulgated from 1697 through 1700 involving exchanges of land and zones of influence as a means of working out the difficulties and avoiding conflict. Unfortunately the unexpected death of Joseph Ferdinand created a crisis. While diplomats scuttled to and fro to sort out the difficulties, parties at Charles' court, desiring to preserve Spain's territorial holdings, persuaded the dying Charles to designate as his sole heir the grandson of Louis XIV -- Philip, duke of Anjou, who thereafter became Philip V of Spain. Louis XIV, deciding to abide by Charles' will, broke the partition treaty agreed upon with England and the Netherlands. The latter two, although willing to recognize Philip as King of Spain, were increasingly antagonized by France's growing commercial competition. This and other factors lead to an anti-French alliance among the Dutch, England and Leopold.

Among the various joint Anglo-Dutch expeditions against the Spanish, one was led by Sir George Rooke in 1702. In this, the Spanish seaports of Cadiz and Vigo were sacked, and a number of Spanish treasure ships were seized in Vigo Bay. The booty brought back to England totaled over 11 million silver "pieces of eight," along with a small quantity of gold. In a dramatic move to commemorate the event, silver coins in 1702-1703 were struck bearing the word VIGO. The gold was likewise struck in this fashion, with a very few large Five Guineas being made, the smaller Guinea and Half Guinea being the primary issues (although these too, today, are very rare). Sir Charles Oman, in his "Coinage of England," page 345, notes that the minting "of these great celebratory coins" was given to the care of Isaac Newton, who was then Master of the Mint at London, having been appointed in 1699. Oman states that only 276 Pounds Sterling in gold coins were produced from the Vigo haul, again with few large Five Guineas being made, and the rest apportioned to the Guineas and Half Guineas.
Estimated Value $150,000 - 200,000.
Ex Murdock 1903, lot 834. Only 15-20 specimens known, and this is reputedly the finest. With diagnostic lint mark on the scepter of the fourth quarter of the cruciform. Most numismatists believe the 1703 VIGO Five Guineas to be the rarest of all English gold coins. This coin was the sole cover illustration of the 2003 edition of Spink's Standard Catalogue of British Coins: Coins of England and the United Kingdom, London, 2002; Illustrated in Money of The World, coin 105.


---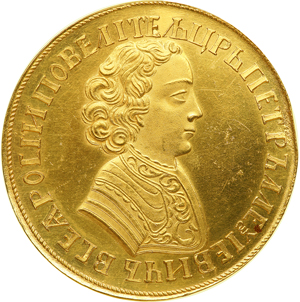 Lot 802

Russia. Peter I, 1682-1725. Novodel Ruble struck in Gold, 1705 (Moscow). Fr-76 (62); Sev-12; Bitkin-532; Diakov-page 87, part 1. 44.22 grams. Laureate, cuirassed youthful bust right. Reverse: Crowned, double-headed eagle with scepter and orb. Plain edge. Sharply struck with all details bold, Peter's hair curls in higher than normal relief. The surfaces are fully prooflike on both sides, with the devices softly lustrous to frosty matte and the fields reflective with an almost watery texture. Undoubtedly a high gift of state, the coin has been carefully preserved, with minimal marks or hairlines. The reverse die shows faint radiating cracks. This is one of the most important of all Russian coins!

Struck in gold to the weight of 13 Ducats, 44.22 grams, and created from the dies of the novodel ruble of 1705 (Sev-185), this is the plate coin shown in Bitkin and Diakov which appeared in both the 1977 Soderman and the 1991 Goodman auctions and is the only specimen appearing at public auction in over 25 years. Severin mentions this particular specimen (his number 12) as well as another weighing 40.4 grams, making this one of only two known examples. He also mentions a gold 1707 rouble (no. 18) and a 1723 in 12-ducat weight, each presumably unique. NGC graded MS-63.

Among Peter's numerous reforms, he caused his country's coinage system to change from being the most old-fashioned in Europe to being the most up to date. His was the first coinage to employ the decimal system (dividing the Ruble into one hundred smaller units, of copper Kopecks). Part of his reform involved devaluation, which made, for the first time, the Russian Ruble equivalent in its buying power to the Polish, Saxony and Silesian thalers which had seen such free circulation within the country before. It is said that, when the first Ruble coins bearing Western-style Arabic dates were struck in 1707, it was Peter himself operating the coin press!
Estimated Value $250,000 - 300,000.
Ex Dr. Robert D. Hesselgesser Collection (5/30 - 6/1/05), lot 1751; Goodman Collection (Superior, Feb. 1991), lot 4; and Soderman Collection (Swiss Bank, Feb. 1977); Illustrated in Money of The World, coin 115.


---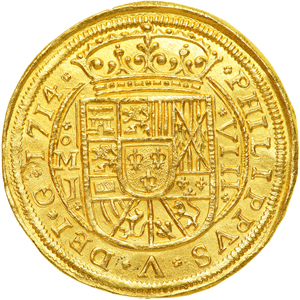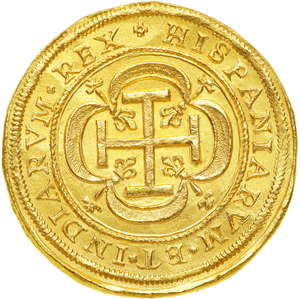 Lot 1083

Mexico. "Royal" 8 Escudos, 1714-Mo-J. Fr --; cf. KM World Coins, 1700-1800, p. 753; Grove 888. 26.94 grams Philip V, 1700-1746. Crowned arms, value of VIII in field. Reverse: Cross within quadrilobe, angled scepters. Trivial planchet flaw below date, otherwise remarkable centering and strike. Excessively rare. One of the finest known examples. NGC graded MS-65.

This coin the plate coin in Krause, Mishler, et al., Standard Catalogue of World Gold Coins, Fourth Edition, Iola, Wisconsin 20000; "Mexico," p. 756.
Combined in this coin is the "classic" Spanish, and Spanish colonial gold coin. The usual idea of Mexico's "treasure" coins are the crudely struck, thin-flan early coins, or the slightly later, and truly wretched "cob" coinage of the 17th and 18th centuries. Here one sees what a coin from a mineral-rich realm, belonging to a still-significant world power, should look like. Impersonal, and "anonymous," in that there are no portraits displayed, the insignia-laden shield bespeaks of ancient tradition and royal bearing, the large cross implies divine right, and above all, the coin's size and material speak most emphatically of power.
Spain had started making milled coins in 1586, beginning with the Segovia mint, and then off and on with varying quality. By the end of the 17th century, a major portion was being mechanically struck. Such was not the case with the colonies. In Mexico, it wasn't until the 1730's that milled coinage became a regular feature. Thus the "royal," or presentation strikes. These were struck on specially selected, round planchets with special dies - the dies not necessarily having the same designs and inscriptions as those coins of the same date and mintmark in the regular coinage. Some of the better specimens may have well been sent to Spain so that the king could see for himself what fine handiwork was being done at the various mints. On the other hand, for this issue there might be another reason. In 1714 Philip V, who was the first Bourbon king of Spain and a grandson of Louis XIV of France, married the ambitious and strong-willed Elizabeth Farnese as his second consort and queen. Coins such as these might have been among the gifts from the various colonial government seats that were assuredly bestowed on the "happy" newly-wed couple.
Estimated Value $100,000 - 125,000.
Illustrated in Money of the World, coin 148; Ex: Calico.


---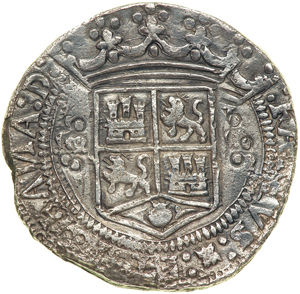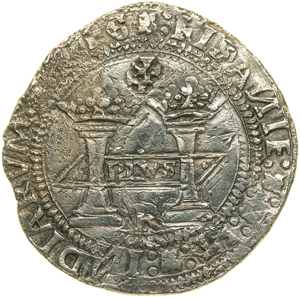 Lot 1073

Mexico. 8 Reales, No Date-M (Mexico City, c. 1535-6); Assayer R (Francisco del Rincon). KM--; WR --. Carlos & Joanna, 1516-1556. Prior to Early Coinage (1538-1541) issues. Crowned arms of Castille and Leon; gothic-style mintmark. Reverse: Crowned pillars, rhomboidal panel containing PLVS; above and between pillars, a circular incuse with cross potent within; assayer mark below, Latin-style R. Bold, well-centered strike on nearly round flan. Spots of minimal weakness; areas of contact corrosion limited mostly to one edge of both sides. Toned. Excessively Rare -- one of only 3 specimens known.

Of the highest significance for the history of New World coinage. Emphasizing the experimental nature of this issue, one can discern that this coin is a test strike. Apparent in the fields are flattened designs, indicating that the present piece was overstruck on itself at least once, if not two or more times! NGC graded EF-40.

Carlos and Joanna, or Johanna, issued the first coins from Europe for the New World. Johanna was the daughter of Ferdinand and Isabella, and heir to the Spanish throne. She married Philip the Handsome, and they had a son named Charles. Both Johanna's mother, Isabella, and her husband, Philip, died young. By all reports this made Johanna mentally unbalanced. Her son claimed co-regency with Johanna, and had her imprisoned in the castle of Tordesilla. He then ruled in name with her, but effectively he ruled alone. So much for filial love.

Only 3 pieces were found in a shipwreck. One is held by a collector who wants one million dollars for his example. Another brought $373,750 at a Heritage sale last year at New York. The salvage group that found the shipwreck, and who at one time had all three coins in their possession, consigned it. The winning bidder, a well-known Latin-American collector, was prepared to pay much more for this coin. At the time of the sale, there were rumors of many more known examples; thus, many major buyers did not attend the sale or bid on this important coin.

Mr. Daniel Sedwick, who represented the salvage group at the sale, stated that this was the last piece from the shipwreck. Since the auction, it is now confirmed that only three of these coins are known. The discovery specimen is being offered here.
Estimated Value $200,000 - 250,000.
Illustrated in Money of the World, coin 144.


---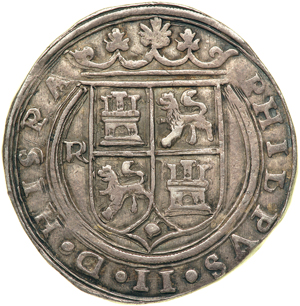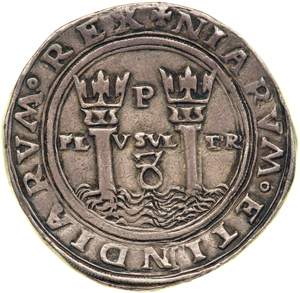 Lot 1150

Peru. 8 Reales, No Date (c. 1568-1571), P-R (Lima). WR-1; KM-13; Sellschopp 1; Calbeto 243; Guttag 3993; Dasi 126. (Francisco del Rincon, assayer). 26.70 grams. Philip II, of Spain, 1554-1598. Crowned arms of Castille and Leon; assayer's initial at left. Reverse: Crowned pillars over waves, motto between; value below. Choice even strike, perfectly centered on very round flan. Very fine old collection toning. Of the highest rarity, and the utmost historical interest for New World numismatics. This is among the finest of little more than a handful of known examples.

It is thought that from 7 to 10 examples at most, in any grade, exist. The coin's fame and desirability rests on the fact that it was the first crown-size coin of South America. Francisco del Rincon opened the first mint in the Americas in Mexico City in 1536. NGC graded AU-55.

Lima was founded by the conquistador, Francisco Pizarro in 1535. He named it the city of the kings. It became home to the Viceroyalty of Peru, and an important religious center as well. In fact, Lima was the second city of the New World behind Mexico City. Its mint was opened in 1568. The first 8 Reales coins struck there are great rarities. As stated by Wayte Raymond, "Of the greatest rarity and interest."
Estimated Value $200,000 - 250,000.
Ex F.C.C. Boyd Collection. This coin is the Wayte Raymond plate coin (F.C.C. Boyd); and so too for Dasi (copied from the Coin Collector's Journal, Jan.-Feb. 1947, page 13). This coin's only auction appearance was in the Superior A.N.A Sale, August 1975, lot 2022, selling against a $2000 estimate for an astounding, at the time, $23,000. A similar but somewhat lesser example (lot 20) sold in 1988, at the Swiss Bank Coins of Peru Auction, October 1988, for an even more astounding $120,600! Illustrated in Money of the World, coin 145.


---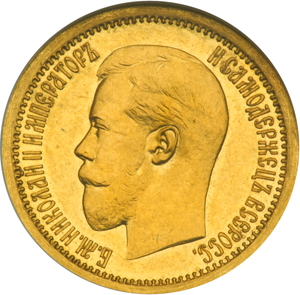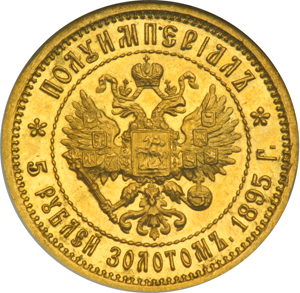 Lot 815

Russia. Pattern 5 Rubles or ½ Imperial, 1895-AG. Fr-175; KM-Pn142; Bitkin 1st Ed-309; Sev-548. Nicholas II, 1894-1917. Mintage of only 36 pieces struck. Bust left. Reverse Eagle in circle. Very Rare. NGC graded Proof 62.
Estimated Value $20,000 - 25,000.
(*).


---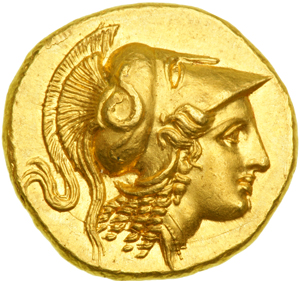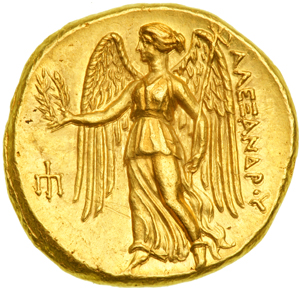 Lot 19

Kings of Macedon. Alexander III, the Great, 336-323 BC. Gold Distater (17.23 g), Amphipolis mint, struck c. 324-318 BC. Head of Athena right, wearing triple-crested Corinthian helmet, adorned with coiled serpent. Reverse: Nike alighting or walking left, holding wreath in extended hand, stylis in other; head of trident at left. Cf. Price 167; note also, Troxell, ANSNS XXI, no. 546, Group C, same obverse die, but with fulmen reverse symbol (also per Troxell, nos. 540 [kantharos], and 470 [fulmen] from same obverse as 546, while no. 543 [ex NFA I, 3-20-75, no. 82] appears to be a slightly earlier die state, before the chipping begins to appear at the chin the author notes of this small group that only 17 coins are known, struck from only three obverse dies, with the bulk from this die, and the trident reverse being the least represented symbol in this group. A stunning example, with choice centering, and beautifully struck in high relief from among the prettiest dies in the series. The lovely obverse die of relatively short duration, as it is already showing faint die cracks along the periphery. Very Rare. NGC graded Choice About Uncirculated.
Estimated Value $30,000 - 35,000.
Illustrated in Money of the World, coin 9.


---