Sale 38
Lot 29

1923, $5 Carmine & Blue. . Scott 573. Fresh and well centered. Full sheet of 100. O.g., never hinged. Very Fine.
Estimated Value $6,000 - 8,000.


---
Lot 1137

China. Vintage to Antique, Quality Jade Carvings of Plants with Animals. Circa 18th -20th century. Pieces mostly in off white to pale celadons. Subjects: a charming fox-like animal among "berries." Also a fine bird on blossoms; a chilong on a "pi"; a goat and kids; exotic plants and vegetables -- one fine piece showing a tight blossom cluster, with sinuous tendrils. Lengths: 2" - 2-3/4". Attractive, skillful carvings. Lot of 16 items.
Estimated Value $700 - 800.
Irving Goodman, Personal Collection.


---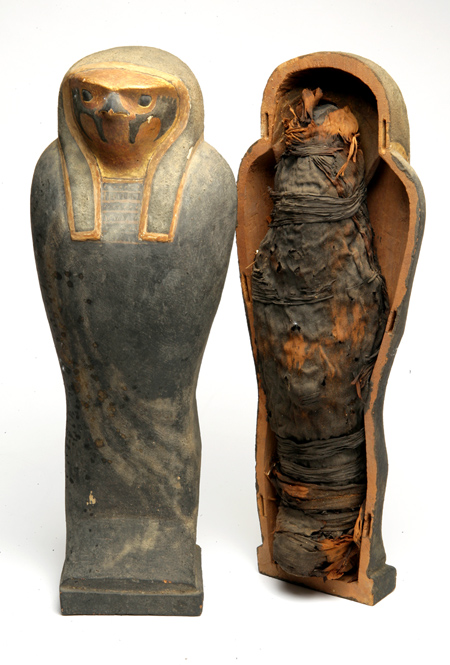 Lot 1244

A Rare "Corn Mummy" & Falcon Sarcophagus. Egypt, Late Dynastic, 26th-30th Dynasties, c. 664-342 BC. Carved wood anthropoid mummy case, with carefully sculpted falcon's head, gessoed and painted in a more somber coloring. The face gilt, with the bird's facial markings in black, a lappet wig in blue-black with gilt edging, and a beaded broad collar in red. The rest of the figure in black. Within, the "corn" mummy of Osiris with simple wrappings, and covered with bitumen. Underneath the mummy's "head" is a portion of wax sheeting, which comprised the portrait maskette of Osiris. The missing front part of the maskette may have had the god's likeness rendered in gold, and was plundered sometime in the past. This aside, the mummy very well preserved. The wood coffin equally fine, with only a small chip to the tip of the falcon's beak, and another chip to the base of the back section (which may have been touched up). The back pillar to the coffin, and a section of the headdress above it show staining and some paint loss to indicate the coffin was once in contact with a moist surface, or was exposed to leaking fluids. This damage looks ancient. It also reveals that part of the coffin was once painted blue and white.That its color scheme was altered to the specifications of the ancient purchaser is not uncommon. This does not lessen the rarity or qualty of this artifact, but does add a footnote of interest. Height of coffin: 18-1/2". A museum quality display piece that should arouse much interest.
Estimated Value $12,000 - 18,000.
Provenance: Northeast U.S. Private Collection, this among a number of Egyptian antiquities purchased in Cairo in the early 1950's, during the time of the Farouk palace sales, and which were cleared for release by the Cairo museum at that time. Without a doubt, the best comparison to this piece is the nearly identical coffin and corn mummy in the sale of the Harer collection at Christies New York last December 9; lot 25, with the coffin more pristine, and the Osiris maskette intact, there the lot realized $48,000.

Osiris, as the supreme god of resurrection, was inextricably connected by the ancient Egyptians with the life-giving forces of nature and vegetation, particularly as it pertained to the Nile. Above all, he was associated with germinating grain. The emergence of a growing plant from an apparently lifeless seed, hidden within the earth, was regarded by the Egyptians as a metaphor for the rebirth of a human being from the lifeless corpse. This idea was translated into concrete form by the fashioning of images of Osiris out of earth and grain. These "corn-mummies" (more correctly, "grain-mummies") were composed of sand or mud, and mixed with grains of barley. Sometimes these body surrogates were wrapped in linen bandages and might receive a finely detailed mask of wax, often with gold sheet covering, to represent the face of Osiris.


---
Lot 62

1938, ½¢-$5 Presidential Set Complete. . Scott 803-834. Full sheets of 100. O.g., never hinged. F.-V.F.
Estimated Value $3,000 - 4,000.


---
Lot 1138

China. Vintage to Antique, Quality Jade Carvings of Plants. Circa 18th -20th century. Pieces in off whites and light celadons. Subjects include: elaborate carved knots; fine chilongs; elegant plants; a deeply inletted lily pad and blooms with a frog and bird. Plus two pieces carved as thick, sinuous tendrils or blossoms, one in deep brown, the second of lighter color. Lengths: 1-1/2" - 2". Very handsome carvings. Lot of 13 items.
Estimated Value $600 - 700.
Irving Goodman, Personal Collection.


---
Lot 63

1938, ½¢-$5 Presidential Set Complete. . Scott 803-834. Full sheets of 100. O.g., never hinged. F.-V.F.
Estimated Value $3,000 - 4,000.


---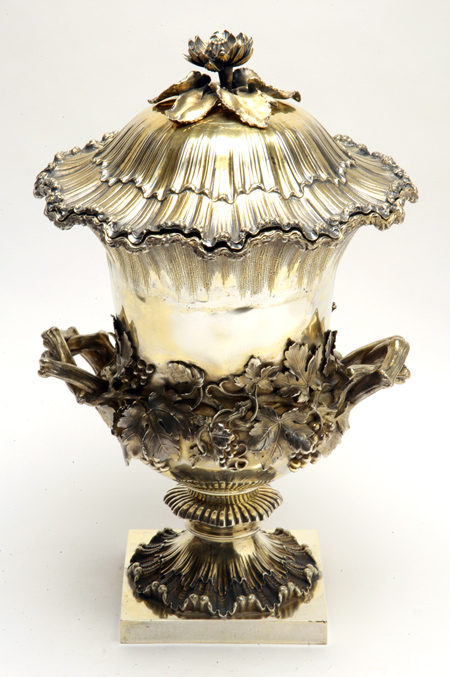 Lot 921

Rare Early 19th Century Gilt Silver Ice Pail or Wine Cooler. This lovely piece from the last years of the reign of William IV, 1830-1837, has an overall height of 16 1/2 inches. The interlocking seashell design lid with an artichoke plant crown shows hallmarks for 1836. The shell motif continues at the top and base with leaf vines and grape bunches around the waist and interlocking twigs as side handles. Five hallmarks above one handle indicate this was completed in early 1837 as it utilizes the same William IV bust as seen on the lid. Quite possibly the same artisan worked on this piece from 1836 through early 1837, completing it prior to the accession of Queen Victoria. Maker's mark for the firm of Edward, John and William Barnard, and both the base and lid are additionally numbered "4979". There is light wear to the gilding from normal use and cleaning over its 170 year existence, but otherwise this charming and important piece is in very good condition.
Estimated Value $12,500 - 15,000.


---
Lot 64

1938, ½¢-$5 Presidential Set Complete. . Scott 803-834. Full sheets of 100. O.g., never hinged. F.-V.F.
Estimated Value $3,000 - 4,000.


---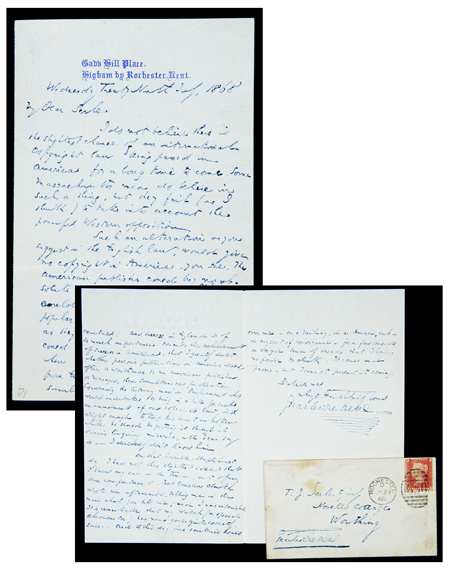 Lot 155

Dickens, Charles (1812-70) British novelist; author of classics such as Pickwick Papers, Oliver Twist, The Old Curiosity Shop, A Christmas Carol, David Copperfield, and A Tale of Two Cities. Autograph Letter Signed on letterhead engraved "Gad's Hill Place, Higham by Rochester, Kent," 2½ pp, 7x4½", 29 July 1868. Fine; accompanied by the original transmittal envelope, addressed in Dicken's hand and signed in the lower left corner, with Dicken's embossed "C.D." seal on the flap. To T.J. Serle, a dramatic author who was acting manager of Covent Garden Theatre in 1838, when his acquaintance with Charles Dickens began. Dickens answers some questions regarding the extension of copyright to the United States, and refers to a horrible train wreck on 9 June 1865, in which Dickens was involved and from which he never fully recovered. In part: "I do not believe there is the slightest chance of an international copyright law being passed in America for a long time to come. Some Massachusetts men do believe in such a thing, but they fail (as I think) to take into account the powerful Western Opposition. Such an alteration as you suggest in the English law would give no copyright in America…." He explains in detail, then adds, "On that horrible Staplehurst day, I had not the slightest idea that I knew any one in the train….It's remarkable that my watch (a special chronometer) has never gone quite correctly since. And to this day there sometimes comes over me - on a railway, in a hansom - in any sort of conveyance - for a few seconds a vague sense of dread that I have no power to check. It comes and passes, but I cannot prevent its coming…."
Estimated Value $2,000 - 3,000.


---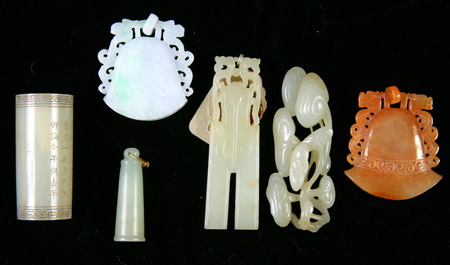 Lot 1108

China. A Lot of Vintage to Antique Jade Carvings -- "From a Scholar's Desk." Circa 17th -20th century. Items for use and contemplation. Includes: a narrow tube, inscribed with poem and "key" border; two "hand rests" for calligraphy, one simple and inletted, the other (in dark nephrite) carved as bamboo. Inscribed or decorated objects include: three bells; items resembling an axe head and early money. Other items: a charming study of cats, an elephant; and an "enhydro" geode sphere, i.e. a carefully cut and shaped agate nodule that still retains the original water that accumulated in it over a multi-million year span! Lengths: 1-3/8" - 3-1/8". A good lot. Lot of 13 items.
Estimated Value $400 - 500.
Irving Goodman, Personal Collection.


---