Sale 35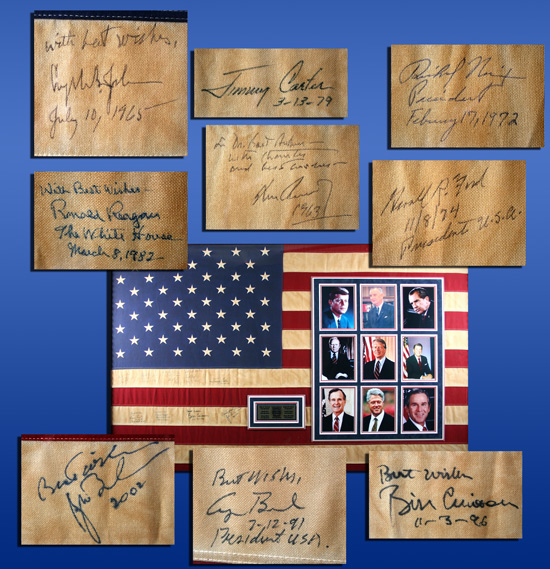 Lot 146

(Presidents) Flag Signed by Nine Presidents -- John F. Kennedy Through George W. Bush. An American flag signed by every President from John F. Kennedy in 1963 to George W. Bush in 2002. Each man was President when he signed the flag, which measures 3 feet 7 inches by 5 feet 9 inches. The signatures are on the two white stripes beneath the field of stars.

On the first white stripe, from left to right:

(1) Gerald R. Ford signed and dated in black ball point pen, as President: "Gerald R. Ford 11/8/74 President USA."

(2) Richard Nixon signed and dated in blue ball point pen, as President: "Richard Nixon President February 17th, 1972."

(3) John F. Kennedy signed and dated in black ball point pen, as President: "For Dr. Bert Arthur with thanks and best wishes John Kennedy 1963."

(4) Lyndon B. Johnson signed and dated in black ball point pen, as President: "With best wishes Lyndon B. Johnson July 10th 1965."

(5) Jimmy Carter signed and dated in blue felt pen, as President: "Jimmy Carter 3/13/79."

On the second stripe, from left to right:

(6) George H.W. Bush signed and dated in black felt pen, as President: "George Bush 7/12/91."

(7) Ronald Reagan signed and dated in blue felt pen, as President: "With Best wishes Ronald Reagan the White House March 8, 1982."

(8) Bill Clinton signed and dated in black felt pen, as President: "Best wishes Bill Clinton 11/3/96."

(9) George W. Bush signed and dated in blue felt pen, as President: "Best wishes George W. Bush 2002."

The flag was originally signed by President John F. Kennedy for Dr. Bert Arthur, a physician and friend of JFK's. Dr. Arthur presented the flag to a prominent Dallas, Texas family whose political connections gave them access to every President from Lyndon B. Johnson through Bill Clinton; the flag was signed and dated by each President in a family member's presence. In 2000, the current owner acquired the flag. In 2002, he arranged a meeting with President George W. Bush at the Coffee Station in Crawford, Texas, where the President graciously signed and dated the flag, becoming the ninth consecutive President to do so.

This one-of-a-kind flag is in excellent condition. It has been handsomely framed to an overall size of 4 feet 1 inch by 6 feet. Please note: This item is not on site. It will be shipped by an art packing and shipping service only.
Estimated Value $75,000 - 100,000.


---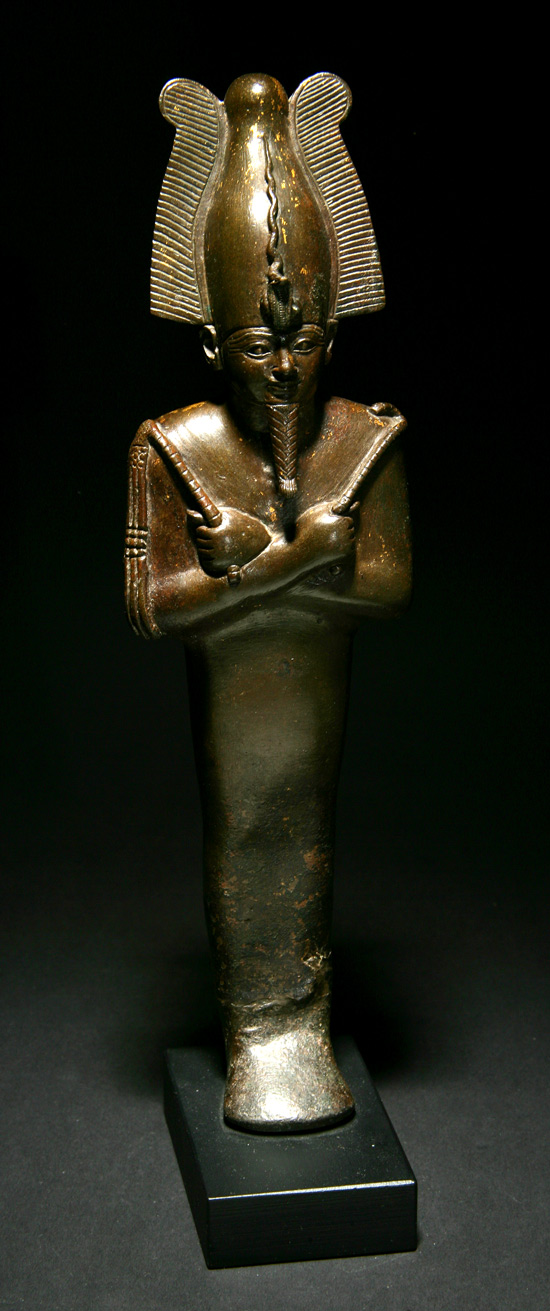 Lot 866

Impressive Museum Quality Gilt Bronze Statuette of Osiris. Egypt, Late Period, c. 664-332 BC. The bearded god in mummiform pose, standing in form fitting robe, and holding a crook and flail in his crossed hands, wearing a plumed Atef-crown fronted by an Uraeus for upper and lower Egypt, a braided false beard curves out at the chin. The figure finely proportioned, with precise detailing, and an exquisitely modeled face. Well preserved, with fine dark brown patina, preserving some traces of gold gilding. Old, well-hidden repair above ankles; also old painted collection or museum number on back. Height: 10-7/8", on custom base. Of good size, splendid and important! This is the finest bronze sculpture we have handled of this type -- absolutely perfect in every detail.
Estimated Value $40,000 - 50,000.
Morven Collection (John Werner Kluge), and Royal-Athena Galleries, New York, 1983; from Mansour Gallery, London, previously. Cf. for similar type at the Louvre in Paris (N3506) from the Clot-Bey Collection, acquired in 1852: "La crypte de l'Osiris".

Religion in ancient Egypt was an important part of everyday life. Priests daily attended to the needs of the gods (who were thought to be present in their cult images), and thus were instrumental in keeping order and normalcy in the world, not only of the present, but with an ever vigilant eye to the world of the hereafter also. Viewed from the outside, the ancient Egyptians were inordinately focused, if not obsessed, on the blessings to be enjoyed in the afterlife. As such, the deity in charge of the Underworld would of course rank among the most worthy of worship. And so, throughout the height of Egyptian civilization, Osiris was one of the primary deities. In power, he was second only his father, Ra, who was the leader of the gods on earth.


---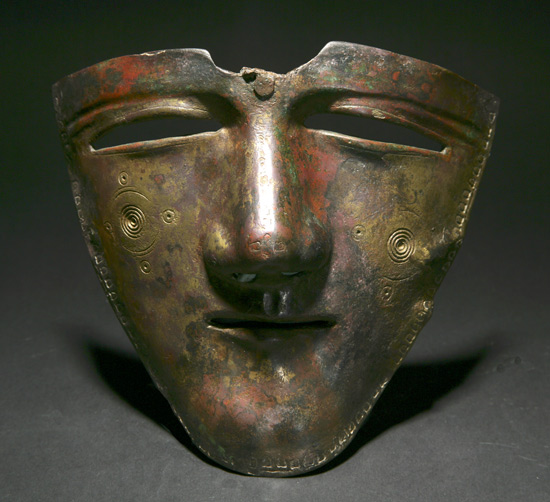 Lot 904

Very Important Cavalry Parade Mask, in Brass. Roman Empire, c. late 1st century BC. to 1st century AD. The stylized face with eye, nostril and mouth openings. The cheeks decorated with turned spiral decoration (perhaps solar images), along with ornate stylized pattern of archs around the edges. The remains of hinge for attachment to helmet at the brow. Repairs, with museum grade, nearly invisible restorations at edges. Height: 5-3/4". A compelling visage. The rarest and most intriguing form of ancient armor.
Estimated Value $30,000 - 40,000.
Published: H. Born and M. Junkelmann, "Romische Kampf - und Turnierrustungen: Sammlung Axel Guttmann," VI, Mainz, 1997, pp.16-17, 81-84, 174-175, 166, pls.VI, 7, 8, 66 and 101 (AG 369); and M. Junkelmann, "Reiter wie Statuen aus Erz," Mainz, 1996, p.93, O89.

Certainly one of the more exotic pieces of the Roman soldier's armor, to modern eyes, was the face helmet. With a normal but often amplified helmet, plus the flip down face mask, this construction generally encased the head completely. Of this ornate, specialized type of armor some 120 examples are known. They have been encountered in various archaeological sites, dating from the 1st to 3rd centuries AD., in locales ranging from Scotland to Syria.

The faces themselves are often those of idealized youths, and some whose gender is less secure, while a few are assuredly portraits of women. If all the wearers are assumed to be men, then this raises interesting questions within the context of Rome's, aggressive, military-dominant society - especially since masks in modern day psychological literature are accepted as surrogates for the head, and one's likeness itself. Thus, they transfigure the wearer, allowing him to transcend his personal, regular identity. In any event, they add a compelling and intriguing cast to a society, as Rome was, where violence became aestheticized, and thence one more aspect of theater in general.

Axel Guttmann Museum Collection, Germany. Acquired in 1991, Zurich, Switzerland.


---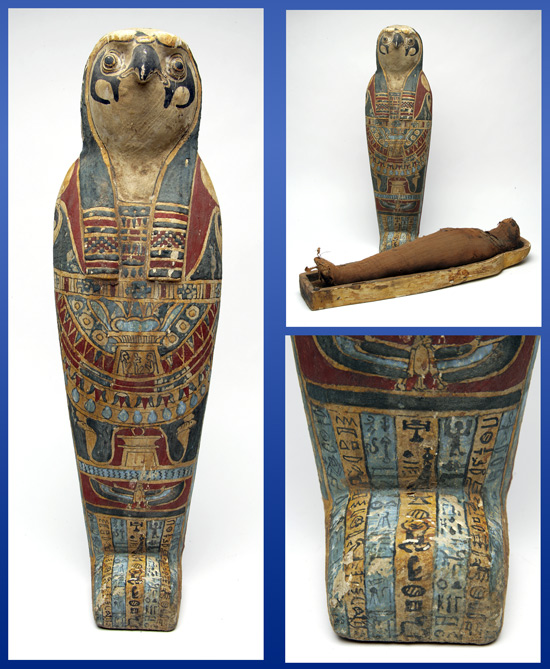 Lot 871

Highly Important Falcon Mummy & Sarcophagus. Egypt, Late Dynastic - Ptolemaic Period, c. 350-50 BC. Carved wood anthropoid mummy case, with falcon's head, gessoed and with extensive polychrome. The head with nicely painted facial markings, a lappet wig in blue-gray with jeweled ends, and a beaded broad collar. Garment motifs include: paired falcon heads with solar discs at his shoulders; two djed pillars, one with flanking uraeii; a ba bird towards the feet;and finally, over the feet are seven vertical hieroglyphic registers, alternating in blue and creme. The coffin back painted in a light tan-ocher color, with single register of glyphs along the back. The mummy with simple wrappings, with painted facial details and applied eyes -- with some splits and flaking (mostly at the beak, and one shoulder). The coffin paint with a few small areas of loss, mainly on the top of the head. Some very trivial fading in spots, but overall with very minimal wear to paint, the colors quite bold and pristine, and probably 90 per cent intact. The coffin base is little warped, but the fit is good. For being out public view for over a half century, with an absolute minimum of paint touch up (perhaps to a few glyphs at the feet), this is an extraordinarily fresh artifact, becoming less and less seen in today's market. Height: 19-1/2". A museum quality display piece.
Estimated Value $15,000 - 20,000.
Northeast U.S. Private Collection, said to have been purchased in Cairo in the early 1950's, during the time of the Farouk palace sales, and was cleared for relaese by the Cairo museum at that time. For the falcon, cf. especially one seen online at: "Life Beyond the Tomb: Animal Mummies," in the 'Australian Museum Online'; the mummy dated to the Greco-Roman Period (332 BC-392 AD), in the National Museum of Antiquities, Leiden.

As noted before, there was a large trade in mummified animals, especially in the Late Period. They were offered to pilgrims to be placed as votives in temples of the god to whom the animal was sacred. Saqqara was one of the largest centers for this practice in Egypt. Of course benefactions were expected from the donations. Often falcon mummies were given to the falcon god Horus for remedy or relief of some disease.
Under the sands of Saqqara archaeologists discovered a large cemetery complex devoted to interred animals. From the terrace of the temple built by Nectanebo II two galleries tunnel their way into the rock, one for the burials of baboons, and the second for falcons. In that part of the cemetery known as the "falcon gallery," there are miles of tunnels holding more than a million mummified falcons dating from 300 BC. to 200 AD. Interestingly, the quality and type of burials of the falcons varied greatly -- some elaborate jars were found to hold a few bones wrapped with linen, while others showed elaborate wrapping. Not all birds found were falcons though, some ibises have been noted, while some larger pots even held mummified vultures.


---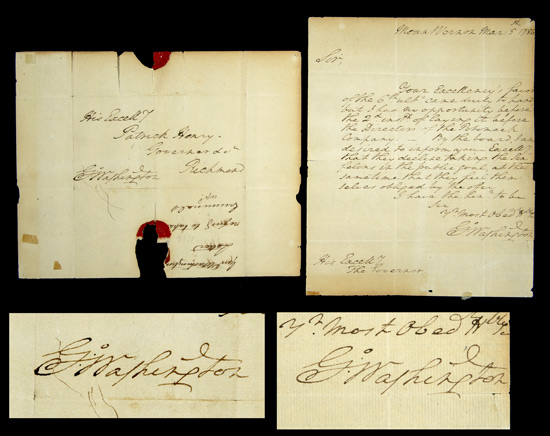 Lot 221

Washington, George (1732-99) 1st President of the United States (1789-97) Autograph Letter Signed "Go: Washington," twice, once at the end of the letter and once on the holograph address leaf, 1p, 9x7¼", Mount Vernon, 5 Mar. 1786. Very good; overall toning; partial separation at both edges of center fold; minor edge chips. Written to Patrick Henry, who is referred to as "His Excell.y The Governor" on the letter and "His Excelly Patrick Henry - Governor &c Richmond" on the address leaf.

Washington writes: "Sir, Your Excellency's favor of the 6th ulto came duly to hand, but I had no opportunity before the 2d inst. of laying it before the Directors of the Potomack Company. By the board, I am desired to inform your Excelly, that they decline taking the six felons in the public goal, at the same time that they feel themselves obliged by the offer.…"

During the years after the Revolutionary War, Washington spent much of his time rebuilding Mount Vernon, which had suffered during his absence. He also served as president of the Potomac Company, begun in 1785, whose purpose was to plan, design, and construct a canal on the Potomac River. Washington and his Board of Directors made all of the decisions, having no American civil engineers to aid them. Here Washington refuses the offer of prison labor to work on the canal.
Estimated Value $27,000 - 33,000.
Byron Reed Collection, Christie's, 8 Oct. 1996, Lot 225.


---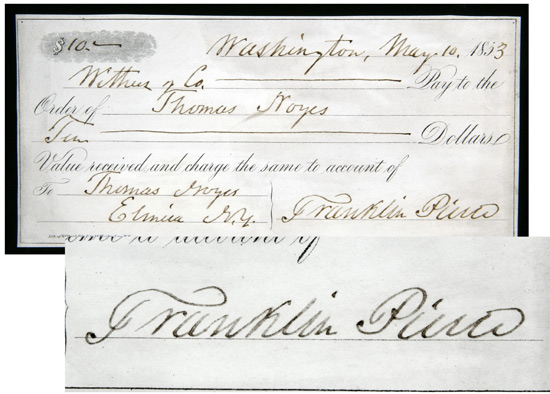 Lot 193

Pierce, Franklin (1804-69) 14th President of the United States (1853-57). Partly-printed Autograph Check Signed, 3 1/8x6¾", Washington, 10 May 1853. Written on an account at Withers & Co. and paid to Thomas Noyes of Elmira, N.Y. for ten dollors. This very check is pictured in Charles Hamilton's American Autographs (University of Oklahoma Press, 1983), Volume 2, page 429. There are fewer than three checks signed by Franklin Pierce as President in existence, and this is the finest known. This check has belonged to Charles Hamilton, Dr. Gregory Kadlec, Bruce Gimelson, and the present consignor.

The three Presidents whose checks are most difficult to obtain are Pierce, John Tyler, and Zachary Taylor; Grover Cleveland checks are also difficult to find. Most collections are missing checks by these Presidents; to obtain a check from one of them while in office is even more extraordinary.

President Franklin Pierce is to many just an ineffectual one-term President, a footnote in history. He angered northerners for his expansionist ideas, and southerners because of his anti-slavery sentiments. He has also been blamed, along with his sucessor James Buchanan, for failing to avert the Civil War. Nearly forgotten is the Gadsden Purchase, acquired in 1853 when President Pierce sent James Gadsden to Mexico and had him purchase from Santa Anna 30,000 square miles of land for ten million dollars. This was a crucial element in the formation of our nation's borders; in fact, the final addition to the present-day continental United States.
Estimated Value $10,000 - 15,000.


---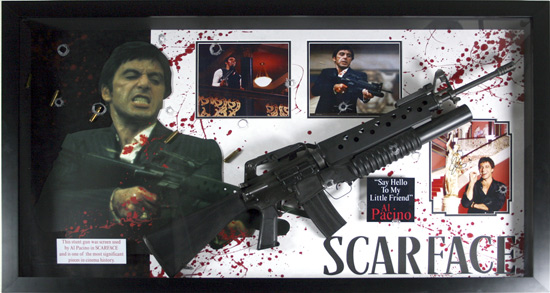 Lot 555

(Scarface). Actual stunt machine gun/grenade launcher used by Al Pacino as Tony Montana during Tony's last stand in the movie "Scarface," considered one of the greatest crime epics ever to come out of Hollywood. It was during the final scene that Tony uttered the classic line, "Say hello to my little friend!" while spraying his attackers with bullets from this gun. The 38 inch gun has been creatively framed with images from the movie to an overall size of 28½x49½".

The 1983 "Scarface, which was inspired by Howard Hawks' 1932 movie of the same name, starred Al Pacino as Tony Montana, a small-time Cuban hoodlum who came to Miami in 1980 as a refugee and violently built an empire based on cocaine, only to fall victim to his own addiction and be assassinated by other drug dealers. Steven Bauer, and Michelle Pfeiffer costarred in the movie, which was directed by Brian DePalma and produced by Martin Bregman; Oliver Stone wrote the screen play. The movie has become a cult favorite of many, including some high-profile rappers.

Please note: This item is not on site. It will be shipped by an art packing and shipping service only.
Estimated Value $25,000 - 35,000.


---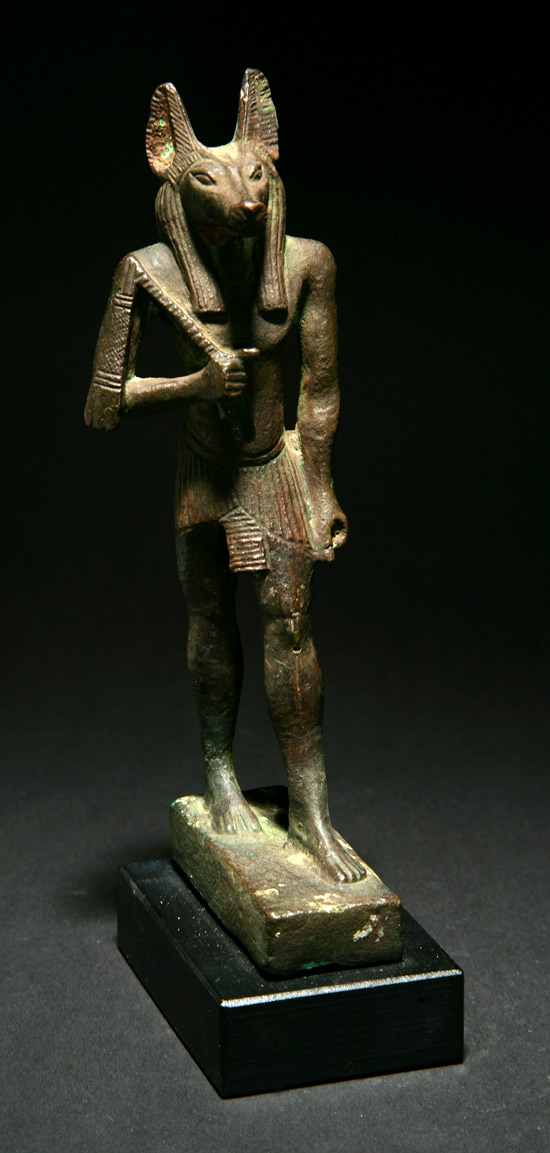 Lot 867

A Rare and Striking Bronze Sculpture of Anubis. Egypt, Late Period, c. 664-343 BC. The jackal-headed deity of mummification depicted striding forward on an integral plinth, his left leg forward, and clad in a belted pleated kilt. He is wearing a tripartite wig, broad collar, and holds a flail in his right hand. His face, muzzle and ears all finely detailed. The bronze deep brown, with occasional green and red. Discreet repair and restoration to plinth and feet. Height: 6-5/8". A superb bronze sculpture, elegant and original, without the over cleaning seen on many Egyptian bronzes.
Estimated Value $15,000 - 20,000.
Morven Collection, Christies NY (6-08-04), lot 556; with Royal Athena Galleries, NY, in 1984; from Galerie des Saints-Peres, Paris previously. Billionaire John Werner Kluge, owner of Morven Estate, near Charlottesville, Virginia, was a self-made businessman who immigrated to the United States from Germany. Kluge developed his wealth by buying and selling radio and television properties, creating the Metromedia empire. Among his art collecting passions, antiquities occupied a favored spot.


---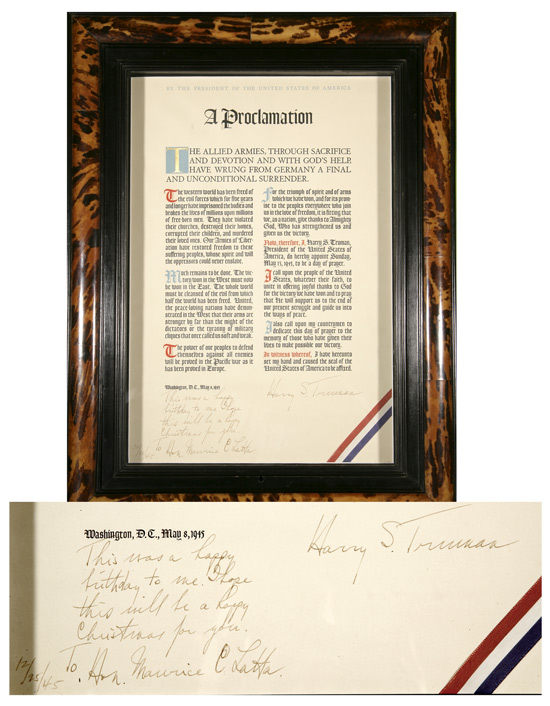 Lot 210

Truman, Harry S. World War II Victory Proclamation Broadside Signed and Inscribed to the veteran and seemingly-immortal White House Executive Clerk Maurice C. Latta, who began as a clerk at the White House under President William McKinley in 1898 and who would serve for fifty years-- through 1947 : "This was a happy birthday to me [Truman's birthday was May 8]. I hope this will be a happy Christmas for you. 12/25/45. To Mr. Maurice C. Latta. Harry S. Truman."

This impressive document, bearing a six-inch signature by Truman, is printed on a 21¾x14½" leaf of heavy-stock presentation paper, dated in print May 8, 1945, the date the unconditional surrender of Germany to the Allies was ratified in Berlin. Across the top of the page, in blue lettering is: "By The President Of The United States Of America." The initial "T" in the first paragraph is gold and each paragraph thereafter begins with either a blue or red letter, two paragraphs having three words in red lettering. The proclamation begins: "The Allied Armies, through sacrifice and devotion and with God's Help, have wrung from Germany a final and unconditional surrender…." While celebrating the victory in the West, Truman acknowledges, "The victory won in the West must now be won in the East. The whole world must be cleansed of the evil from which half the world has been freed…." and the President appoints Sunday, May 13, 1945, as a day of prayer.

The document is recessed in a beautiful 24x18" inch tortoise-shell frame. In superb condition. A Victory Proclamation signed by Truman sold for $19,500 in 2004. Scarce.
Estimated Value $10,000 - 15,000.
Sang Collection.


---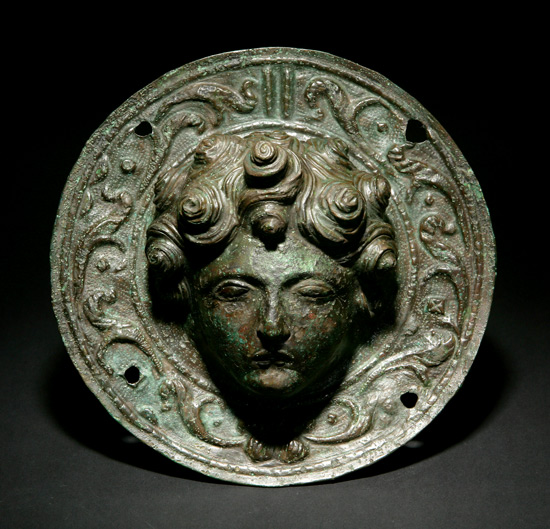 Lot 906

Important Inscribed Roman Bronze Cavalry Parade Tondo, for a War Shield. Eastern Roman Empire, c. late 1st - 2nd century. The bronze sheet worked with a high relief facing head of a plumpish woman, her hair arranged into high corkscrews (a Celticised Medusa?), with a ornate border of arabesques around, the fields with dot-punched texturing, and pierced four times for attachment. Towards the edge, a dot-punched inscription: "GFELICIANA VALMARCVS." With negligible museum grade patch on the reverse towards the edge, piece exceptionally preserved with handsome dark green and brown patina. Diameter: 9-5/8". Rare!
Estimated Value $13,500 - 18,500.
Axel Guttmann Museum Collection, Germany. Published: M. Junkelmann, "Romishe Helme: Sammlung Axel Guttmann," VIII, Mainz, 2000, p. 203, pls. 112 and XXIV (AG 808), discussing the possible ownership inscription to be read as: "Aulus Val…. Marcus [serving in the unit of] Gaius Felic…. Ian…." A rare central section of a shield comparable to the styles of Mask Helmets from Silistra (a Roman fortress town established in what is now northern Bulgaria), in the Donau region.


---