Sale 31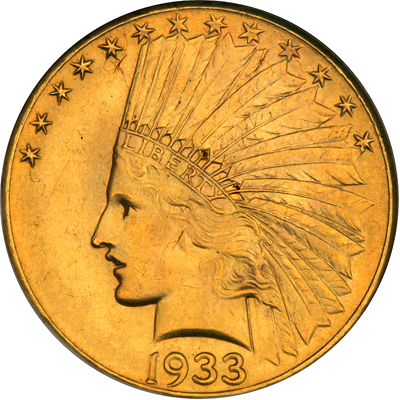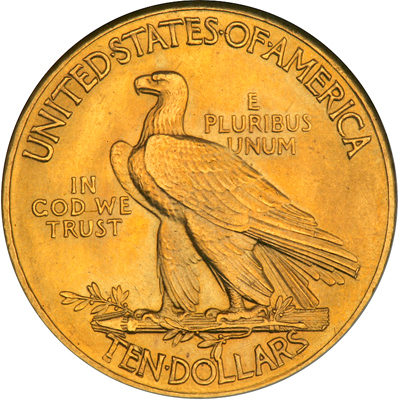 Lot 1065

1933 $10 Indian. NGC graded MS-65. This choice specimen is quite sharply struck. The details in Liberty's hair and the feathers in her headdress can be seen clearly with the naked eye, though magnification will aid appreciation of the intricate design details. Searching for an area not perfectly struck up will yield perhaps only 4 stars from 12 to 1 o'clock. On the reverse, the eagle is wonderfully detailed. One can make out every eagle feather and leg scale. The bundle of arrows upon which the eagle rests is equally detailed with every arrowhead and shaft clearly discernable. The color is deep lemon yellow gold and the surfaces are remarkably clean but for some contact marks on Liberty's nose and cheek.

Up until just a few years ago, we would have said that the 1933 Eagle was the only gold coin of that year legal to own. Now of course as one single specimen of the 1933 Double Eagle has been deemed legal by the US Treasury and has been sold publicly, we can no longer make that statement, but realistically, the 1933 $10 gold coin is still the only generally collectible gold coin of that year. As 1933 began, it was just another production year for mint employees making gold coins. During January and February, 312,500 pieces were struck. Some were delivered to the Treasury Dept. for traditional assay and testing. One hundred coins were sent to the Treasurer's office for sale to the public and from these, five coins were eventually distributed legally and publicly. The distrubution was ended by Franklin D. Roosevelt's executive order, his Presidential Proclamation 2039 on March 6, 1933 which effectively ended gold coin usage in this country.

Along with the pieces which were destroyed during assay and testing, all of the remaining 1933 Eagles were to have been melted, and the vast majority were. But since more than the five coins which were legally sold before March 6th 1933 now exist, several others obviously escaped the melting pot. Present day estimates range from 25 to 40 examples. A Secret Service investigation led authorities to conclude that the remaining supply had been filtered from Philadelphia Mint Head Cashier George McCann through the one of the city's scrap gold dealers Israel Switt. Charges against the two were considered but dropped, though the Secret Service continued their activities relative to the 1933 Double Eagle.

Now offered is perhaps one of the original five legally sold or maybe one of the very few secreted out of the mint. In any event, they all are now quite legal to own and are in fact one of America's most desired gold coins. It is in addition the key date to the series and possesses a mystique difficult to equal by all but the most fabled rarities in the US numismatic pantheon. For the past 20 years or more, it has been residing in a private collection and as such has no recent auction record. So then, here is your opportunity to complete your Indian Gold Eagle set, or begin one! After this coin, the rest should be easy. Population of only 3, with one higher in MS-66.
Estimated Value $475,000 - 525,000.


---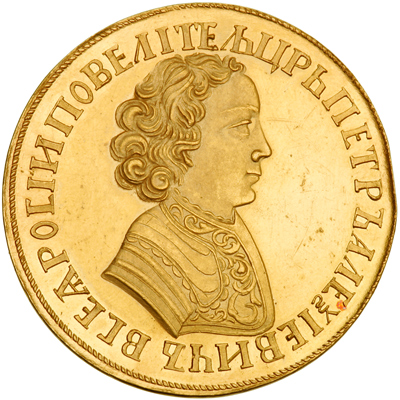 Lot 1751

Russia. Novodel Ruble Struck in Gold, 1705. Fr-76 (62); Sev-12; Bitkin-532; Diakov-page 87, part 1. Struck in gold in the weight of 13 Ducats, 44.22 grams. Plain edge. Struck from the dies of the novodel ruble of 1705 (Sev-185). Peter I, bust right. Reverse: Crowned double headed eagle. Sharply struck with all details bold and clear, the hair curls in higher than normal relief. The surfaces are fully prooflike on both sides. This is the plate coin shown in Bitkin and Diakov which appeared in both the 1977 Soderman and 1991 Goodman auctions and is the only specimen appearing at public auction in over 25 years. Severin mentions this present specimen (his no. 12) as well as another in 40.4 grams weight making this one of only two known examples. He also mentions a gold 1707 rouble (no. 18) and a 1723 in 12 ducat weight, these presumably unique. This is one of the most important coins in the Hesselgesser Collection and indeed the entire Russian series. Semi-Unique and of the highest rarity. PCGS graded MS-62.
Estimated Value $250,000 - 400,000.
The Dr. Robert D. Hesselgesser Collection, Ex-Soderman Collection, Swiss Bank, Feb. 1977
Ex-Goodman Collection auction, Feb. 1991, lot 4.


---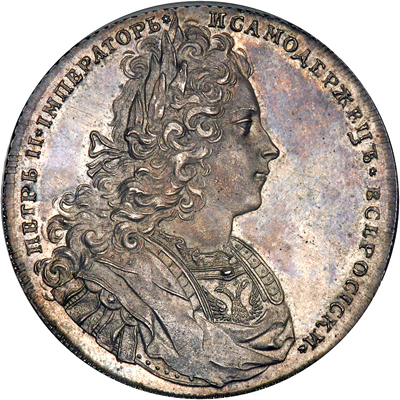 Lot 1821

Russia. Pattern Ruble, 1727 (St. Petersburg). Bitkin-51; Sev-Unlisted; GM-Unlisted; Uzd-Unlisted; Zander pg. 42 (plate 43 #1). Peter II. Silver. Edge 1, 41.5 mm, 28.73 grams. Obverse: Laureate armored bust of Peter II facing right. From the same die as GM-5 (plate 1, #5), the unique specimen in the Hermitage. Reverse: Cross of crowned P monograms with ordinal "ii" within the angles, as the adopted design but of nicer workmanship. This specimen is well struck except for slight softness at the lower part of the uniform drapery and on the corresponding lower crown of the reverse, this a result of die mis-alignment during the striking process. The style is exceptional with lovely modeling of Peter's face, hair and cuirass. The details of the reverse, though minimal, are equally fine. There are two types of pattern ruble of Peter II, both currently unique. As indicated in its origin of pedigree from World Wide's auction XXXV, this piece was authenticated by Dr. Spassky of the Hermitage in 1984. A ruble of great beauty, one of the most important in the entire Russian series and the only pattern ruble of Peter II in private hands. Unique. PCGS graded MS-63.
Estimated Value $125,000 - 200,000.
The Dr. Robert D. Hesselgesser Collection.


---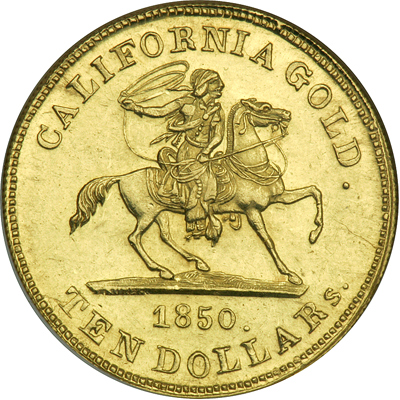 Lot 1215

1850 Baldwin & Co. (San Francisco) $10 Gold. NGC graded MS-64. A fabulous example of one of the most desirable and most recognizable of all Territorial gold coins. The Vaquero, or "horseman" design captures the imagination of any numismatist. The reverse design was similar to the existing United States eagles. Curiously, because the obverse was so recognizable, the coin did not find the wide acceptance as a design more closely resembling the regular issue gold coins of the United States, and hence, the obverse die was changed in 1851 to resemble a Liberty Eagle.

This particular example boasts stunning frosty mint luster with fully struck devices in natural light gold with a slight greenish tinge. A foremost opportunity to acquire a very important numismatic treasure that may not be repeated for years to come. NGC reports this 1 example in MS-64 with 1 higher by a point.

The banking firm of Baldwin and Company was effectively crushed by a wandering eccentric who called himself James King of William. Mr. King was a muckracking political journalist from Washington D.C. for the Daily Globe until he realized better opportunities were to be found in San Francisco with the beginnings of the Gold Rush. Thus King found his way to the mining district by late 1848. Being a sagacious fellow, King soon determined that digging for gold was hard work, and it would be far easier to buy, sell or lend gold dust than to dig for it. He became one of the partners in the banking firm of Samuel J. Hensely and in several successive firms, buying gold dust to sell to coiners at high profits, starting first at Sutter's Mill, then Sacramento, and later on his own in San Francisco. However, his bank manager embezzled everything, leaving him penniless. King was envious of the profits being made by the likes of Baldwin & Co. and other private coiners of the period, and thus hatched a plot to make himself rich at their expense. King knew, as did everyone else, that the private coiner's output tended to run slightly below full bullion value, and unlike everyone else, King decided to define this as dishonestly instead of seinorage or technical limitations. Accordingly, on March 21, 1851 King sent a parcel of Baldwin, Schultz and DuBosq coins to his friend Augustus Hubert, United States Assayer, for testing. Predictably, the assays rated them from 97% to 99% of face value. On March 28, 1851 King sent the figures to all local newspapers, creating one of the biggest scandals of the period, and setting into motion corrosive attacks on these private firms. Thereafter, bankers (like King) would only pay 80¢ on the dollar for private gold coins, at a manifestly absurd discount they bought them in quantity from panicked holders, to resell at a high profit to Humbert for recoinage into octagonal $50's. This action unquestionably worsened the economic depression which immediately followed, and may have cause it, by creating a coin shortage and destroying public confidence. Not that King's action brought him the vast wealth he craved: He continued in the banking business only to fail again and again. King returned to what Kagin calls "crusading journalism" which attacks on various immorality and corruption. his final attack was on County Supervisor James P. Casey, who King exposed as having been in Sing Sing Prison prior to his governmental post. Casey was so enraged he shot King on May 14, 1856, and King died a few days later. The outraged citizens formed a vigilante committee and dragged Casey out of jail (where he had run for protection), and hung him from the nearest tree. (See Breen's Encyclopedia and Kagin's work on Territorial Gold coins for more) (PCGS # 10028) .
Estimated Value $150,000 - 175,000.


---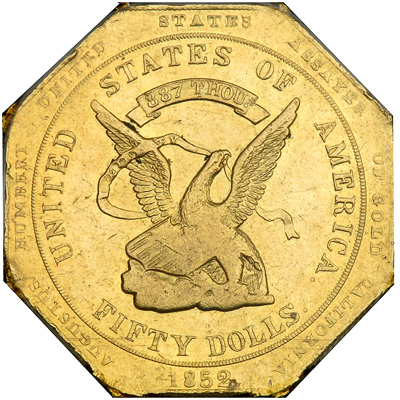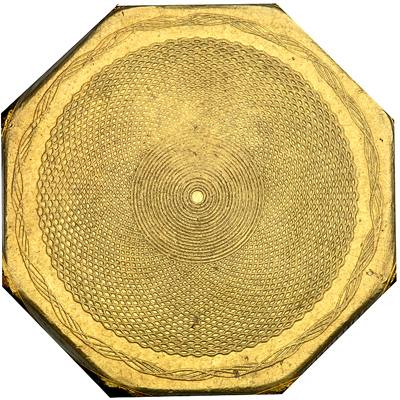 Lot 1212

1852 U.S. Assay Office $50 "slug", 887 THOUS. Reeded edge. PCGS graded MS-62 PQ. Here offered is a fabulous and memorable slug. This incredible new discovery coin has resided in the collection of a Maharaja since the 1950s and is just now seeing the light of day, to the joy of all numismatists. Type with "887 THOUS." in relief. Breen-7709, Kagin-11. The lower part of the eagle, the shield and the rocky crag below are ill defined due to striking weakness. This single aspect of manufacture is more than made up for by the total originality of the coin. The surfaces are covered with satiny mint luster in lovely California yellow gold. The engine turning and filigree design on the reverse is essentially complete as are the obverse legends. These details combine to provide a coin of outstanding beauty and one of great importance in the history of California's gold discoveries and the American West. Population 1, and the only Mint State specimen this far graded by PCGS! (PCGS # 10217) .
Estimated Value $30,000 - 40,000.


---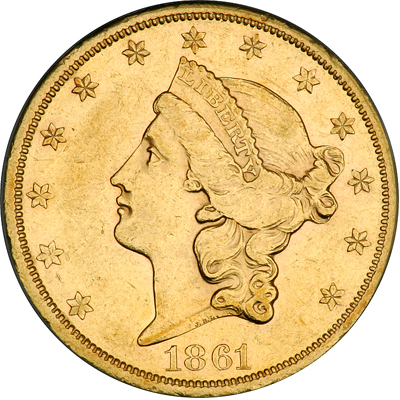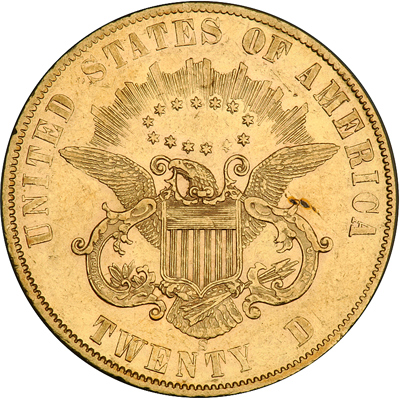 Lot 1075

1861-S $20 Liberty. Pacquet reverse. PCGS graded AU-58. Choice About Uncirculated, well struck and lustrous with original mint frost around the date, letters and stars and within protected areas. There are contact marks on the devices and in the fields, but these are fewer than expected with similarly graded coins of the period and type. On the reverse, just below the eagle's left wing (the right, as viewed), there are two tiny dark inclusions, the result of foreign matter on the die or planchet during the striking process. These will serve as diagnostics for this particular specimen.

The history of the Paquet type $20 gold coin holds great fascination for the numismatic community and especially for those intetested in gold coinage, particularly double eagles. Walter Breen discusses the issue in his Encyclopedia, assigning nos. 7203 to 7206 to the known varieties (7205 for the 1861-S), and Q. David Bowers provides an excellent, expanded treatment of the Paquet reverse in his recently published work on double eagles.

Breen stated that this reverse type came about as an "attempt to improve the design" though no mention is made of why the design needed improvment. Bowers surmises that long standing problems with reverse die cracking may have been the impetus, but in any case, Assistant Mint Engraver Anthony C. Paquet began experimenting with new reverse design details in 1859. Dies dated 1861with Paquet's reverse were made in late 1860 for Philadelphia, New Orleans and the San Francisco Mint which would receive four pairs of Paquet reverse dies. The main difference between the old reverse and the Paquet reverse is that the letters on the Paquet are taller and narrower. Perhaps it was concluded that this slight change would spread the striking pressure in ways that would prevent die cracking around the legend?

Shortly after production began in Philadelphia on Jan. 5, 1861, it was dicovered that because of the design configuration, the reverse rim was narrower than expected and that this might lead to undesirable results during circulation. The experiment was not allowed to be played out as production was halted by Mint Director Snowden at Philadelphia. He also contacted the San Francisco Mint ordering cessation of production there as well. Bowers interestingly tells us that "the telegraph connection to the Wset Coast had not been finished past St. Joseph, Missouri, and the directive had to be carried overland to California from that point. By the time that the information was received, on February 2, 19,250 1861-S Paquet Reverse double eagles had already been struck and issued."

Of the original 19, 250 coins struck and placed into circulation, it is estimated that possibly 200 or so may have survived, aproximately 1% of the mintage. We expect that the presently offered specimen is among the finest of those survivors. The population at PCGS in this grade is only one, this coin, and of course it is the finest graded by that firm. Extremely Rare (PCGS # 8936) .
Estimated Value $115,000 - 125,000.


---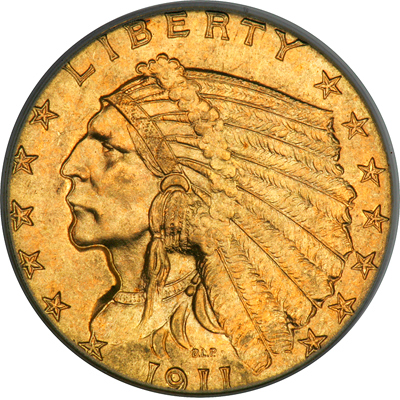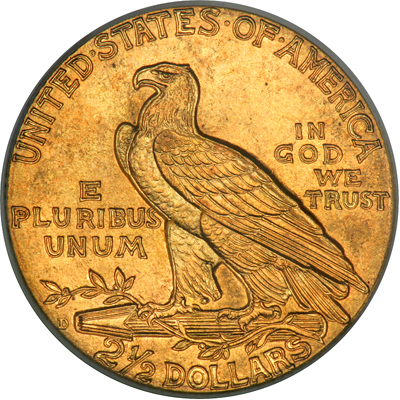 Lot 813

1911-D $2.50 Indian. PCGS graded MS-65 PQ. For we who catalog and auction fine quality American coins, it is always a pleasure when something special comes along, an item "a cut above" so to speak. The 1911-D is of course the key date to the series, and with so many collectors favoring this lovely design and seeking them in Gem quality, the demand is great for truly superior examples. It is just so with this fine specimen.

The strike is absolutely wonderful. There is no design detail that is not sharply defined. Every headdress feather and even the cross-hatching in the forehead band is clearly visible. The reverse is equally bold as all the eagle's feathers, arrow detail and leaf is quite well struck. The mintmark is bold as well. The surfaces are exceptionally clean and beautiful with hardly a miniscule mark to be seen and a warm and inviting pale amber color completes the lovely package.

The original mintage was low at only 55,680, thus the key date status. From that small original number, very few even approach any Mint State level. This gorgeous Gem is the finest we have seen in 50 years in the coin business and we encourage attendees to our auction to view it if possible, as it will be a long time before it's equal comes along. Population 11, with 4 in MS-66 (PCGS # 7943) .
Estimated Value $100,000 - 130,000.


---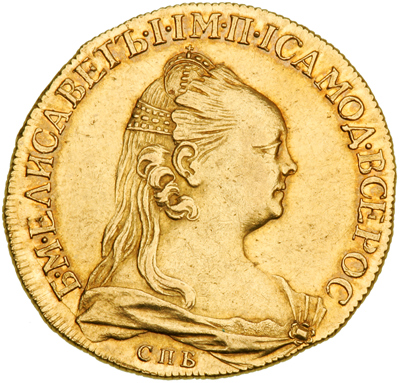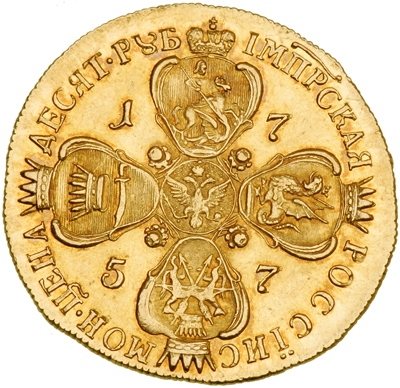 Lot 1838

Russia. 10 Rubles, 1757-SPB. Bitkin-51; Sev-227; Fr-123. By Dassier. Elizabeth. Large finely modeled bust of Elizabeth facing right with her hair pulled tightly back over a tiara, with St. Petersburg mintmark below. Reverse: Standard design, a cross of four shields. Well struck with considerable mint luster. Jaques Antoine Dassier (1715-59), the son of famous medallist and coin engraver Jean Dassier (1676-1763), was in his own right a leading luminary of 18th century medallic art. From 1740 to 1745, he was assistant engraver at the Royal Mint in London. After a 3 year sojourn in Russia, where he produced the dies for Elizabeth's silver rouble and her gold ten roubles, he died in 1759 at Copenhagen. His designs are among the most interesting and attractive of the period and now much in demand. Extremely rare and likely the finest quality specimen in private hands. PCGS graded AU-58.
Estimated Value $50,000 - 60,000.
The Dr. Robert D. Hesselgesser Collection, Ex Swiss Bank Sale, Russland Soderman Sale, Feb 1977, lot 135.


---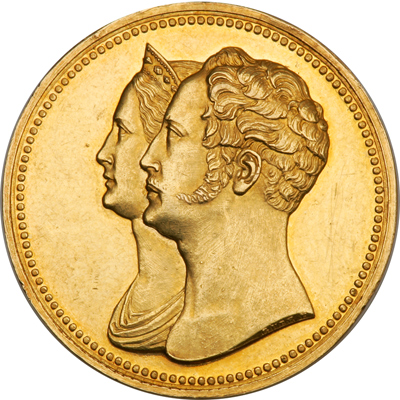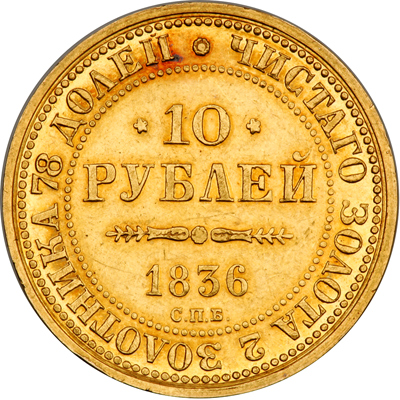 Lot 1979

Russia. Pattern 10 Rubles, 1836-SPB. Bitkin-H825; Sev-424; Fr-153. By Gube. Nicholas I. Conjoined busts of Czar Nicholas I and Czarina Alexandra facing left. Reverse: Value and date within a beaded circle with legend around. Friedberg lists a mintage of 36 pieces and all were likely struck as proofs, as we believe this coin is. They were possibly intended as mementos for distribution to family and friends of the imperial court. Nicholas I acceded to the throne in 1825 after the death of his older brother Alexander I who died childless. Grand Duke Constantine, Paul I's second son, who was next in the line of succession had secretly renounced the throne in 1822 after marrying a Polish aristocrat and the resulting confusion led to a military conspiracy against Nicholas, the so-called Decembrist Uprising, which he suppressed ruthlessly. Nicholas married Frederica Louisa Charlotta Wilhelmina, daughter of King Friedrich Wilhelm III of Prussia, becoming Alexandra Feodorovna, and had seven children with her. He died on February 18, 1855 and some historians believe he committed suicide by poison after receiving news of the defeat of Russian forces at the Battle of Evpatoria during the Crimean War. This coin's designer, Heinrich Gube (his name at the truncation of the Nicholas bust) had worked in Berlin with the Loos firm and in 1830 was appointed by imperial edict to the position of Chief Engraver & Medallist at the Saint Petersburg Mint. He produced many important coins and medals during his tenure and his life like rendering of the imperial couple on this 10 Rubles attest to his considerable talent as an engraver. Extremely Rare; Bitkin R3, with 4 to 9 pieces estimated to be extant. PCGS graded MS-62.
Estimated Value $50,000 - 60,000.
The Dr. Robert D. Hesselgesser Collection.


---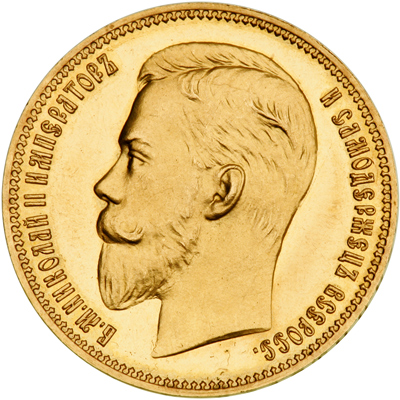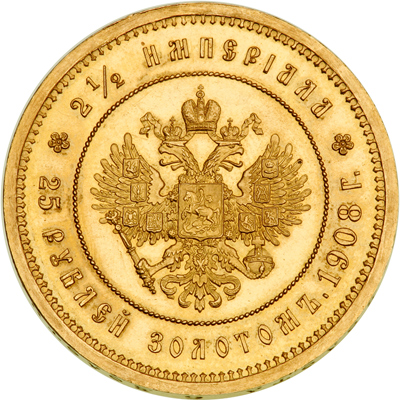 Lot 2063

Russia. 25 Rubles or 2 ½ Imperials, 1908. Fr-171; Bitkin-311; Sev-587; Y-A65. Nicholas II. St. Petersburg mint, without mintmark. Head left. Reverse: Eagle in beaded circle, legend around. Total mintage of only 150 pieces. KM lists a mintage of 150 business strikes and 25 proofs and Bitkin may have added these two figures as he shows a total of 175, not broken down by production method. Severin quoted a mintage of 150, not mentioning regular or proof strikes. It seems likely that 150 pieces were struck, all as proof strikes only, but whatever the figure, they are extremely rare and equally popular and desirable. Of the miniscule original amount struck, there can only be a very few in this choice state. R3, 4 to 9 pieces estimated to exist. PCGS graded Proof 64.
Estimated Value $75,000 - 85,000.
The Dr. Robert D. Hesselgesser Collection.


---