Sale 26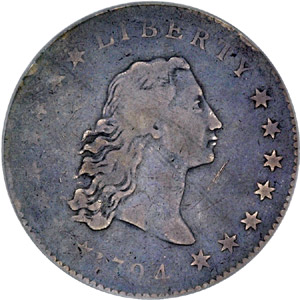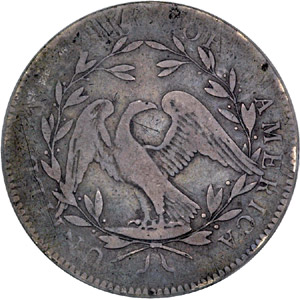 Lot 887

Flowing Hair Dollar. 1794. PCGS graded Fine-12 B-1, BB-1. R.4. The 1794 dollar is one of the most intriguing, elusive and historically significant coins in American numismatics! For over 100 years, the appearance of a 1794 dollar at auction has been a notable moment and that spirit and enthusiasm continues today. Only 1,758 pieces were struck and it is estimated that approximately 130 or so exist in all grades today. The present specimen exhibits the typical strike weakness that M.H. Bolender commented on in 1950, stating "Usually found with the impression weak on lower part of date and the stars on left, and sometimes the border milling on left does not show up". This weakness most likely occurring from the dies becoming misaligned after the intial 1794 copper trial piece (which we proudly sold as Lot # 153 of our Benson Sale in February 2001) and first few dollars were produced.
Surfaces have an aged, antique silver appearance and possess the faintest hints of gun-metal blue and magenta toning in the fields. As stated earlier, the weakness on the left stars is expected and the individual stars, while faint, are all still visible. The quality of the surfaces is fantastic for a 1794 dollar! There are no obverse adjustment marks at all and two old, dull scratches in front of the neck are the only marks to speak of. Even wear has discolored the high points to a pleasing light gray and makes Liberty stand out in relief to the rest of the surfaces. The reverse has 4 old remnants of adjustment marks at the rim by the ES of STATES. A soft rim bruise above the E of AMERICA. An old "V" shaped scratch comes off the middle of the eagle's neck. Superbly original and choice. Housed in an old green label PCGS holder. We are certain there will be many eager buyers chasing after this American Classic (PCGS # 6851) .
Estimated Value $30,000 - 40,000.


---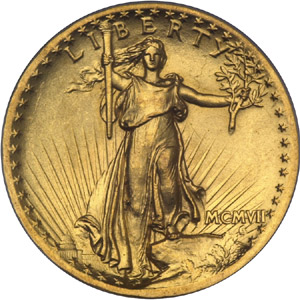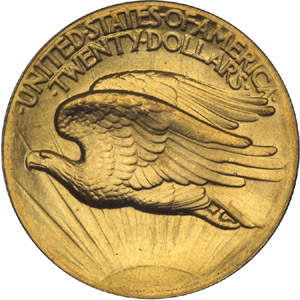 Lot 1831

$20 Gold St. Gaudens. 1907. High relief, Roman numerals, flat rim. PCGS graded MS-66 PQ! A fantastic example of one of the most beautiful coin designs in United States and World numismatics. Saint Gauden's stunning portrayal of Liberty is struck up in full, high relief on this PQ specimen! Liberty's dress detail is immaculate and the legs are missing any nicks. The luster is uniterrupted as it flows freely across the fields and across the devices. Magnification reveals interwoven circles of light die polish, most noticeable at the tip of the 4th ray above the Roman numeral date. These raised circular die lines are seen on only the finest examples with surface preservation of the highest degree.

This beautiful coin issue was the result of work by Augustus St. Gaudens at the request of then President Theodore Roosevelt. Roosevelt felt strongly about bringing beauty back to America's coinage that he felt was boring and nowhere near the distinction of many Ancient Greek coin designs. Through all of the insuing problems St. Gaudens and Roosevelt endured from the political sewing cirlce of the time, the project was successful and finally 11,250 high relief examples were produced in 1907. This quantity of High Relief examples was sufficient enough to satisfy Roosevelt but also enough to cause the public to complain about the negative effect of their awkward design. Lower relief dies with Arabic numerals were produced and the mass production of "Saints", as we know them as today, began in full force.

Out of the mintage figure of 11,250, there are two varieties struck from the same dies, Flat Rim (Edge) and Wire Rim (Edge). The Flat Edge examples are substantially more rare, probably on an order of 2-3x as rare in grades above MS65. PCGS has 28 Flat Rim examples in MS66, 2 in MS67 and a single MS68 as finest (PCGS # 9136) .
Estimated Value $45,000 - 55,000.


---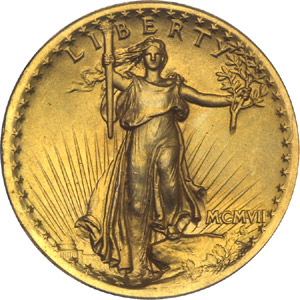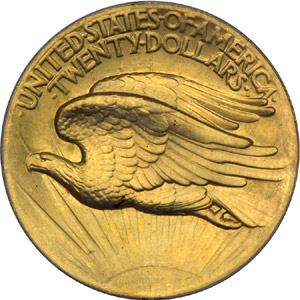 Lot 1830

$20 Gold St. Gaudens. 1907. High relief, Roman numerals, wire rim. PCGS graded MS-66 PQ. A phenomenal example of this Classic U.S. coin design. Multiple die strikes led to this piece being in such high relief while satiny luster and uniform gold color accent the already impressive visual appeal. Raised die swirls are seen in the fields. Velvet-like luster shifts on the top of Liberty's gown. The eagle is bold, lustrous and mark-free. Specimens existing above this grade level are few and far between and with the prices of MS63 and MS64 examples continually increasing, the astute buyer would do well to acquire this PQ coin.

One would have to go back 2,000+ years into the arena of Greek numismatics to find a coin design as impressive as Augustus St. Gaudens' high relief coinage. Long considered "America's Most Beautiful Coin", St. Gaudens did a fantastic job of creating a new double eagle design to replace that of the long running Coronet Liberty Head created by James Longacre. Since their' introduction, these High Relief specimens have been sought after by almost all collectors and even those with no numismatic exposure are always dazzled to see such a beautiful coin (PCGS # 9135) .
Estimated Value $40,000 - 50,000.


---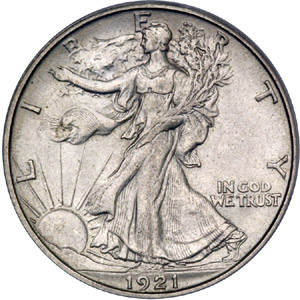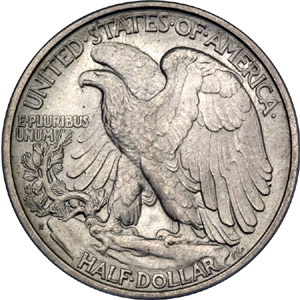 Lot 828

Liberty Walking Half Dollar. 1921-S. PCGS graded MS-64 PQ. Shimmering fields and mark-free surfaces are graced with rich, gem quality luster on both sides. This beauty's strike is significantly stronger than seen on most, as evidenced by a glance at the head and hand detail. The typically seen weakness on Liberty's gown was spared from any nicks or hits, which are routinely seen near the chest and on the legs. Key rarity of the Walking Liberty Series in uncirculated condition and a mintage of only 548,000 (5th lowest for the series). Demand has consistenly outpaced the limited supply of the '21-S and this will most likely be the continuing trend for the future. The strike quality of this piece is apparently a tad better than that of the Ally Collection example (Heritage; New York Signature, 6/20002, Lt # 8528, PCGSMS65) and close to that of the Nicholas Collection example (Heritage; Central States, 5/2004, Lot # 7646, PCGSMS65) This specimen has true gem potential and a light "dipping" or trip for "conservation"would be the prudent step to take before resubmitting this piece for the MS65 grade (PCGS # 6585) .
Estimated Value $30,000 - 40,000.


---
Lot 1505

$2.50 Gold Capped Head. 1831. NGC graded MS-65. Fully reflective fields and perfect yellow gold coloration. Luster is rich and uninterrupetd across Liberty and at the borders. Fully struck with satiny frost over Liberty's capped portrait. The reverse gets the same respect and the only strike weakness that exists is at the interface of the eagle's right wing and shield. A die lump to the left of star 2 near border. Traces of a second U to the left of the first U in UNITED. This series is one of the highlights of the gold coins that our country struck and the specimen here is a gem! NGC has graded 3 in MS65 with supposedly 3 MS66 examples as finest.

This design is commonly referred to as "Kneass' modified design" and was struck from 1829-1834. As type coins, these are some of the toughest in United States numismatics. Only 25,000 pieces were struck for the entire time period of 1829-1834 and most were melted. When the Bass Sale took place, the cataloguer of that sale pointed out that only 3% of the entire mintage might exist today in all grades.
Estimated Value $35,000 - 40,000.


---
Lot 1118

Morgan Dollar. 1895. PCGS graded Proof 62 PQ. A well struck and totally brilliant white proof example with nice cameo effect devices. Some scattered faint hairlines appear under magnification in the unprotected areas of the fields, none of which are too serious. An over all very pleasing example of the "King of Dollars" and qualifies as a Premium Quality example for the designated numerical grade. Always in great demand as this is the single most desirable of all Morgan dollars. PCGS reports a population of 71 pieces in this grade (PCGS # 7330) .
Estimated Value $35,000 - 40,000.


---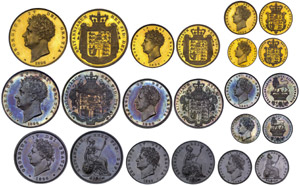 Lot 2258

Great Britain. Gold, Silver and Copper Proof Set, 1826. George IV. Proof set from 5 Pounds to Farthing. S.PS1; KM-PS3. Approximately 400 sets struck. Very Rare. PCGS graded 5 Pound Proof 64 Cameo; 2 Pound Proof 64 Cameo; Sovereign Proof 64 Cameo; ½ Sovereign Proof 64 Cameo; Crown Proof 65 (Septimo edge); ½ Crown Proof 65; Shilling Proof 65 Cameo; 6 Pence Proof 65; Penny Proof 65; ½ Penny Proof 65; Farthing Proof 65. Lot of 11 coins.
Estimated Value $25,000 - 30,000.


---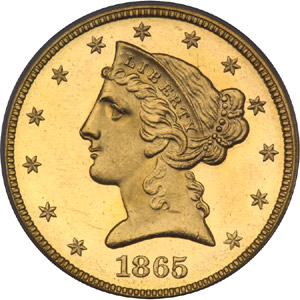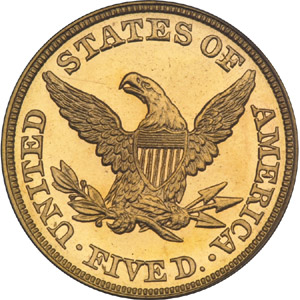 Lot 1643

$5 Gold Liberty. 1865. PCGS graded Proof 64 Deep Cameo. A truly marvelous example of this No Motto proof rarity! Light golden fields are fully reflective and the device of Liberty is fully frosted to create an outstanding Deep Cameo effect. Only 25 proofs were made in 1865, a year in which only 1,270 business strikes were made as well. As a result, obtaining an 1865 half eagle in either striking of any grade is a serious accomplishment. The present coin is as pristine as one could imagine and disregarding a few tiny handling marks, should be considered a gem example. Identified by a small vertical nick at the right base of the neck.
Perhaps a dozen of the 25 minted, and probably less, can be accounted for today. Garrett, Trompeter, Eliasberg and Bass all managed to acquire top notch examples of this issue and here is an opportunity for the advanced numismatist to join those ranks. Tied for the Finest Known Deep Cameo example as PCGS has graded only 2 DCAM specimens, both in PR64DCAM (PCGS # 98455) .
Estimated Value $35,000 - 45,000.


---
Lot 1119

Morgan Dollar. 1895. PCGS graded Proof 62. This is the issue that every serious Morgan Dollar collector has to acquire at some point. Considered the "King of Morgan Dollars", the 1895 proof achieves almost cult status among the dollar collecting community, as well as the numismatic arena as a whole. The piece offered here is sure to receive attention from this aforementioned community as its' deep reflective fields and collectible grade make it a solid foundation for any collection.

Delicate chalky toning over white surfaces. Liberty's cheek and face display only a few light scratches and faint hairlines. A short nick on the bridge of the nose is a good reference for future identification and pedigree research. Additionally, to the left of the S in PLURIBUS is a shallow patch of hairline scratches. On the reverse, another small patch of scratches to the left of U in UNITED. All devices still retain original mint frost and this example boasts great eye appeal.

The 1895 proof has the lowest number of examples available for each respective grade than any other issue from the Morgan Dollar series. While superb gem examples might be a little more available than gem examples of another business strike issue, like an 1895-O, the chance to purchase a 1895 proof in any grade is a serious occurrence (PCGS # 7330) .
Estimated Value $28,000 - 32,000.


---
Lot 970

Morgan Dollar. 1889-CC. PCGS graded MS-63 Prooflike PQ. A key issue in the Morgan Dollar Series! The cheek and neck detail on this flashy coin is amazingly clean. Crisp luster rotates around the fields. Proof-like fields are not subdued by a light, original film on the surfaces. On the reverse, the eagle gets the same respect as Liberty's device. We note some extremely light hairlines under the eagle's wings but that is the extent to which any hairlines exist. In our opinion, this coin is so under graded for an 1889-CC that it is ridiculous! PCGS population of 17 in MS63PL with only 4 in MS64PL as finest (PCGS # 7191) .
Estimated Value $20,000 - 24,000.


---