Sale 24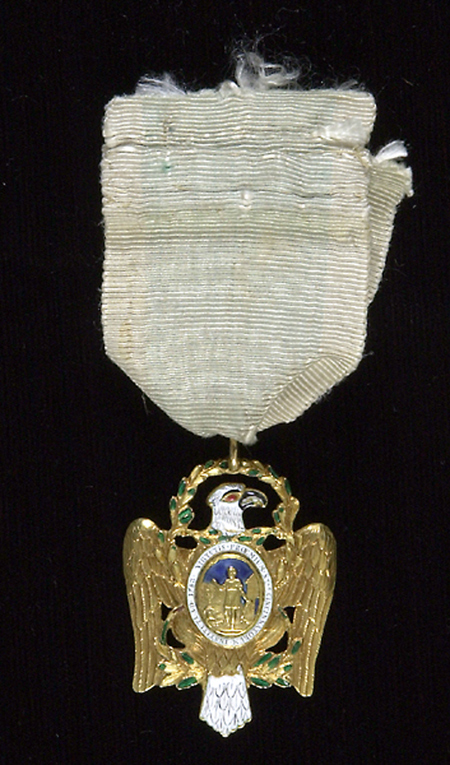 Lot 163

Society of the Cincinnati - The Andrews-Berrien Eagle. Gold eagle designed by Jeremiah Andrews, c. 1788-91, 40 x 30 mm. It is No. 11 in the Minor Myers' book, The Insignia of The Society of the Cincinnati and is likely to be one of the eagles advertised and sold in Savannah, Georgia by Andrews, who was a Philadelphia jeweler. On the obverse, the head is left, with a distinctive beak and eye. The head, claws, and tail are white. The tail seems quilted rather than divided into distinct feathers. Unlike the typical Andrews eagle which shows three senators handing a sword to Cincinnatus, this eagle has larger figures and only one senator. The motto is in small black letter on white: OMNIA RELINQUIT SERVAR REMPUBLICAN. On the reverse is a large Cincinnatus with plow, house and sun behind. The motto is in small letters on a white thin border: VIRTUS PROEMIUM S.TAS CINCINNATORUM INSTITUTA A.D. 1783. The abreviation of societas is a distinguishing trait. The eagle is attached to a faded blue and white ribbon and is kept in a worn red box, 3¼ in. square, with clasp, and handwitten on bottom, "Elizabeth Duyckinck / March 15 - 1831."

The Society of the Cincinnati has seen only one other example of this Andrews eagle type; it was owned by original member Major John Berrien and is in a private collection.
Estimated Value $4,000 - 6,000.


---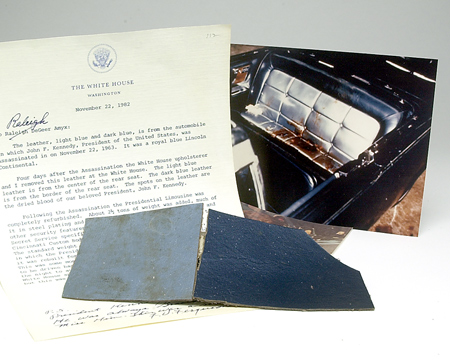 Lot 74

Kennedy, John F. Two blood-stained pieces of leather from the back seat of the limousine in which President Kennedy was riding when he was shot on November 22, 1963. A 3 inch square piece of light-blue leather has visible blood stains; a 4 x 3 inch piece of dark blue leather comes from the border of the rear seat. Together with a photograph of the limousine, showing the blood-soaked back seat, that was taken for the Secret Service in the White House garage. The blood-stained leather was kept as a memento by F. Vaughn Ferguson who was the Technical Service Representative at the White House. In a November 22, 1982 letter to Raleigh DeGeer Amyx, typed on stationery imprinted with the Presidential Seal and "The White House / Washington, D.C.," Mr. Ferguson tells his story:

"The leather, light blue and dark blue, is from the automobile in which John F. Kennedy, President of the United States, was Assassinated on November 22, 1963. It was a royal blue Lincoln Continental. / Four days after the Assassination the White House upholsterer and I removed this leather at the White House. The light blue leather is from the center of the rear seat. The dark blue leather is from the border of the rear seat. The spots on the leather are the dried blood of our beloved President, John F. Kennedy. / Following the Assassination the Presidential Limousine was completely refurbished. About 2½ tons of weight was added, much of it in steel plating and 3 inch thick glass, bullet proof tires and other security features. The refurbishing was done according to Secret Service specifications by the Ford Motor Company and a Cincinnati Custom Body Firm by the name of Hess & Eisenhardt, Inc. The standard weight of a Continental is 5,100 pounds. The Limousine in which the President was killed weighed 6,500 pounds. By the time it was rebuilt for President Lyndon Johnson it weighed 11,210 pounds. This was some months later. President Johnson wanted the Limousine to be driven back from Cincinnati in secrecy. I drove it back during the night to avoid the press and photographers. My career at the White House spanned a twenty year period. There were some fun times, but this was not one of them. It was so sad." In a handwritten postscript, he adds, "President Kennedy was a Great Man. He was always Gracious to me…."

Included is a November 1983 newspaper interview with Ferguson, on the 20th anniversary of the assassination. In the interview, Ferguson gives more details. In part: "…Ferguson…was the liaison officer between the company [Ford] and the White House. He was responsible for the presidential automobiles….'Wherever that car went, I went,' Ferguson said of the presidential limousine. 'I was responsible for it.' But on the infamous day that the president was killed, Ferguson had opted to break tradition and stay in Washington. / 'The next weekend would have been the Army-Navy game in Philadelphia…President Kennedy always went to that game. I stayed to get things ready for the trip. We were to have a car in Philadelphia a couple of days early to have a dry run of the route. You always have a dry run.' It was a trip that never materialed. Instead, Ferguson spent the next three days trying to clean the car. 'There was blood everywhere,' Ferguson remembers. 'We never did get it all out.'" Ferguson remembers being told by Secret Service agents to return to the White House garage to begin the task of repairing the limousine, in case President Lyndon Johnson wanted to use it for the funeral. When he arrived at the garage, it was guarded by men from the FBI. "They jumped up at me like I was a gangster….When I started walking toward the car they warned me not to come any closer." He had to call the director of the Secret Service to get clearance to approach the car. The interview continues, "Ferguson said the FBI agents had ripped the leather seats and had dismantled parts of the car….'They told me they had to do it to find the bullet particles from the shooting.'" Ferguson worked Saturday, Sunday, and Monday to get the car ready, but President Johnson decided not to use it to ride to the funeral, which took place on Monday. When the repairs were completed, Ferguson kept some of the leather from the seats as a memento of the fallen President.
Estimated Value $35,000 - 45,000.


---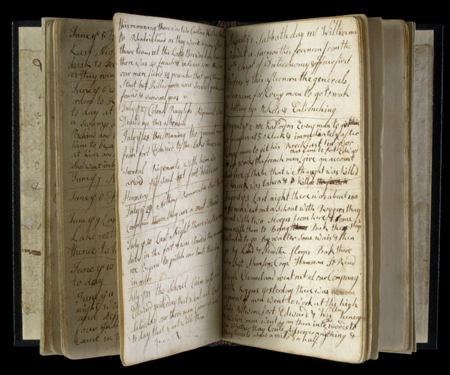 Lot 159

French and Indian War Journal. The diary of Lemuel Boydon, a soldier in the French and Indian War. Inside cover of the dark-green, leather-bound book says, "Lemuel Boydon, His Book anno Domini 1755. God Save the King"; the front and back covers of the original diary have been laid to a newer diary with gilt lettering on the spine, "Diary of Lemuel Boydon - 1755"; however, the daily entries beginning May 15-December 2 are from 1756. Octavo, housed in a custom-made, matching case. Approximately 85 written pages, with military content on some 50 pages. Boydon describes his march from Medfield through Sherborn, Framingham, Marlboro, Springfield, etc. to Fort William Henry, located on Lake George, south of the French fort (Fort Frederick) at Crown Point, on Lake Champlain, and many of the events that transpired during his service.

The diary contains numerous reference to Robert Rogers, the acclaimed leader of Rogers' Rangers (formed in 1756), a highly-mobile force that could live off the land for long periods of time and whose frontier-style practices of warfare served as a model for later ranger activities. His "Plan of Discipline" lists 28 rules and regulations to which his men were subject and which systemitized their style of fighting. In 1756, Rogers and his men were stationed at Fort William Henry and made repeated trips to Crown Point and Ticonderoga to ascertain the strength of the enemy and to annoy him as opportunity presented.

Following are some excerpts from the journal: (May 25) "This morning we Began the Forte…" (May 27 "this morning about 2 hundred men was ordered for to go Begin upon another fort…." (May 31) "Captn Roggers came from Forte Edward and about two hundred men…He brought one Frenchman and a Scalp." (June 9) "Captn Roggers went Back to the Lake with 4 or 5 Whail Boats…" (June 28) "Collonel Ruggels caim in with all his Riggement…and a company of Stokbrig indians came up today…they have 20 pounds a scalp…" (July 1) "…General Liman came up here to day & about a thousand men & three hundred waggens & two 68 pounders" (July 18) "Capt. Roggers came from the Lake with 8 frenchmen & 4 scapls. They took them about 25 miles from Crownpoint…" (July 22) "we marcht from fort Hardy…to fort Edward…" (Aug 3) "Last night there was about 100 & 30 men went out a schout with Roggers. They went with two sloops from here…they intended to go by watter…& then by Land…" (Aug 4) "…the schouts that went out with Roggers came in & told about an encounter with the French & Indians…" (Aug 5) "..Roggers & about 20 of his men…intended to go to Crownpoint…" (Aug 10) "Capt. Roggers caim in today…they killed 40 waggen Horses within a mile…of Crownpoint…the french & indians followed them. roggers had thoughts of takeing a Brush with them But they had so large a Number…it was not Prudent & so took to his heels" (Aug 11) " about 20 mohawks caim up today & Dutchmen with them" (Aug 12) "14 mohawks & 20 highlanders caim up today…" (Aug 13) "14 StockBrig Indians came in who had been to Toconderoga. They said the French had 2 advance guards this side of Ticonderoga…" (Aug 23) "We had a general muster today threw the Camp and War was proclaimed to us…" (Sept 3) "Capt Roggers came in with 3 prisoners who told of about 400 French soldiers stationed at Crownpoint, & about 10,000 at Ticonderoga…" (Sept 20) "…men dead & Scalped & Some with their heads Cut off…" (Sept 27) "Great talk of an army a coming upon us…" (Sept 28) "…the french army is hard by…" (Oct 1) "..the mohawks went off…& caim back in a great fright for their was a large army a coming…" (Oct 5) "…five of our men caim in that had been take Prisenor one of them Belonged to Roggers…the other was taken at Oswago…" (Oct 16) " my Lord Lowden [Londown] went back with all his men…& about 300 more of our men with him…" (Oct 22) "Major Roggers went of for Ticondorage…" (Nov 1) "Waggons came up to take the sick to Albany" (Nov 5) "5 Regiments went off to Day Colo. Plaisteds, Colo. Thatchers, Colo. Baglys, Colo. Wolters & Colo. Whiteings" (Nov 12) "General Winslow left Lake George to Day." On November 6, the regiments of Colonels Ruggles, Gridley, Liman, Wolters, Whitings, and Dwights set off for home; Boydon was in one of these. He recounts the march home to Medfield, where he arrives on December 2.
Estimated Value $10,000 - 20,000.


---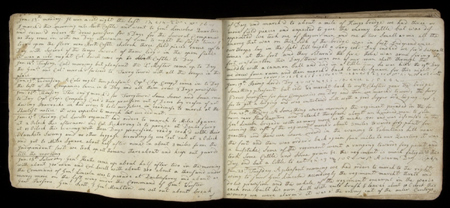 Lot 166

Journal Of A Massachusetts Militia Quartermaster Sergeant. The journal of James Humphrey, quartermaster sergeant in Col. Solomon Lovell's regiment of Massachusetts militia, raised to reinforce the Continental Army, 78 written pages with stitched binding, 6¼ x 8 in., covering Dec. 17, 1776-Mar. 27, 1777. Humphrey records the foot march from Dorchester, where he was mustered in, to Scituate, and Danbury, then through New York to Morristown, New Jersey to join General George Washington. The first 24 pages have daily entries of the the troops' activities. The remainder of the pages contain detailed information about the regiment, such as names and ranks of officers; rations and pay information for the companies of Captains Clap, Mann, Badcock, Belcher, Cushing, Everett, and Fairbanks; true copies of General Orders issued by General Benjamin Lincoln (who became Maj. Gen. on Feb. 19, 1777), including the orders "to march with the most of the Militia from the Massachusetts to join General Washington" and to "join his Excelency Genl. Washington at Morris town as Soon as possible." On March 1, 1777, he notes the order: "…Alexander Hamelton Esqr. is appointed aid De Camp to the Commander in Chief and is to be respected and obeyed as Such…" The journal is toned overall with some light soiling; a couple of pages have ragged edges and heavier soiling, but it is very easy to read, being boldly penned by a literate man.

Following are some excerpts from the daily entries: (Dec 24,'76) "we hear that General [Charles] Lee is taken by the enemy (Jan 7 '77) "Interesting Inteligence. Early on the 26th of Decr. his Excellency Genl. Washington with about 3000 men crossed the Deleware and at 8 o'clock in the morning engaged the enemy at Trenton who were about 1600 in number and in 35 minutes routed the whole taking 919 prisoners exclusive of killed and wounded [he details the ranks of those captured and the weapons and equipment taken] (Jan 13) "went to Genl Lincolns Quarters;…(Jan14) "the Genls. & Cols march'd forward to Tarrytown with all the troops (Jan. 18) "Genl. Heathe came up…with about 700 men and Col. Lovell with about 300…about a thousand under…Genl. Lincoln was to parade at Daubs [Dobbs] ferry…we took one of Rogers' men" (Jan. 26) "…our troops went to Valentines we have a 24 pounder there and in firing they broke the carriage…" (Jan 29) "…receiv'd orders to march immediately and to parade at Brigadier Moultons Head Quarters…order'd to retreat to Tarrytown…" (Feb 1) "I drew provisions for three Days for five Companies…all the regiments in this place march'd to White Plains" (Feb 3) "…to Day the Artillery men march…to White plains" ((Feb 4) "many cannon heard on the jerseys" (Feb 6) "…we hear of a skirmish with Genl. Washington and the enemy on the Jerseys Shore we have not heard the particular circumstances thereof." (Feb 8) "…to Day we have orders to march…to join his Excellency Genl. Washington…" (Feb 17) "..we hear of innoculating the standing army…" (Feb 24) "…we hear of France together with Prussia has determin'd to proclaim war with great Britain" (Feb 26) "…the Col went to Genl. St. Clair…" (Mar 1) "to Day his Excellency Genl. Washington din'd at Genl. Moultons…" (Mar 2) "..I went to Berskinridge…near where Genl. Lee was taken…Some of our scouts went towards the enemy…two killed and five wounded…" (Mar 7) "…The Soldiers die fast at Morris town there was 6 Coffins made yesterday and there is twenty wanted to Day…" (Mar 8) "I…drew nine Days provision for our regiment viz. 325 men. 3656 ¼ lb of beef 3656¼ lb flour 26½ Candles 35 lb Soap…I hear to Day of Genl Washington being Sick" (Mar 9) "…We hear of Genl. Putnam giving Chase to Genl. How & his Aid De Camps with fifty of the light infantry and took the light infantry and the horses none escaped but Gl. How and his Aid De Camps…" (Mar 13) "…The Capt. presented his Pay roll to the Col. the Sum total is 449:15:6" (Mar 14) "…I broke out with the measles" (Mar 17) "The Col. receiv'd the wages for the regiment and Capt. Clap paid off his men and about 2 o'clock we set out on our march homeward." Humphrey recounts the march home to Dorchester, where he arrives March 27.

In addition to detailed information about the regiment, Humphrey included prayers, some tombstone legends he found interesting, lines of some kind of code here and there, and even a couple of poems he wrote--one about George Washington and the Continental Congress ("I love & ever will obey Whate'er the Congress do or Say….") and one about George III ("What George the 3d. by law commands To Certain swiftest ruin tends….") Rarely does such a journal become available. It is truly a once-in-a-lifetime opportunity for the serious Revolutionary War collector.
Estimated Value $25,000 - 50,000.


---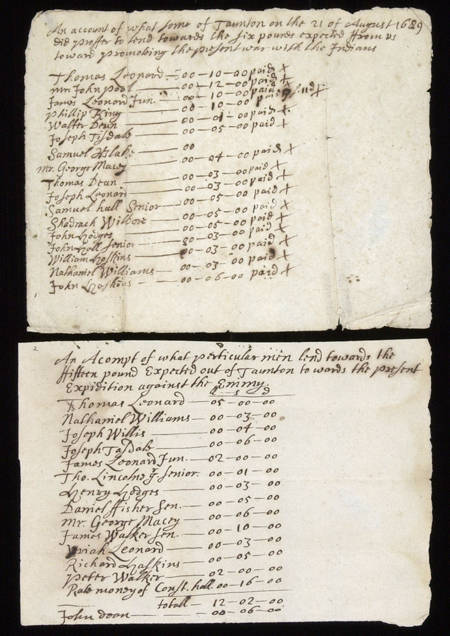 Lot 145

Collection of New England Border Wars Documents. A collection of more than seventy (70) documents pertaining to King William's War (1689-1697) and Queen Anne's War (1703-1713). These documents relate specifically to the town of Taunton, Massachusetts and its participation in these bloody, colonial wars. The documents are of varying sizes and conditions, but most are very good to fine. They are housed in a loose-leaf notebook. Approximately 50 documents relate to King William's War and the remainder to Queen Anne's War. They include marching orders; numerous orders to impress soldiers, by command of Major Benjamin Church; a ten-page document recording meetings between 1694 and '97 by Major Church and "Captains and Chief officers of the severall Millitary companies of Bristoll Regiment" to better order military affairs; accounts of men's names and amounts of money they are giving "toward promoting the present war with the Indians"; accounts of costs to arm the soldiers from Taunton, who are named; a 1690 account of money paid to Joseph Hall "for making of Clothing and knapsacks, for ye souldary upon ye Canada expedition"; a 1691 list of officers chosen for the town's military company; numerous documents signed by Thomas Leonard, captain of the foot company of militia in Taunton; and much more. There is also an order signed by William Stoughton ("Wm Stoughton"), Lieutenant-Governor of Massachusetts, as acting governor, to Capt. Thomas Leonard, directing that "ten able and sufficient souldiers" be sent to "John Walley Esqr. Commissioner of War, by him to be sent unto…Castle Island near Boston, for the further strengthening & enforcing thereof…." (old tape remnants on folds not affecting signature). In 1692, Stoughton had presided over the Salem witchcraft trials. This is a treasure trove that should be examined personally.
Estimated Value $3,000 - 5,000.


---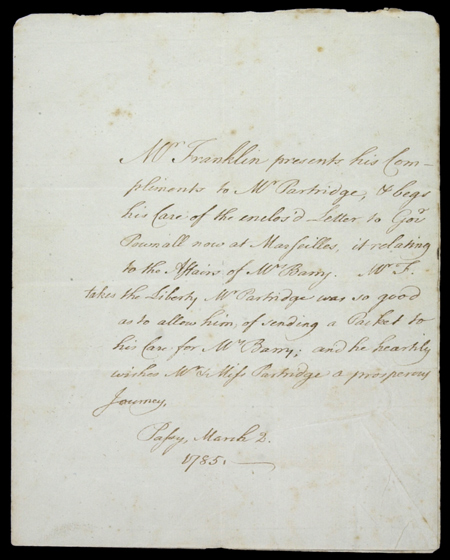 Lot 203

Franklin, Benjamin (1706-1790) One of America's leading founding fathers, signer of the Declaration of Independence and the U.S. Constitution, accomplished diplomat and statesman, and renowned inventor. Autograph Letter Signed twice in the third person, once as "Mr. Franklin" and once as "Mr. F," Passy (France), March 2, 1785, 9¼ x 7¼ in. Clearly written in bold brown ink with light overall toning and minor foxing; light creasing at lower right. Docket on verso of integral leaf; a few dark ink spots on integral leaf affect nothing.

Franklin writes, in full: "Mr. Franklin presents his Compliments to Mr. Partridge, & begs his Care of the enclos'd Letter to Govr. Pownall now at Marseilles, it relating to the Affairs of Mr. Barry. Mr. F. takes the Liberty Mr. Partridge was so good as to allow him of sending a Packet to his Care for Mr. Barry; and he heartily wishes Mr. & Miss Partridge a prosperous Journey. Passy, March 2, 1785."

The letter was written from Franklin's home in Passy, outside of Paris, six months before he returned to the United States, after spending nine years in France. He was sent by Congress in 1776, as one of a committee of three, to negotiate a treaty with France. In September 1778, he was appointed sole plenipotentiary to France, and in 1781, he was appointed commissioner, along with John Jay and John Adams, to negotiate peace with Great Britain. The final peace was signed September 3, 1783. After returning to Philadelphia, Franklin was president of the Pennsylvania executive council ((1785-87), and was a member of the Constitutional Convention in 1787.

John Barry (1745-1803), whose affairs Franklin mentions, was a naval officer during the American Revolution, whose fame was second only to John Paul Jones. In 1776, he was appointed to command the brig Lexington and captured the British tender Edward, which was the first ship ever taken by a commissioned officer of the U.S. Navy. In 1778, Barry became commander of the Raleigh, which was pursued and driven ashore by a British man-of-war. In 1781, as commander of the Alliance, he captured the British ships Trepassy and Atlanta. As a result of his outstanding record, Barry was named senior captain, the highest post in the Navy at that time, and was given the courtesy title of commodore. In 1794, he was made commodore of the United States, one of the Navy's new flagships. From 1798 to 1801, he directed American naval operations in the West Indies.
Estimated Value $20,000 - 25,000.


---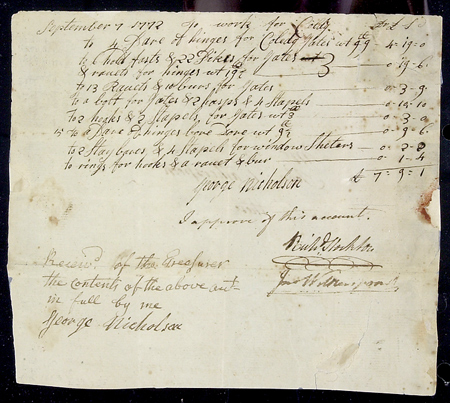 Lot 218

Witherspoon, John & Stockton, Richard. Signers of the Declaration of Independence. Document Signed ("Jno Witherspoon"), as president of the College of New Jersey (now Princeton University) and ("Richd. Stockton") as a member of the executive council of New Jersey (Princeton), September 1, 1772, 1 pg oblong octavo. The document authorizes payment for work done at the college, including repairs to gates and windows. Slight skipping of ink in Witherspoon's signature, which is of moderate boldness; Stockton's is quite bold. Minor archival repairs on verso; light toning and soiling, else Very Good. Stockton and Witherspoon are both in the very rare group of signers, both being a 4 out of 5 in rarity.

John Witherspoon immigrated to America in 1768 to become President of the College of New Jersey, his special department being devinity. His leadership healed the schism between the New Side and Old Side Presbyterians. He was a member of the Continental Congress (1776-79, 1780-81, 1782) and signed the Declaration of Independence. He was also a member of the New Jersey constitutional ratification convention (1787). Richard Stockton's family was long involved in affairs of the College of New Jersey. Stockton had visited Witherspoon in Scotland to offer him the college presidency. Stockton was an associate justice of the New Jersey supreme court (1774-76) and served in the Continental Congress in 1776.
Estimated Value $6,000 - 8,000.


---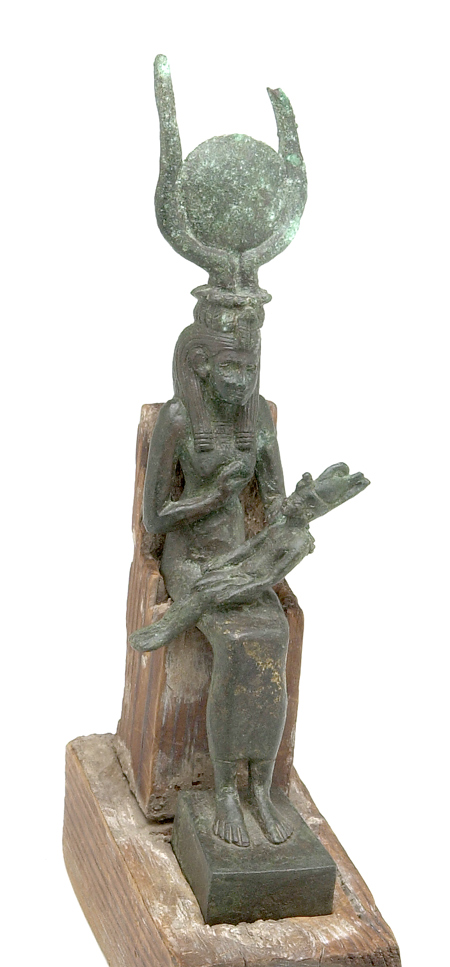 Lot 693

Handsome Statuette in Bronze of Isis and Horus. Egypt, Late Period, c. 712-330 BC. One of the classic, iconic images of the period. Finely modeled and detailed, the slim statuette shows Isis seated with the infant Horus on her lap, her hand to her breast. The goddess in tight-fitting dress down to the ankles, and wearing a striated tripart wig and uraeus headdress with horns and disc. Her eyes once inlaid, perhaps in silver. Minor loss to horn at crown, otherwise intact, with good metal and surfaces. Dark brown and green patina, with traces of gilding on the statue. Height: 7-5/8" (less telon at foot), on custom wooden throne, fashioned from ancient Egyptian coffin wood(!). Quality Egyptian art!
Estimated Value $6,500 - 8,500.
Ex Superior Fine Antiquities, March 12, 1994, lot 263.


---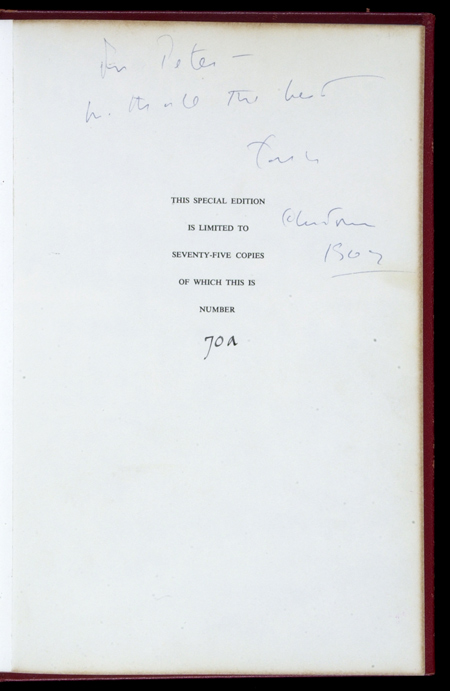 Lot 268

Kennedy, John F (1917-1963) 34th President of the United States. Book Signed and Inscribed, "For Peter with all the best / Jack / Christmas / 1962" on preliminary page with limitation information, being No. 70a of 75 copies in this Limited Edition copy of The White House: An Historic Guide, Washington, D.C.: White House Historical Association, 1962. 10½ x 7¼ in., specially bound for presentation in orange-red leather morocco, covers with double gilt rules at edges, red marbled endpapers, with color and black-and-white maps and illustrations, 129 pp. Slight rubbing to covers at extremities.

A specially-bound copy of the White House guide prepared at the urging and with the assistance of First Lady Jacqueline Kennedy, whose prefatory letter expresses the hope: "may it remind you that many First Families loved this house - and that each and every one left something of themselves behind in it…." Only two other copies of this special limited edition have been offered at auction, including one inscribed to pamela Harriman and another to David Powers. The recipient of this copy, Peter Lawford, was the English-born actor who married Pat Kennedy, JFK's sister, whom he divorced in 1966.
Estimated Value $6,000 - 8,000.


---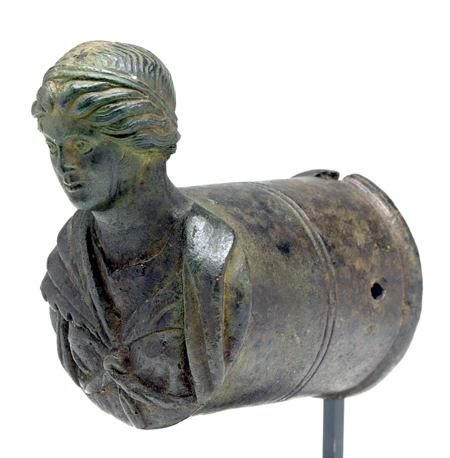 Lot 732

Important Isis Bronze, perhaps a Chariot Fitting. Roman, c. 2nd-3rd century AD. A cylindrical end cap to a pole, perhaps the hitching pole of chariot. The cap's end fashioned as a bust of a youthful Isis. She wears her distinctive fringed shawl, whose ends are knotted between her breasts in the ancient Egyptian "Isis knot." Her maidenly face with hair combed back into a chignon. At the top of her head the remains of a bronze or iron pin, which probably held her most obvious attribute, the "Isis Crown." Two piercings on either side of the cap served to attach the piece to the pole. Aside from a small casting flaw (pit) at the back of her head, and a slight loss at the rim of the cap, the bronze splendidly preserved, with glossy brown and green patina. Height: 4"; Length: 4-7/8". On custom stand. A significant, and lovely artifact. Rare!
Estimated Value $6,000 - 8,500.


---