Sale 23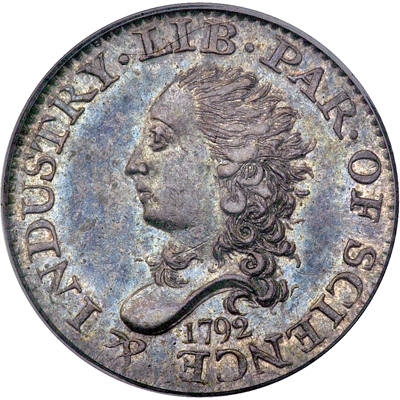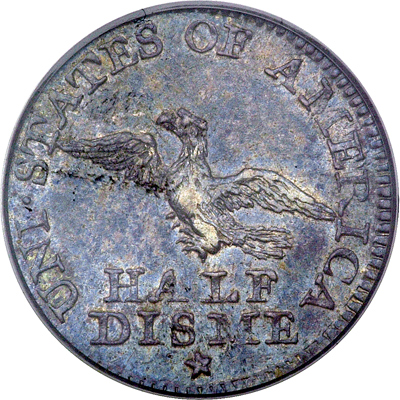 Lot 1271

1792 Silver Half Disme. PCGS graded MS-64 PQ. A most impressive example of this tiny silver coin that is loaded with history, legend, and allure. Toned in rich, steel-blue colors, with lilac-gray intermingled on both sides. The underlying surfaces are glossy, lustrous, and semi-reflective. Perfectly centered on a nice, round, problem-free planchet, minus the adjustment marks that are sometimes seen on this issue. This is one of the nicest examples available on the market today and one of only a handful in Mint State. PCGS has graded 60 1792 Half Dismes, with the vast majority in circulated condition; NGC has graded 18 examples, also mostly in low grade. Here's a complete roster of the Mint State examples reported by PCGS: 2 in MS-63, 4 in MS-64, 1 in MS-65, 2 in MS-66, and 1 in Specimen-66. NGC reports 1 in MS-61, 4 in MS-64, 1 in MS-67, and the Eliasberg specimen is reported separately as an MS-63. These populations have jumped in the past year or two, not because of a glut of new specimens, but because of resubmissions or attempted crossovers of the same coin. For its part, this is a new example, as the consignor tells us that it has been off the market since the mid-1980's -- before the advent of the grading services.

The 1792 Half Disme is listed as Judd-7 in the "Pattern Coins" reference. However, the assumptions underlying this attribution are incorrect. In fact, the 1792 Half Disme was a legal issue, authorized by the Mint Act of April 2, 1792, struck by government officials using machinery purchased specifically for the new Mint, they were struck in a quantity wholly inappropriate for a Pattern, and they were intended for circulation, not as a test for an intended coinage. The high ratio of circulated to Uncirculated examples confirms all of the above.

President George Washington referred to the 1792 Half Dismes in his fourth annual address to Congress on November 6, 1792: "There has been a small beginning in the coinage of Half Dismes; the want of small coins in circulation calling the first attention to them." The coins Washington referred to had been struck early in the year -- on July 13, 1792, Thomas Jefferson recorded in his personal household diary: "rec'd from the mint 1500 half dimes of the new coinage." In 1844, Dr. Jonas McClintock related some hearsay evidence from Adam Eckfeldt, long-time employee of the Mint from its inception: "In conversation with Mr. Adam Eckfeldt today at the Mint, he informed me that the Half Dismes above described were struck at the request of Gen. Washington to the extent of One Hundred Dollars which sum he deposited in Bullion or specie for the purpose -- Mr. E. thinks that Gen. W. distributed them as presents -- some were sent to Europe but the greater number of them, he believes, were given to acquaintances in Virginia -- No more of them were coined except those for Gen. W. -- they were never designed as Currency -- the Mint was not at the time fully ready for going into operation -- the coining Machinery was in the cellar of Mr. Harper's, saw maker at the Corner of Cherry and 6th Street, at which place these pieces were struck --."

Thus, while not a Pattern issue, the 1792 Half Dismes were clearly quasi-official. Perhaps we need a new category for U.S. coins: "Coins made as a favor for George Washington"!

Regarding the mintage: if Eckfeldt's remembrance was correct, the total mintage of the 1792 Half Dismes is 2,000 (George Washington's $100 deposit divided by the $.05 face value of the Half Dismes). Certainly, Jefferson's diary entry sets a minimum mintage of 1,500 coins, but what happened to the additional 500 coins? It could be that no more than 1,500 were struck, or that 1,500 were given to Jefferson and the remaining pieces were given to Washington to give out as presents (as mentioned above). If Jefferson received the 1,500 coins, was Washington reimbursed for his deposit of silver ($100 was a large sum of money at a time when laborers received only $1 a day)?

Despite the unanswered questions and speculations concerning the 1792 Half Dismes, we have the coins themselves. Toady, they are among the most famous, historic, and desirable of all U.S. coins. We see and handle many great American rarities, but it is with pride and humility that we offer this remarkable coin to our bidding audience (PCGS # 11020) .
Estimated Value $250,000 - 300,000.


---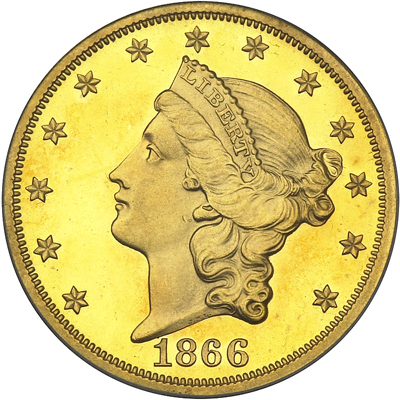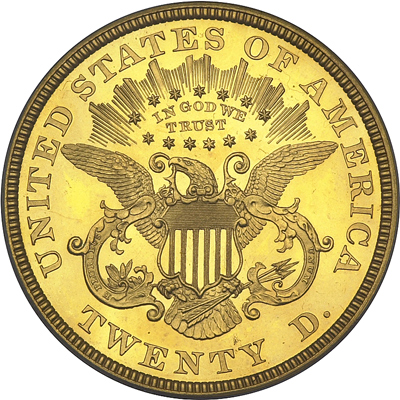 Lot 3399

1866 $20 Liberty. With motto. PCGS graded Proof 64 Deep Cameo. A classic Proof rarity with an original mintage of a mere 30 pieces. This example is tied for "Finest Graded" by PCGS, one of only two PR-64DCAM's graded by them (quite possibly the same coin). The obverse is brilliant, with bold cameo contrast between the watery proof fields and the heavily frosted devices. The reverse features equally deep contrast, with a touch of milky iridescence around the peripheries. Identifying features include a small mark just to the left of Liberty's ear lobe and another in the left reverse field just to the right of the T in UNITED. Otherwise, the coin is essentially perfect and certainly every bit a Proof-64.
We had a little trouble finding auction records for this date. Jeff Garrett's and John Dannreuther's "Significant Auction Records 1997-2001" failed to list any. Norweb didn't have one, Trompeter did, Harry Bass had two AU's, and so on. In recent years, the chance to even buy this date in Proof has been rare indeed, almost rarer than the coin itself. Don't let this opportunity slip away.
Estimated Value $85,000 - 95,000.


---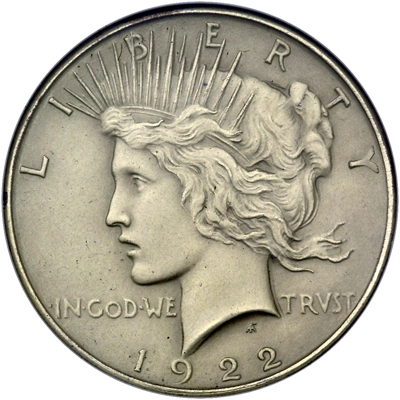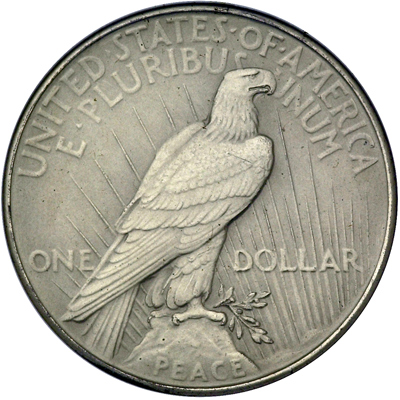 Lot 2840

1922 Peace Dollar. Low Relief. NGC graded Matte Proof 65. These were not known to Breen and are not reported in his Proof or regular encyclopedias. Two of these turned up in the massive Norweb sale by Bowers and Merena in 1988. Both apparently came from the collection of Ambrose Swasey, a member of the Assay Commission at the time. It appears that George T. Morgan coined two pieces in this matte finish specifically at the request of Swasey. This coin was from Lot #3933 in the Norweb Sale. Although 4 are reported in the NGC census, there may be one reported twice, this coin is listed under "Norweb/Lee" (one of 2 graded Proof 63 and this coin as 65), then below as "Matte Low Relief" as Proof 65, since this is one of two Norweb coins it is reasonable to assume that someone sent it back for a possible upgrade, keeping the known population at 3 coins. Milky white in color, and an outstanding gem in every way. Free of toning and a beautiful example in every respect.
This is the key to the set of Matte and Satin Finish Proof Peace Dollars. This coin is not reported in the Breen Proof Encyclopedia or in his primary United States coin encyclopedia. It is one of two believed made for Ambrose Swasey, a member of the Assay Commission, and the only coin so graded as a matte proof with the production style lower relief used for 1922 and later Peace Dollars. To have a complete set of proofs, the 1922 low relief matte proof must be obtained!
Estimated Value $75,000 - 85,000.


---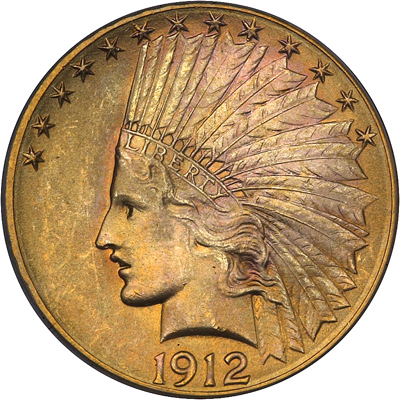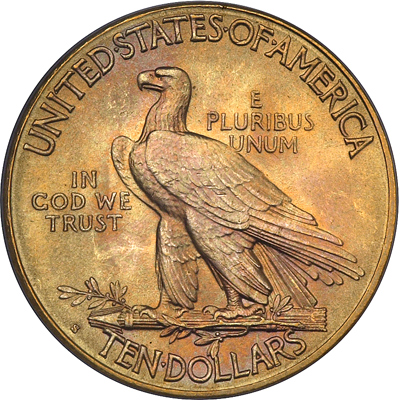 Lot 3358

1912-S $10 Indian. PCGS graded MS-65. For the connoisseur, we present a remarkable 1912-S Eagle in full MS-65 condition, certified as such by the world-class grading experts at PCGS. The luster on this piece is amazing and far superior to the lifeless, almost matte texture usually seen on this date. Both sides feature bold cartwheel luster where the light dances over the surfaces. Hints of orange and pink toning complete the picture, contributing to a very impressive level of eye appeal. This is an extremely popular series, although it takes much fortitude and money to enjoy it at the top levels. However, we can't think of a more pleasurable way to own this date than with the coin offered here. PCGS reports a mere 7 coins at this level, with only one coin finer (at the MS-66 level).

Interestingly enough, Saint Gaudens' Indian Head design was originally intended for the Cent, was later auditioned for the Double Eagle, but ended up on the Eagle!
Estimated Value $30,000 - 37,000.


---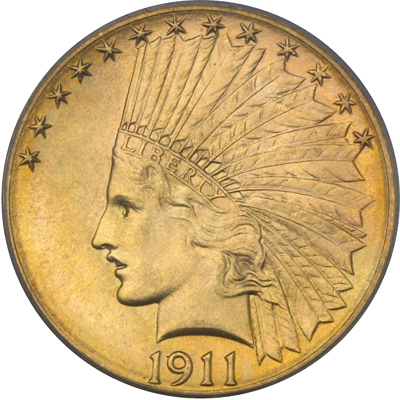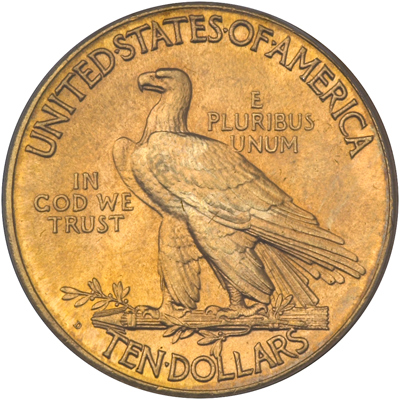 Lot 3354

1911-D $10 Indian. PCGS graded MS-64 PQ. An impressive example of this tough date, graded recently, yet it looks like it might have another point going for it. Lovely, rich golden toning. A definite candidate for resubmission, especially considering the incredible rarity of Gems of this date. Pop 10 in MS-64, with only 3 in MS-65, and none finer.
According to the PCGS Population Report, this is the second most difficult date to locate in this grade or higher, just a bit behind the 1920-S. Certainly, the mintage was very low in 1911 for the Denver Mint and, obviously, few were saved. There simply weren't enough collectors around then that cared about mintmarked coins, and saving rolls of coins was decades away from being fashionable (not that man y people collected $10 gold pieces by the roll, anyway).
As true collectors know, when a great rarity, such as this coin, is offered, it is best to purchase it and lock it away (PCGS # 8869) .
Estimated Value $50,000 - 60,000.


---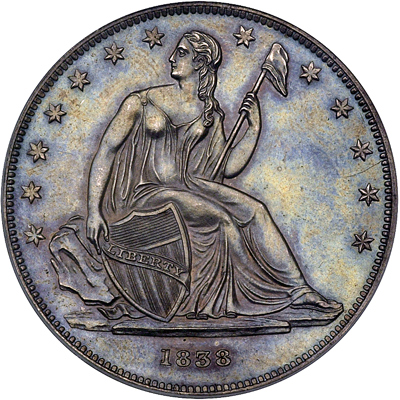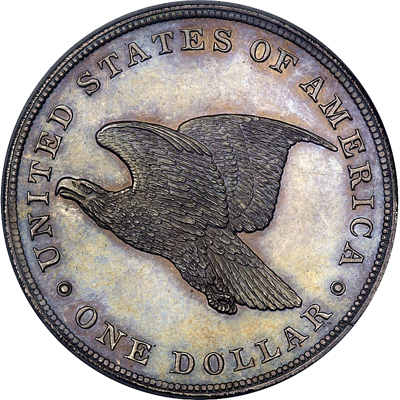 Lot 3074

1838 Pattern Dollar. Silver, reeded edge. Restrike. PCGS graded Proof 63. PQ. Die Alignment III (eagle flies level; Liberty's head is opposite the N of ONE). Reflective Proof fields and bright, shimmering surfaces overlaid with a lovely, gun-metal gray toning. Lightly hairlined, mostly on the reverse; hence the PR-63 grade. Of the three dates in the Gobrecht series (1836, 1838, and 1839), the 1838 is believed to be the rarest. PCGS reports 9 at this level; 4 in PR-64, and 1 in PR-65, thus making this one of the better-preserved examples.
Restrikes of the 1838 Gobrecht Dllar were made in the 1850's (one is known struck over an 1859 Silver Dollar!) to satisfy collector demand. While ethical questions can be raised about such activities, the 1838 Gobrecht Dollar would be an extreme rarity today if no Restrikes were made at all! (PCGS # 11352) .
Estimated Value $40,000 - 45,000.


---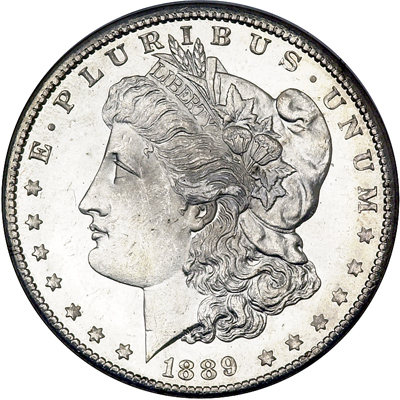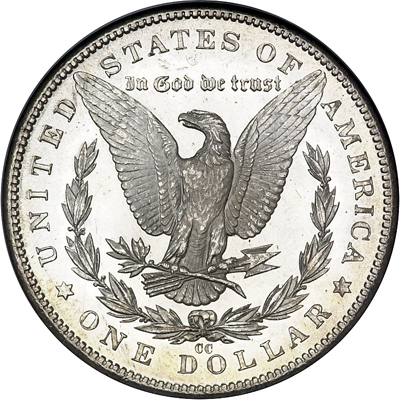 Lot 2741

1889-CC Morgan Dollar. NGC graded MS-64. An exceptional example of this rare, "key" date, Carson City Mint issue. Bright and brilliant, with the flashy "look" that mimics a well-struck S-Mint Dollar (for example an 1881-S or an 1882-S). Bold cartwheel luster and shimmering, semi-reflective surfaces. The 1889-CC Dollar remains a condition-rarity today, despite 17 years of certification -- NGC reports only 28 examples in this grade, 4 in MS-65, and 1 in MS-67! A tremendous opportunity for the serious collector to obtain a top-notch example of this extremely popular rarity.
Estimated Value $25,000 - 35,000.


---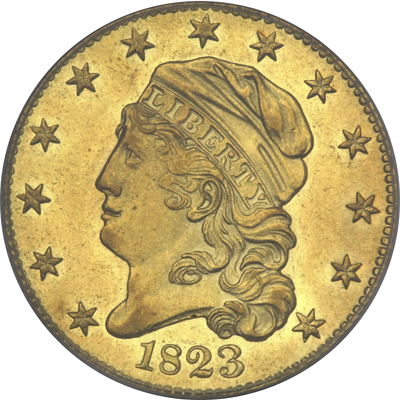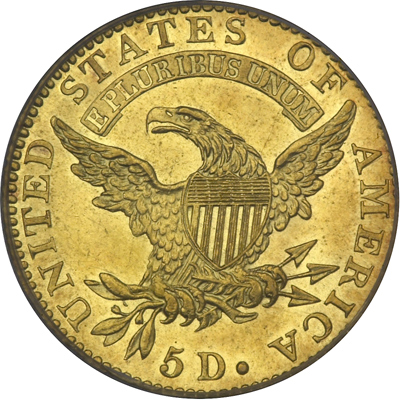 Lot 3230

1823 $5 Capped Head. Miller-146, Breen-6481, R.5. PCGS graded MS-63 PQ. A glittering golden example of a type and a date that is very rare in Mint State. Boldly struck, with full definition on the hair and feathers. With an initial mintage of only 14,485 coins, plus subsequent meltings, the chances off finding this date in any grade are very low. The spate of recent offerings in recent years are not an indication that this coin is anywhere near common -- most of the appearances are of the same coin (this one). This example is from the Rogers collection (plated on the website at www.CoinFacts.com), thence to the Superior Galleries "Pre-Long Beach Sale", May 2001, Lot 4044, to our consignor, and now to us. Two other examples that have appeared on the market are the Harry W. Bass, Jr. collection coin and the Carter coin from Heritage's 1998 FUN sale. To our knowledge the latter two examples are in strong hands, so once this coin is sold it may not reappear for many years to come. What once seemed "common" will reveal its true rarity.
This was the only die variety for the year (PCGS # 813) .
Estimated Value $30,000 - 50,000.


---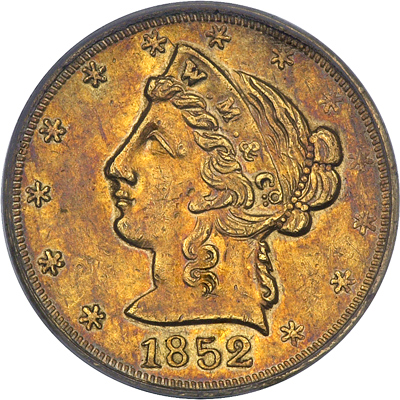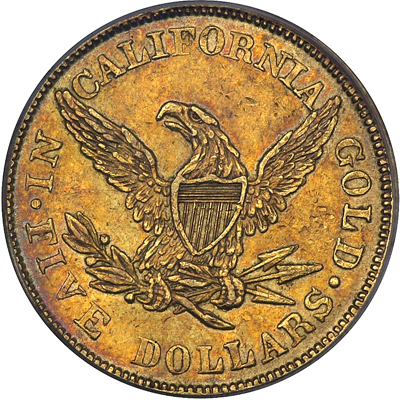 Lot 3499

1852 Wass, Molitor & Co. (San Francisco) $5 Gold. Large head. PCGS graded AU-55. Premium Quality. This is an old friend, originally sold by us (under the Superior Galleries name) as part of the A. Bernard Shore collection, where we described it, as follows: "Well struck with the exception of stars eight through eleven on the obverse; the reverse lacks the concavity which is usually seen, and which often makes the reverse appear extremely weakly struck. Quite lustrous and with beautiful rich orange gold color. Well centered and with pleasing surfaces; a small obverse edge dent at 1 o'clock serves as identification. This is a very rare variety with fewer than 20 auction records recorded in nearly 75 years. We feel that fewer than 20 specimens exist, and most of these grade only Good to Fine. We are unaware of more than 3 which are as nice (or finer) than this example." Bringing our previous description up to date, we note that our conservative grade of AU-50 in the Shore sale has now been elevated to AU-55 by PCGS and the edge dent at 1 o'clock is no longer visible because of the way the coin sits in the holder. We presume any finer examples would have made it onto the market by now and, some of those examples we once thought were this coin's equal (or better) may not have passed the rigors of the grading services. In any event, the new owner can rest assured that this is a significant coin, at or near the top of the Condition Census, and a great rarity from a small maker of Pioneer gold coins well-known for their rarity and desirability (PCGS # 10342) .
Estimated Value $15,000 - 20,000.
Superior Galleries "A. Bernard Shore Collection" January 30, February 1-2, 1988, Lot 4636.


---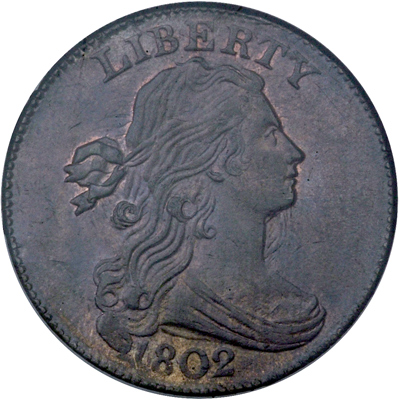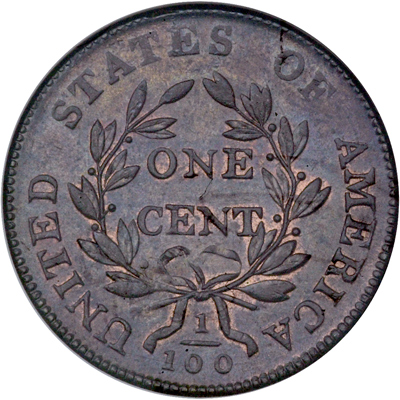 Lot 1299

1802 Draped Bust Cent. S-227, High Rarity-2. NGC graded MS-64 Brown*. A lovely example of this variety, with glossy, silky-smooth surfaces. Approximately 10% of the original mint red still remains in the areas around the lettering and devices - on both sides. NGC has certified only one coin at this level, plus two in MS-65 Brown. These three pieces alone easily beat the MS-61 listed as "finest known" in the recent Breen Encyclopedia of U.S. Large Cents. However, we're comparing apples to oranges here, as the "EAC" grading standards applied in the book are much stricter than the "market" grading standards used by certification services. Nevertheless, this is clearly a Mint State coin that never spent anytime in circulation and, regardless of the grading system used, it is easily one of the top ten examples of the variety.
Estimated Value $7,000 - 8,000.


---