Sale 22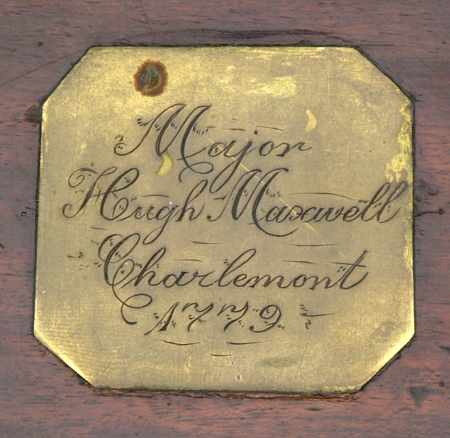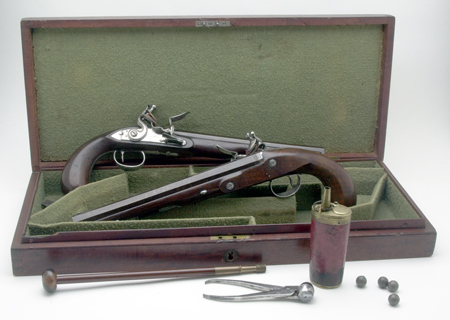 Lot 15

c. 1770, Cased Set of Wogdon Flintlock Dueling Pistols Belonging to Major Hugh Maxwell. Matched, custom-made set housed in a 9 x 22 x 2½ inch English walnut case, lined with green Irish baize, with brass plaque inscribed, "Major Hugh Maxwell / Charlemont / 1779." The silver-mounted pistols have ten-inch octagonal, steel barrels, engraved "Wogdon London"; the silver lock plates are engraved "Wogdon." Various parts of the pistol's hardware have attractive ornamental engravings, mostly as rosettes. One of the ramrods is probably a replacement and one pistol has minor splitting to stock. Accessories include a bullet mold, a gunpowder flask with storage compartment for bullets, a cleaning rod, eight bullets and eight flints. In full working order. Overall Very Fine condition. Robert Wogdon's dueling pistols were considered the crème de la crème because of their accuracy. After Wogdon's death, it was discovered that he had bent his pistol barrels slightly to make the bore true. The pistols were deaccessioned from the Francis T. Maxwell Memorial Library.

Hugh Maxwell was an American surveyor and farmer from Charlemont (now Heath), Massachusetts who fought in five campaigns during the French and Indian War. In early 1775, he was appointed lieutenant of a company of minute men, with whom he marched to Cambridge, joined Col. William Prescott's regiment, fought and was wounded at the battle of Bunker Hill. He was commissioned major July 7, 1777 and lieutenant colonel August 1, 1782. He was present at the siege of Boston, battles of Trenton, Princeton, Saratoga, and Monmouth, and in the attack on De Lancey's Loyalists at Morrisania.
Estimated Value $15,000 - 25,000.


---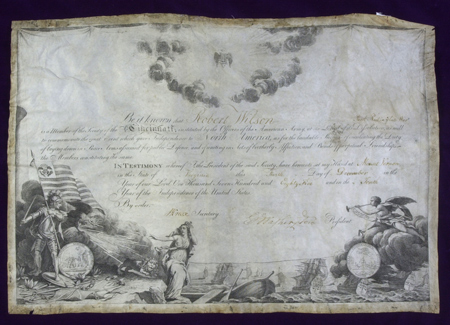 Lot 20

Washington, George. Partly-printed Document Signed ("Go: Washington") as President of the Society of the Cincinnati, Mount Verson, December 4, 1785. One page, oblong elephant folio, vellum, matted to 15 x 21½ inches. Being the membership certificate of Robert Wilson "Rank Red in ye late War" in the Society of the Cincinnati. Countersigned by Henry Knox ("H Knox") as Secretary of the Society. Even age toning and slight waviness to vellum, with browning in margins. Unusually attractive for a Society of the Cincinnati membership; these documents are not common, and those that remain are often in poor condition. Both Washington's and Knox' signatures are nice and strong. Overall Fine.
Estimated Value $10,000 - 15,000.


---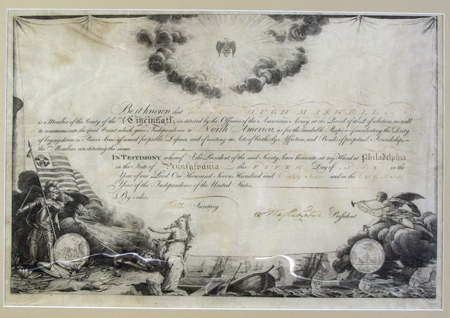 Lot 9

Washington, George (1732-99) 1st President of the United States. Partly-printed Document Signed ("Go: Washington" as President of the Society of the Cincinnati, Philadelphia, May 5, 1784. One page, oblong elephant folio, vellum, matted to 15 x 21½ inches. Being the membership certificate of Lieutenant Colonel Hugh Maxwell in the Society of the Cincinnati, "instituted by the Officers of the American Army at the Period of its Dissolution, as well to commemorate the great Event which gave Independence to North America, as for the laudable Purpose of inculcating the Duty of laying down in Peace Arms assumed for public Defence, and of uniting in Acts of brotherly Affection, and Bonds of perpetual Friendship the Members constituting the same." Countersigned by Henry Knox ("H Knox") as Secretary of the Society. Small areas of age toning. Patriotic engravings cover the lower portion of the certificate, and the eagle badge of the Society is at the top. Both signatures are of medium boldness. A very desirable document in Fine condition.

Hugh Maxwell was born in Ireland in 1788, the same year his family emigrated to New England and settled on a farm in Bedford. Hugh became a surveyor and a farmer. He served in five campaigns during the French and Indian War. In 1773 he settled in Charlemont, now Heath, Massachusetts. Early in 1775, he was appointed lieutenant of a company of minute-men, with whom he marched to Cambridge on hearing of the Lexington battle, and joined Prescott's regiment. He was commissioned captain on May 10, 1775. At Bunker Hill, a ball passed through his right shoulder. He served in Prescott's regiment near New York, and afterward in Bailey's 2nd regiment, of which he was commissioned major July 7, 1777. He was commissioned lieutenant colonel of M. Jackson's 8th regiment August 1, 1782. He was present at the siege of Boston, battles of Trenton, Princeton, Saratoga, and Monmouth, and in the successful attack in January 1781, on De Lancey's Loyalists at Morrisania. He was town clerk of Heath in 1791-99; Justice of the Peace in Hampshire Co. 1785-99; and died on the return voyage from the West Indies October 14, 1799. He married Bridget Monroe of Lexington in 1759 and had seven children.
Estimated Value $10,000 - 15,000.


---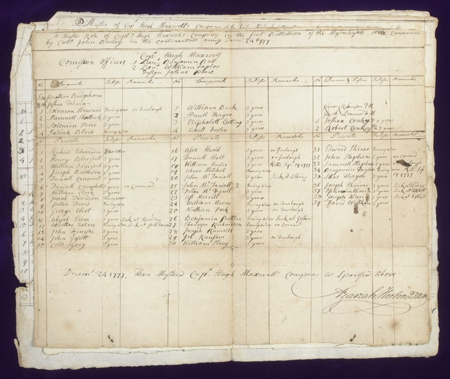 Lot 10

Four Valley Forge Muster Rolls. Four muster rolls for Captain Hugh Maxwell's Company for the months of December 1777, and January through March 1778, in camp at Valley Forge. One page each, large oblong folio. The first roll is headed "A Muster Role of Captn. Hugh Maxwells Company in the first Battallion of the Massachusetts State Commanded by Colo. John Bailey in the Continentall Army Decem. 24 1777." The January 1778 roll has the same information, except that it reads, "in the service of the United States of America," instead of "in the Continentall Army." February and March 1778 specify that they are for "…Capt. Hugh Maxwells Company of the first Regiment of foot in the service of the United States…."

The muster rolls list the commissioned officers: Capt. Hugh Maxwell, 1st Lt. Benjamin Ball, 2nd Lt. William Taylor, and Ensign Josua Peirce. Benjamin Ball was discharged in February and does not appear on the March roll. John Bailey, and Hugh Maxwell signed all four rolls; additionally, William Taylor signed the Dec. 1777 and Jan. 1778 rolls. Each muster roll lists the rank of each man, whether he enlisted for the duration of the war or for three years, and remarks, such as whether he was sick, on furlough, on command, had died, etc.

The February and March rolls actually name "Valley Forge"; the other two do not, but Maxwell's company entered Valley Forge in December 1777 and left in June 1778. All four documents have some age toning and wear, but all four are boldly written and of special historical significance because of their association with Valley Forge. Overall Fine.

Valley Forge, more than any other place associated with the American Revolution, has come to epitomize the suffering and sacrifice, as well as the perseverance and fortitude, of the American Army led by George Washington. Almost one in ten men died during the seven months they were encamped at Valley Forge, most of them from disease. Valley Forge also represents the metamorphosis of the American army from ragged, undisciplined troops into a unified fighting force.
Estimated Value $6,000 - 8,000.


---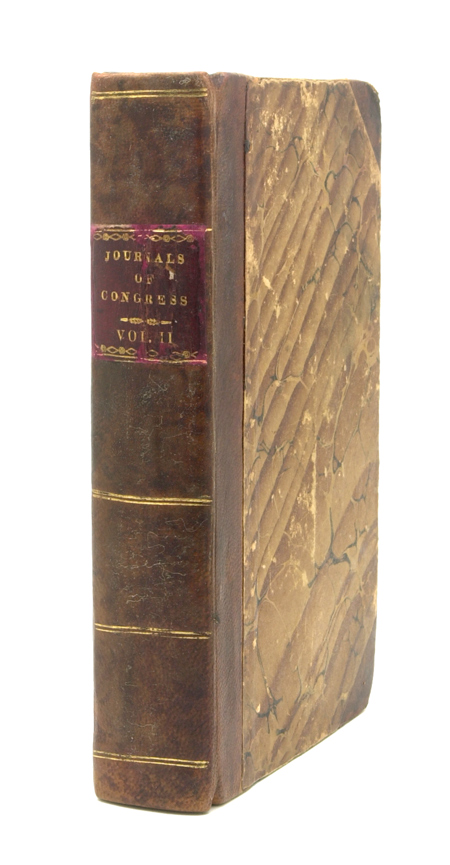 Lot 63

Journals of Congress Containing The Proceedings From January 1, 1776 To January 1, 1777. Published By Order Of Congress. Printed in York-Town, Pennsylvania by John Dunlap, 1778. All of the proceedings of the Congress for the year 1776 are present, including a complete text of The Declaration of Independence with all of the signers' names in type. This is the scarcer second Dunlap printing (Evans #16137), printed by John Dunlap in York-Town after the evacuation of Philadelphia by Congress because of the British occupation of that city by British General Howe.

Quarter calf leather bound with original boards and gold-stamped title on spine. Tight binding with corners bumped and chafed. Light to heavy foxing throughout, mostly in the upper margins and some text. Blue pen inscription on side cover and at top of title page.

This is the third and one of the scarcest book printings of The Declaration of Independence.The first edition of this work was printed by R. Aitken in 1777 in Philadelphia. The second and this scarcer third edition of the Volume II Journal were both printed by John Dunlap in York-Town, 1778. The second Dunlap edition has 518 pages plus index; this edition consists of 520 pages plus index. A wonderfully rare and special edition to any Revolutionary War book collection.
Estimated Value $5,000 - 6,000.


---
Lot 50

1776 Massachusetts Handbill Establishing A Committee of Safety For Each Town. Resolution Issued by the Massachusetts House of Representatives, February 13, 1776, and signed in print by J[ohn] Warren, as Speaker and Perez Morton, Deputy Secretary. One page, printed, 11½ x 6¼ in. In part: "Whereas As it appears to this Court, that it will be greatly conducive to the Safety and Welfare of this and the other Colonies, at a Time of common Danger, that a Committee be chosen in each Town, and one only for the especial Business of attending to the political and general Interest of the Colonies….Resolved, That the several Towns in this Colony, be…impowered, at their annual Town-Meeting in March, to choose by written Votes…such a Number of the Freeholders…as they shall think proper, whose Principles are known to be friendly to the Rights and Liberties of America, to serve as a Committee of Correspondence, Inspection and Safety…to inspect whether there are any Inhabitants of, or Residents in their respective Towns, who violate the Association of the Continental Congress…respecting the present Struggle with Great Britain…." Captain Brown of Watertown is instructed to "cause this resolve to be printed in hand-bills [of which this is one] immediately, and sent to the several Towns in this Colony." John Warren, the speaker, was active in the Boston Tea Party and founder of Harvard Medical School; he was also the brother of patriot Joseph Warren, killed at Bunker Hill. The handbill is signed in print by other patriots, including Benjamin Lincoln, Caleb and Thomas Cushing, and others. Docketing on the verso indicates that this particular handbill was sent to the town of North Hampton.

On the verso is a very dark Autograph Document Signed by Levi Shepherd, "Clerk to Sd. Comittee," dated April 12, 1776, the very day that the first Continental Congress delegates were empowered to vote for independence (by North Carolina). The documents reads, in part: "At a full meeting of the Comittee, Voted that the Prisoners Viz the Officers that are sent to the care of this Comittee shall be at their Lodging every Night at sun sett….Voted that should the Officers disobey the preceed.g order of Comittee that they be Commited to confinement." The document is presently covered by the frame (color photocopy included), but could be reframed to show both the handbill and the document. Just six days earlier, the Continental Congress authorized each of the Thirteen Colonies to form local governments, and on June 7, a formal resolution called for America to declare its independence from Britain. The road to independence lay ahead!
Estimated Value $6,000 - 8,000.


---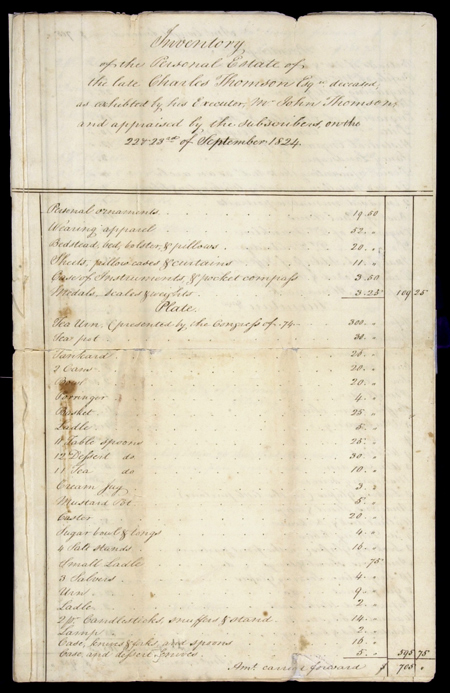 Lot 60

Inventory of the Estate of Charles Thomson, Secretary of the Continental Congress. Inventory list of the personal estate of Charles Thomson, as witnessed by his son, John Thomson, September 22 and 23, 1824, 12 pages large folio, plus an additional 4½ x 10 inch final addendum page. Thomson passed away on August 16, 1824, in Lower Merion, Pennsylvania. The list, consisting of approximately 600 items, contains a cornucopia of historically-relevant associations of the American Revolution and the major figures in it. Of primary interest are the following: "Tea Urn presented by The Congress of '74," "Engraving and profile of Jefferson," "Bust of Paul Jones," "Engraving of Dr. Franklin," "Inaugural Address of Jefferson (on satin)," etc. The incredible library listings include: Defense of the American Constitution, Jefferson's Notes on Virginia "presented by him," Constitutions of The Several States by Authority of Congress, "16 odd volumes. of The Journals of Congress," "General H. Lee's Oration Before Congress on the Death of Washington," "Morris's Statement of the Accounts of the U.S. from 1781-1784," and many other important volumes too numerous to list. The hundreds of magnificent household items listed give an in-depth picture of a gentleman's life of the Federalist period. A fantastic, tangible record reflecting on the life of one of the most important members of the Continental Congress. The larger pages, all separated by halves, have been carefully reattached by archival tape. Some other small margin tears, but the document is sound overall, with dark pen and very legible writing. A rare and unique opportunity for the Revolutionary War collector!

Charles Thomson was unanimously chosen Secretary of the Continental Congress in 1774 and he served as its only secretary for fifteen years, until 1789. Abbé Robin, chaplain of Rochambeau, said, "He was the soul of that political body." Thomson would accept no pay for his first year's services, and Congress presented his wife with a silver urn. His reputation for integrity was exceptional. He was chosen by the Lenape Indians to keep records of "The Treaty of Easton" in 1757, and the Delawares adopted him into their nation in 1756, calling him in their tongue, "man of truth." He was one of the first to take his stand with the Colonialists and he exercised immense influence. "He was the Sam Adams of Philadelphia," said John Adams, "the life of the cause of liberty." It was Charles Thomson who was given the honor of notifying George Washington that he had been elected President. A first-hand witness of the Revolution, Thomson kept copious notes for his history of the Revolution, that he later published. He destroyed his original manuscripts before his death, fearing that a description of the unpatriotic conduct of some of the Colonialists would "give pain to their descendants."
Estimated Value $10,000 - 12,000.


---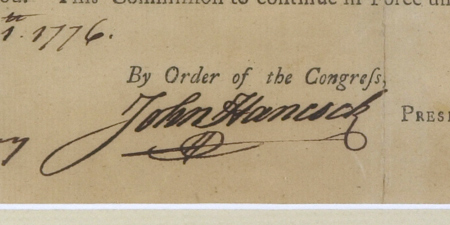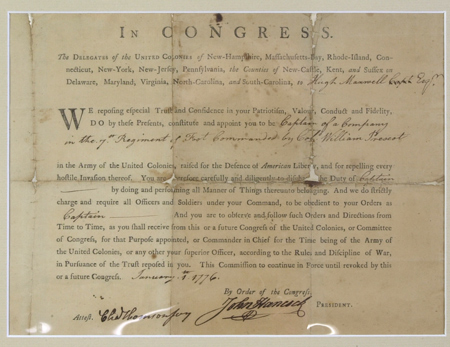 Lot 7

Hancock, John (1737-93) First signer of the Declaration of Independence; served in Continental Congress, elected President 1775-77; Governor of Massachusetts 1780-80, 1787-93.

Partly-printed Document Signed as President of the Continental Congress, January 1, 1776 (Philadelphia). One page oblong folio, on laid paper, matted to 17 x 19 inches. Appointing Hugh Maxwell Esqr. "Captain of a Company in the 7th Regiment of Foot Commanded by Colo. William Prescot in the Army of the United Colonies, raised for the Defence of American Liberty, and for repelling every hostile Invasion thereof…." Countersigned by Charles Thomson as Secretary of the Continental Congress. Small areas of paper loss along folds in upper half of document, not affecting Hancock's very bold signature.

William Prescott and Israel Putnam were in command of fortifying Bunker Hill and Breed's Hill on June 16, 1775 and led the battle against the British the next day. Hugh Maxwell was lieutenant of a company of minute men who marched to Cambridge and joined Prescott's regiment. He was wounded in the right shoulder during the battle. This is Maxwell's promotion to captain in Prescott's regiment, signed in 1776 by John Hancock as President of the Continental Congress. In Revolutionary War material, it doesn't get much better than this!
Estimated Value $6,000 - 8,000.


---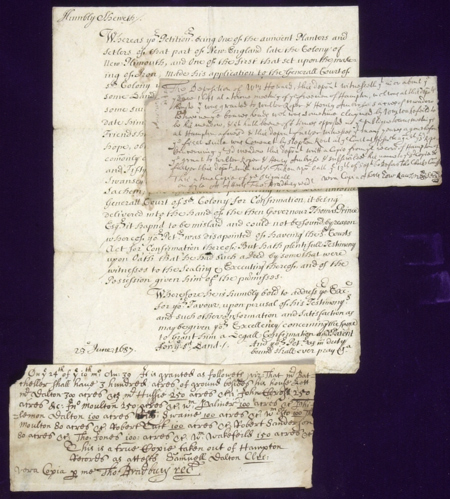 Lot 3

Collection of 17th Century Documents. Twenty-three manuscript documents, including a petition to the Royal Governor, deeds, receipts, a summons, and other documents. All are New England related. Sizes range from 2 x 7 inches to folio. A 1676 document is addressed to Capt. John Hull, possibly the John Hull who established a mint in Boston in 1652. A 1693 document records court presentments, including "…Doritha Pain…for beating and abusing Nicolas Evans…" and "..Sarah Willcock…for committing of fornication…" Several documents pertain to a James Leonard of Taunton, including a 1687 petition to Governor Edmond Andros which reads, in part: "Whereas ye Petitioner being One of the auncient Planters and Setlers of that part of New England late the Colony of New-Plimouth, and One of the first that set upon the making of Iron…made his application…upwards of Twenty years since for a Grant of Land…and was encouraged…to Looke out for some suitable place…yo[ur] Pet[ioner] haveing Acquaintance and Friendship with Phillip, then Chief Sachem of Mount-hope, obteined a Deed of him for a small neck of Land comonly called Quashatuckik…Lying upon Mattapoyset River near to Swansey…." Government bureaucrats lost the deed, but Leonard states that he has plenty of witnesses that the deed existed and would like "a Legall Confirmation and Patent for ye sd. Land." Other documents refer to Leonard as Captain Leonard, and, in another, Leonard writes, "…I would request you to pay to this Indian Samnosuña eighteen shillings in goods…."Interesting documents, worth research. Normal age wear. Good to Fine.
Estimated Value $2,000 - 2,500.


---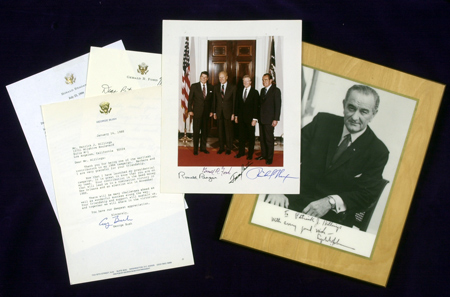 Lot 208

(Republican Archive). Archive of letters, photographs, and other material that belonged to Patrick J. Hillings (1923-94), the Republican Congressman from California who won the 25th District seat vacated by Nixon in 1950 and who served four terms in the U. S. House of Representatives. He was a confidant and advisor of Richard Nixon, who was his mentor and to whom his autobiography, The Irrepressible Irishman is dedicated. Hillings was a key aide during Nixon's vice presidential campaign in 1952. He was the first member of Congress to visit the Soviet Union after the onset of the Iron Curtain. He returned to California in 1958 to practice immigration law, but remained active in Republican politics. In 1979 he served as Florida director of Ronald Reagan's presidential campaign.

These are Hilling's treasured mementoes from his years in politics. In the collection of over 500 photographs, the pièce de résistance is a color 10 x 8 in. photograph of Presidents Reagan, Ford, Carter, and Nixon, taken at the White House October 8, 1981 and signed by all four (with Hillings' certification on the verso that it is original). Other signed and inscribed Presidential photos include Truman, Johnson, Nixon, Bush, Ford, and Reagan. The two large photos signed by Ford show him in a pensive mood, smoking a pipe. The color head-and-shoulders shot of Reagan in a cowboy hat is wonderful; unfortunately, the inscription and signature are faded from the sun. Two outstanding unsigned color photos were taken July 19, 1990 at the dedication of the Nixon Library; one shows Presidents Nixon, Ford, Bush and Reagan with their wives; the other is of the four Presidents alone. There are numerous other unsigned photos showing Hillings with Presidents Eisenhower, Nixon, Ford, and Reagan. Fifty other photographs are signed and inscribed to Hillings by fellow Congressmen, government officials, and two Vice Presidents--Spiro Agnew and Dan Quayle. An entire notebook is filled with photographs of the Congressional Chowder and Marching Club. Hillings was a member of this informal group of Republican Congressmen that began meeting in March 1949. Presidents Nixon and Ford, who were also members, can be seen in numerous photos, sporting their tall white chief's hats; everyone seems to be having a wonderful time, and President Reagan is shown with them in one of the photos. Among other photographs of note are some 25 color snapshots taken at Pat Nixon's funeral in 1993. Among the attendees are the Reagans, the Fords, Henry Kissinger, and other famous faces, but what stands out is the crumpled devastation of President Nixon's face; it feels like an invasion of privacy to even look at such grief.

Among the collection are letters to Hillings from Presidents, Congressmen, Governors, and others. Letters from Nixon include six Typed Letters Signed, with holograph salutations: three from 1977, one from 1985, one each from 1988 and 1994 ." Jerry Ford sent an ALS on Presidential letterhead, March 4, n.y., thanking Pat for his book; a TLS as President in 1976 asks for election help, and a TLS with nice content on Hilling's retirement. There are two letters from Reagan: a TLS as President in 1988 on Hillings' 65th birthday ("65 is nothing…Try 77…"), and a letter of condolence to Hillings' widow in 1994. From George Bush: A TLS as Vice President, in 1988 and a TLS in 1994 with condolences to Hillings' widow. Other letters are from Pete Wilson, George Deukmejan, and Edmund Brown, all Governors of California, as well as Jack Kemp, Peter Rodino, Dan Quayle, and many others.

Also present is Hillings' "Member of Congress" plaque, 15 inches in diameter, that hung in his office, as well as brochures, certificates, and other personal items. This archive should be seen in person to be appreciated.
Estimated Value $8,000 - 10,000.


---