Sale 21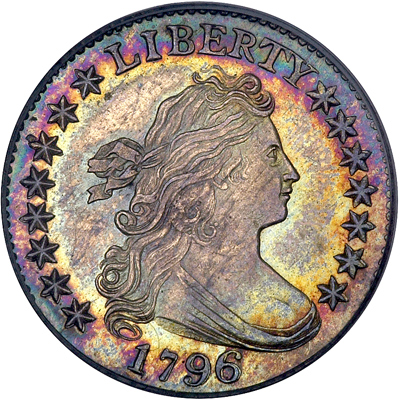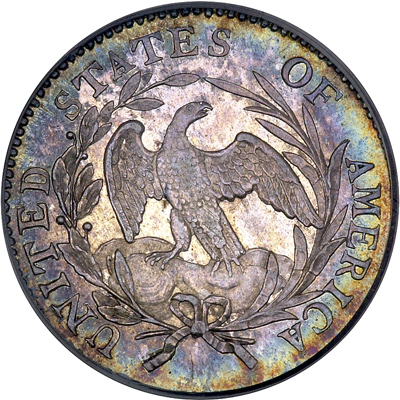 Lot 241

1796 Draped Bust Dime. PCGS graded MS-66. A remarkable example of the date and certainly one of the finest known of the variety. Glittering Prooflike surfaces, with a reverse that would have been called Proof under the relaxed standards of years ago. Strong, even strike, nearly complete in every detail. Identical quality to the NGC MS-66 we sold in our Fairchild Family Trust collection (Lot 488) in May 2001. As a die variety, this is more desirable than the usually seen JR-1 or JR-6 coins, as far fewer are found of this die pairing. Special care was taken in 1796 to produce really exceptional coins, as this was the first year of issue of this denomination. The design was supposedly inspired by the famed portraitist Gilbert Stuart, who employed an uncredited model (past references to Ann Willing, said at the time to be the most beautiful women in Philadelphia, have been discredited). On the reverse, the rendition of the "small eagle" design was also well received, with the proud outstretched wings and delicate wreath surrounding. A superb example of an important type coin. The recent PCGS Population Report shows 5 graded this high, with just 1 graded higher.

In June 2003, Michael S. Fey reported the discovery of examples of 1796 JR-3 and JR-4 with widely repunched 6's in the date. Because of it's high grade, this example shows this feature clearly. Actually, the entire date was repunched (as were most of the stars on the left), but the 6 was punched into the die three times: first, too low, then higher, then again slightly to the left! (PCGS # 4461) .
Estimated Value $45,000 - 55,000.


---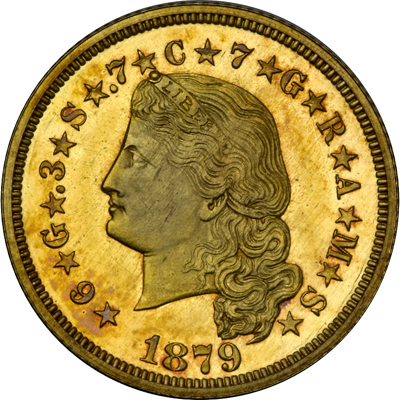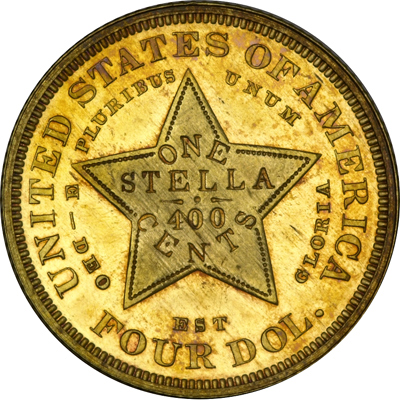 Lot 1120

1879 $4 Gold. Flowing hair. PCGS graded Proof 64 Cameo PQ. A classic design by George Morgan, founded in a proposal by Representative John Adam Kasson for an international coinage. Toned in gorgeous, orange-gold colors, with bright, reflective surfaces. Light surface striations typical of the 425+ Proofs struck after the 25 Originals (which supposedly show no striations). Strong cameo contrast, not deep, but certainly close. One of the most popular of all American coins, enough to make Stellas one of the few Patterns included among regular issue coins in most reference books (the GUIDEBOOK, a notable example). PCGS reports 9 at this level, with 6 higher in Cameo.

The Stellas are "international" not in their conformity to other world gold coins, but in the fact that they state their weight and the relative proportions of gold and silver on their face. Presumably, gold was more appreciated worldwide in 1879 than were U.S. Dollars, thus it was easier to determine the value of 6 grams of pure gold than it was to convert $4 based on some market or government-imposed rate. Regardless of intent, the Stella experiment failed and was abandoned. Ultimately, the Dollar became an international currency all on its own, not due to experiments such as this, but because of the strength and stability of U.S. markets. But, enough of economics, let's get back to this remarkable coin! (PCGS # 8057) .
Estimated Value $80,000 - 90,000.


---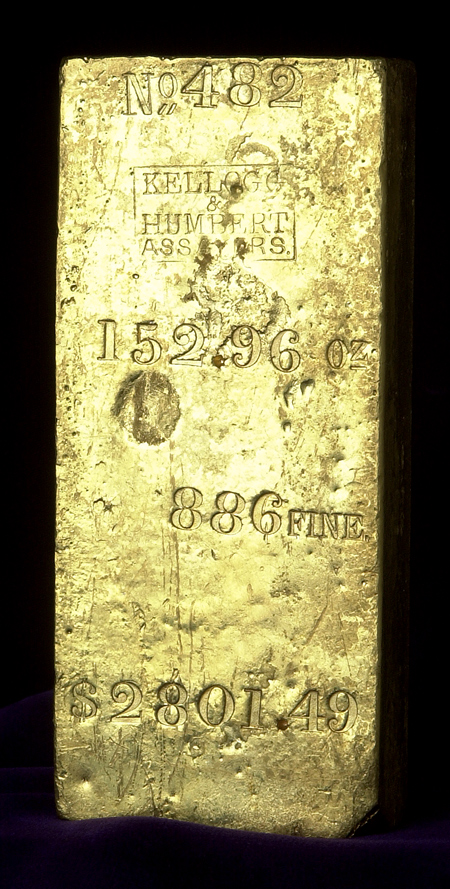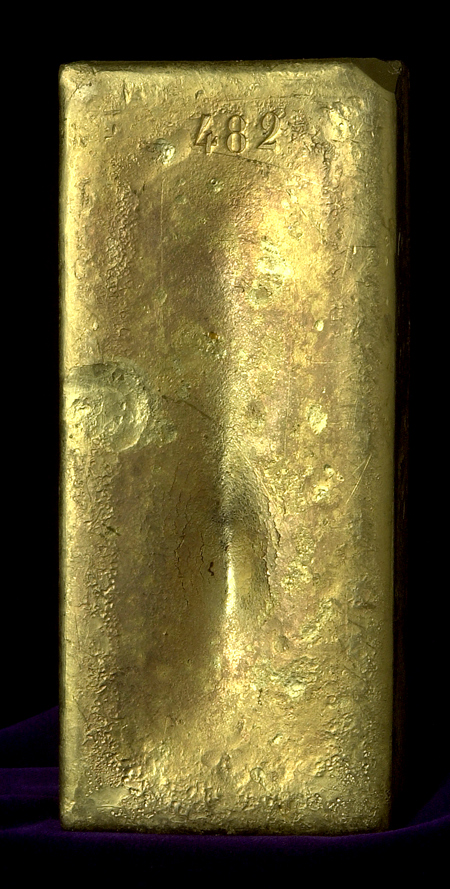 Lot 1358

Kellogg & Humbert Gold Bar No. 482
152.96 oz. 886 Fine gold. Value at time of issue: $2801.49. This monumental gold bar is from the 1857 shipwreck of the S.S. Central America. Its fineness of 886 pure gold is higher than usual for native California gold. The lower right corner has been chipped off for assay purposes, as has the upper right corner on the back of the bar. The control number of the bar, No. 482, is stamped on the back of the bar.

Between 1852 and 1857, the S.S. Central America was responsible for transporting approximately one third of the gold found during the California Gold Rush, amounting to an estimated $150 million. This bar was part of the ship's three-ton gold cargo that left Panama, en route for New York, on September 3, 1857, and was lost on September 11, 1857, when the ship sank during a hurricane off Cape Hatteras, North Carolina.

With the loss of the gold cargo, New York banks began to fail and businesses closed, causing a financial crisis, not only in the United States, but also in Europe. It was called "The Panic of 1857.

Kellogg & Humbert were government-supervised assayers in San Francisco, but until the recovery of the wreck of the S.S. Central America in the 1980s, no bars by these important California Gold Rush participants were known.

The value of this bar at the time of its issue would have purchased many city blocks in downtown Los Angeles. It will be the centerpiece and the conversation piece of your gold collection.

Accompanied by the special leather edition of Q. David Bowers' A California Gold Rush History.
Estimated Value $100,000 - 125,000.


---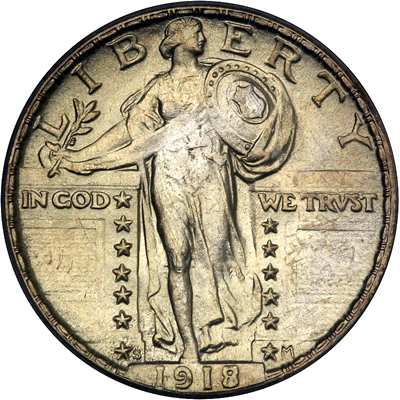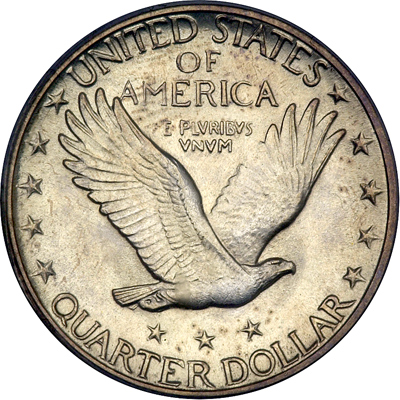 Lot 371

1918-S Liberty Standing Quarter Dollar. 8 over 7. PCGS graded MS-64 Full Head PQ. Beautiful light golden toning, the overdate plain to the naked eye. A classic American rarity and an important, well struck gem with all detail sharply defined. PCGS reports just seven coins at this level, with none graded higher (with full head) at either PCGS or NGC. Don't be surprised to see runaway bidding on this king-of-the hill coin. This is the key date to the series. It was discovered in 1937, long after most had entered circulation. In Jay Cline's third edition of his Standing Liberty Quarters reference book, he stated that only about 12 pieces were struck in full head. Once this coin is sold, it may be many years until another of equal quality is offered again. Tied For Finest Known.
Estimated Value $100,000 - 150,000.


---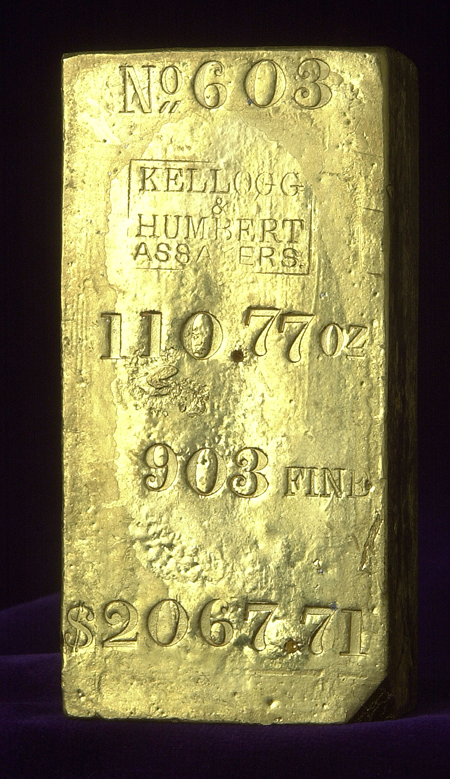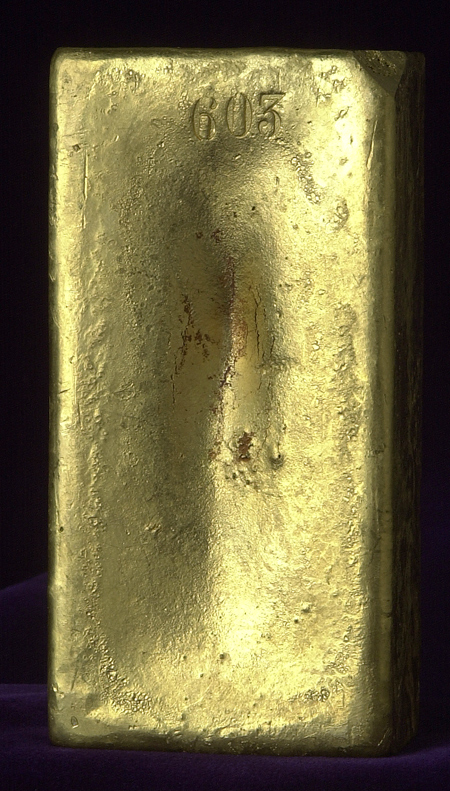 Lot 1359

Kellogg & Humbert Gold Bar No. 603
110.77 oz.903 Fine gold. Value at time of issue: $2,067.71. A very desirable example from the S.S. Central America shipwreck. Of note is the fineness of this bar which, at .903 pure gold, is very high for native California gold; it was usually found below this fineness. The lower right corner has been chipped off for assay purposes, as has the upper right corner on the back of the bar. Also, we note that the control number of the bar, 603, is stamped on the back of the bar.

As noted in the Bowers' publication, A California Gold Rush History, the Kellogg & Humbert bars are among the most numerous of the bars recovered from the wreck; however, because Kellogg & Humbert were such important participants in the California Gold Rush history, many coins being known from their partnership, it is these bars that best represent the California Gold Rush era. These bars were unknown until the wreck was recovered in the 1980s and made available to collectors in the year 2000.

The bar is accompanied by the special leather edition of Q. David Bowers' A California Gold Rush History. The new owner will undoubtedly spend many hours discussing the epic tales of the discovery of gold in California and the tragedy of the loss of life on the Central America wreck.

Truly a fantastic, historical relic which will be the centerpiece of your gold coin collection.
Estimated Value $70,000 - 85,000.


---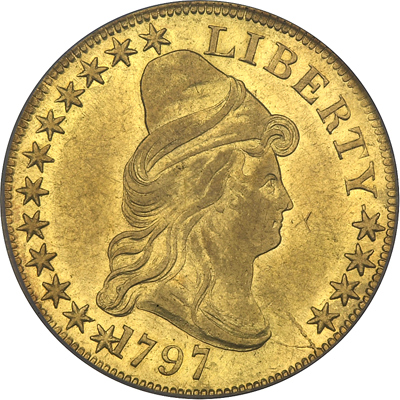 Lot 1176

1797 $10 Capped Bust. Small eagle. PCGS graded AU-50. Sold by us in June 2000 as part of Dr. Jon Kardatzke's impressive collection of United States coins. The description bears repeating (in part), as follows: "The 1797 Small Eagle is the product of the Mint and politicians attempting to please the public. Apparently, the delicate small eagle reverse had proven unpopular, and this design was replaced with a slightly modified copy of the Great Seal of the United States, and employed on the Heraldic Eagle reverse. As dies were generally used until worn out, broken and couldn't be repaired, many strange date and design combinations were created during this turbulent first decade of Philadelphia Mint coin production. The new style, heraldic eagle reverse first appeared on 1796 Quarter Eagles, and from there spread out to other denominations. A few curious animals were created, such as the 1795 half eagle with the heraldic eagle reverse, or the similar 1798 small eagle half eagle. New heraldic eagle reverse dies were made for eagles in 1797, and the left over 1796 11 leaf reverse was also used to produce 1797 eagles, and was the last usage of the small eagle design.

Sought-after by rarity collectors, this coin is still known as a Rarity 5, with between 31 and 75 thought to be in existence. The obverse dies quickly broke, with a heavy die crack extending from the rim below the last star up towards Liberty's chin, with branching cracks going off the main crack in either direction. When the dies were replaced, the new heraldic eagle reverse was used, as well as a new obverse die.

This particular coin is exceptional, the surfaces show smooth, even wear and the fields, rims and devices display few signs of the usual problems that so often plague these early eagles. Identifiable by a small rim tick above the first T in STATES…"

To bring this description up to date, we note that the coin has a sunny yellow appearance with a toned area on the upper left reverse, where a faint old scratch is noted in the field to the right of the D of UNITED (another pedigree marker). PCGS has graded 4 example at this grade level, with 17 finer (the best being a single MS-62).

All in all, this is an impressive coin that will satify the needs of both date and type collectors (PCGS # 8555) .
Estimated Value $40,000 - 50,000.
Ex: From our sale of the Dr. Jon Kardatzke Collection, June 4-6, 2000, Lot 1430.


---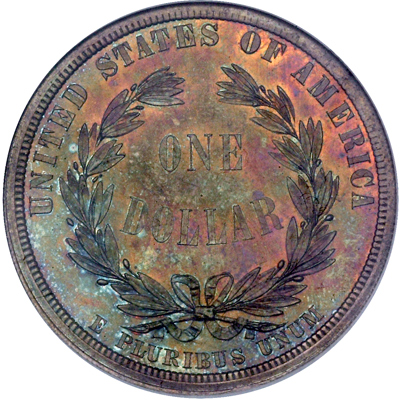 Lot 1027

1876 Pattern Dollar. Copper, reeded edge. NGC graded Proof 67 Brown. A glittering Gem, mostly brown in color, with all of the mint red converted to a golden tan color, highlighted by delicate blue iridescence. Nearly perfect from a technical standpoint and most likely the finest example known of the variety. PCGS has graded only one Judd-1468, a Proof-66 RB; NGC has graded only this example.

Although muled with a "One Dollar" Pattern reverse and listed in Pollock as a Dollar Pattern, this was most likely intended as a Pattern for a Trade Dollar. Evidence pointing in this direction includes mulings with a Commercial Dollar reverse (see Judd 1496 and 1497) and a Trade Dollar reverse (see Judd 1492 and 1493). Also, the obverse design is quite similar to the regular issue Trade Dollars of years prior, but the most convincing evidence is the weight of the known silver versions of this number: Farouk's example weighed in at 419.7 grains, nearly right on the standard of 420 grains for Trade Dollars and well above the 412.5 grain standard for regular Silver Dollars.
Estimated Value $20,000 - 25,000.


---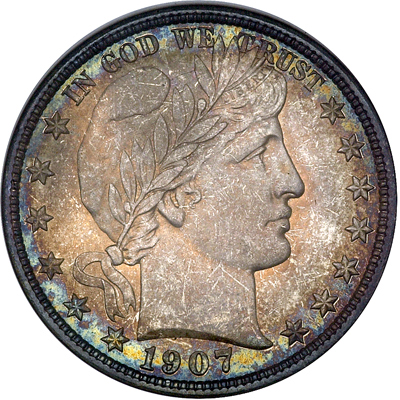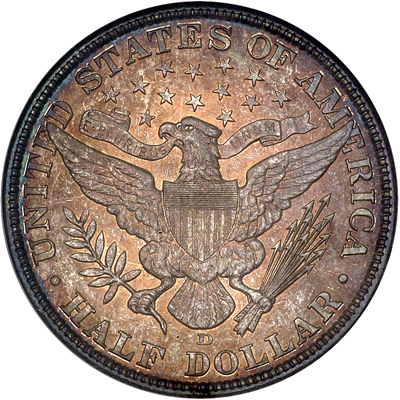 Lot 440

1907-D Barber Half Dollar. NGC graded MS-68. Rings of bright blue iridescence surround champagne toned centers. Extremely well struck and almost perfectly preserved. A remarkable coin for the collector who wants only the finest quality. Pedigreed to the John Jay Pittman collection, one of the most celebrated and valuable collections of coins ever assembled. This is the finest example graded by NGC (interestingly enough, the NGC Census reports two coins at this level, both from the Eliasberg collection)! Accompanied by a PCGS tag indicating the Pittman provenance and a grade of MS-68 (it seems that at least one owner of this coin was seeking an MS-69 grade).
Estimated Value $10,000 - 15,000.
Ex: Pittman Sale.


---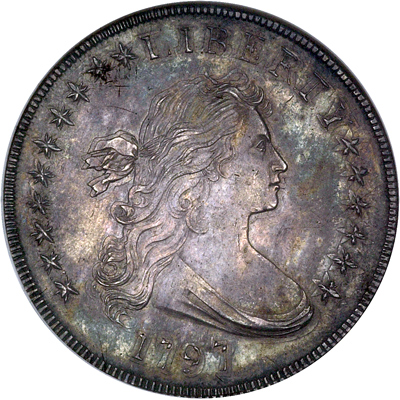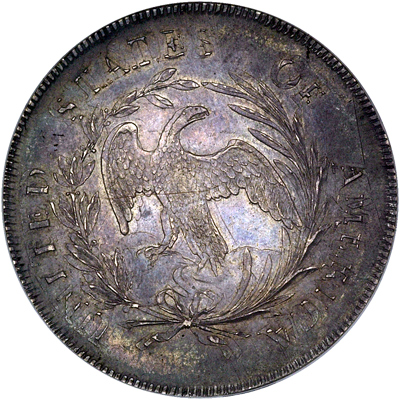 Lot 519

1797 Draped Bust Dollar. 10 stars left, 6 right. NGC graded MS-61. Already impressive as a Mint State example of a 1797 Silver Dollar, this piece is even more exceptional because of the clear, triple striking evident on both sides. Everything -- denticles, leaves, feathers, letters, hair, stars -- shows triple details, each strike shifted just slightly from the preceding. Completely original, with deep lilac centers deepening to olive-purple near the peripheries. A stunning coin that is sure to excite the participants in the current, red-hot market for errors. The triple striking has created a depth of details rarely seen on any early U.S.silver dollar.
Estimated Value $25,000 - 30,000.


---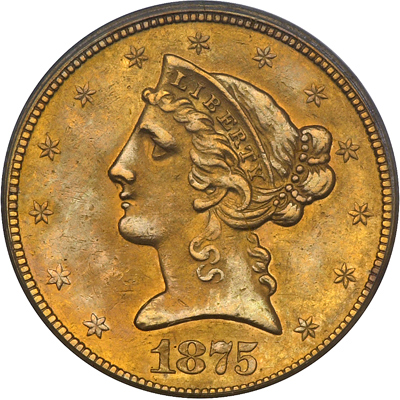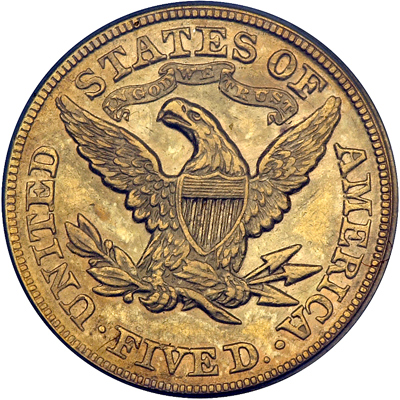 Lot 1150

1875 $5 Liberty. PCGS graded EF-40. The Dr. Jon Kardatzke coin, described (in part) by us in our June 2000 sale of his collection, as follows: "One of the rarest coins in the entire sweep of United States Numismatics. Only 200 were struck for circulation, of which Breen estimated that 'fewer than 5 are known.'…This particular coin does not appear to be the Wolfson coin (Stack's, October 12-13, 1962, lot 511) but it is hard to tell with the old half-tone photographs (this same coin was resold in the 1974 ANA sale, Lot 884). Perhaps it is the Boyd coin which was offered in the World's Greatest Collection Sale, 1945, lot 429.

This is a date which is offered perhaps two or three times a decade [although the recent sales of the Bass collection have skewed this number upwards for the 1990's], and is more common in proof than other grades. The Dr. Kardatzke coin is a superb example for the grade, with very little wear even on the highest devices. The fields, rims and devices show light bagmarks, fewer than usually seen on common date coins of this era in this grade. Fully struck and a delight to behold…

For identifying marks from which to trace pedigreees, this one has a tiny bagmark above and right of the upper olive leaf, and there is a very small mark on Liberty's lower neck above the 8. In PCGS holder #407023."

Today, three years later, this is the only EF-40 graded by PCGS, with 4 coins finer (the best being a pair in AU-53…or possibly the same coin submitted twice). For comparable pricing, we point to two "raw" EF-45 examples that sold in two separate Heritage sale in 1997, for $40,250 and $43,125.

A remarkable opportunity for the advanced collector (PCGS # 8336) .
Estimated Value $25,000 - 30,000.
Ex: From our sale of the Dr. Jon Kardatzke Collection, June 4-6, 2000, Lot 1350.


---