Sale 20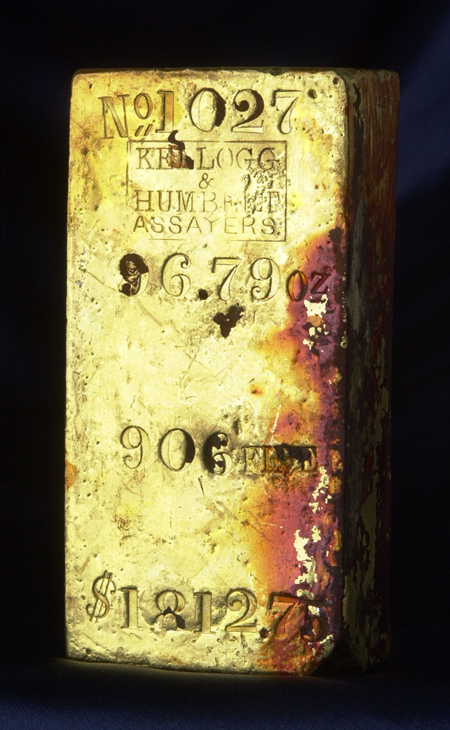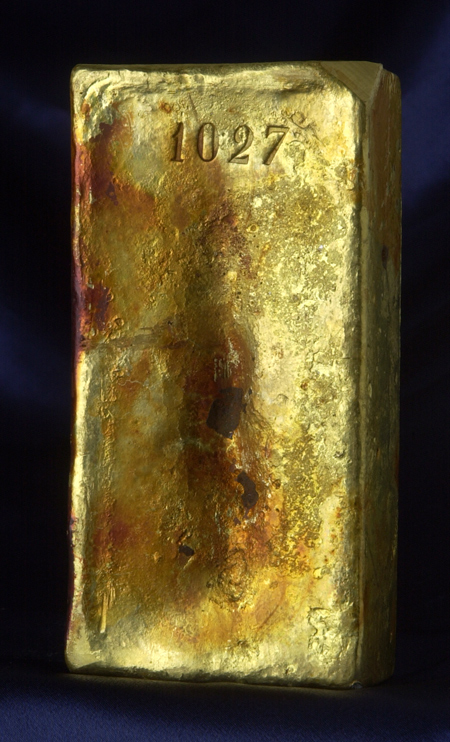 Lot 996

(1857) Kellogg & Humbert gold bar No. 1027, 96.79 oz.906 Fine gold, value at time of issue $1812.75. A monumental and very desirable example from these assayers of the California Gold Rush era. The bar itself is a deep yellow gold in color with the surfaces partially overlaid with a coat of natural dark red oxidation. This being a result of the coal from the steamer laying next to the cachet of bars at the bottom of the sea. This natural "patina" adds a certain charm to this bars and can be easily removed if chosen. Of note is the fineness of this bar, which at .906, and the other bar offered in this sale at .935, pure gold is very high for native California gold, which was usually found well below this fineness. The lower right corner has been chipped off for assay purposes, as has the upper right corner on the back of the bar. Also we note the control number of the bar #1027 is stamped on the back of the bar.

As noted in the Bower's publication, the Kellogg & Humbert bars are amongst the most numerous of the bars recovered from the wreck, however, because Kellogg and Humbert were such important participants in the California Gold Rush history, as many coins were known from their partnership, it is these bars that best represent the California Gold Rush era. These bars were completely unknown until the wreck was recovered in the 1980's and made available to collectors in 2000

This bar is accompanied by the special leather edition of Q. David Bowers A California Gold Rush History and the new owner will doubtless spend many hours discussing the epic tales of the discovery of gold in California, and the tragedy of the loss of life on the Central America wreck. Truly a fantastic historical relic which will be the centerpiece of a gold coin collection.
Estimated Value $65,000 - 85,000.


---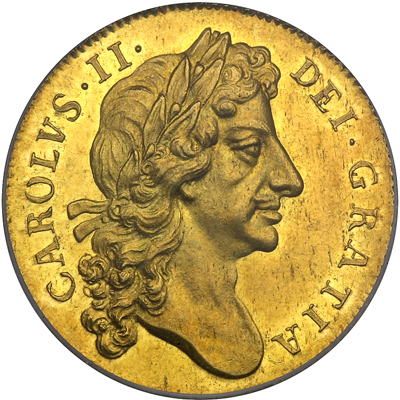 Lot 123

Great Britain. Two Guineas, 1676. Charles II, 2nd laureate Bust with rounded truncation. S-3335; Fr-284; KM-443.1. Here is possibly the finest known gold coin of Charles II, of any date or denomination. In fact, this is a world-famous specimen, last sold 14 years ago in an important London auction of English gold coins - this being the star piece of the sale. It is some sort of Prooflike or Specimen issue, as nothing else like it is known of this date or this denomination. It possesses mirrored surfaces and glorious bright luster, and both sides are deeply impressed by the dies, so that every detail of the design is clear; it is not unreasonable to suggest that it was possibly prepared for royal inspection. No one seems to know how it came to exist, but once you've seen it, you will never forget it, nor will you ever be completely satisfied with any other Double Guinea of this monarch. It might well be said that no finer portrait exists of Charles II, in any form - painted, sculpted or metallic. This coin is a treasure of the English Restoration! PCGS graded Specimen 63.

Historical note: Born in 1630 at St James Palace, and happy in his early years, Charles led a mostly secretive or secluded life during much of his father's reign, a time of warring political factions, rather than of warring nations, in which the quarry was power itself. This was England's civil war, in which monarchy in its old sense was torn apart. The prince spent his teenage years protected at the court of Louis XIV, France's "sun king," after Cromwell's army pursued his father from fortress to fortress, finally capturing, trying and executing King Charles I in January 1649 by beheading. At Paris the young prince witnessed firsthand France's blooming new culture of high art. But London became a dire place to be, ruled by the Puritans and their Lord Protector, Oliver Cromwell, until his painful 1658 death in bed from kidney stones and related ailments. Came a time, then, of Restoration of the Monarchy, in which the exiled prince was proclaimed King in 1660, regrouped his Stuart allies, showed remarkable clemency for many former traitors to the Crown, and relinquished the essence of kingship to parliamentary procedure. Charles II showed other gifts, however, bringing a new era of culture to Britain, but also one of war abroad and homeland disasters: the plague of 1665 followed by the great London fire of 1666. The diarist Pepys recorded the new political climate, and the coffehouse became a sensation of the first generation of newspaper readers. Charles built the foundations of today's national collection of artworks, loved yachting, played at the new sciences, and dallied with infamous femmes. In numismatics, too, the king's sense of beauty prevailed, as during his monarchy the brand-new Milled Coinage began, machine-made coins of great precision and careful workmanship, and a new uniformity. By the time the king died, without blood successor, in 1685, his money had been transformed into a thing of beauty and consistent value. Among the new coinage was a series of Guineas, fractions and multiples, that were nothing but the highest statement of numismatic artistry of the era. This new name was taken from the area also known as the "Gold Coast," where the Africa Company mined golden wealth for an expanding peoples who would soon reach for empire. During this reign, power was restored to royal hands, but the nation had been transformed forever from a medieval state to a more unified citizenry which cherished the pleasures of civilization, gained freedoms previously reserved for the few, and stood on the brink of becoming a military and industrial power of worldwide scope, In it all, Charles "the Merry Monarch" left the stamp of his character. To us he bequeathed such relics of his times as this monentous Double Guinea bearing his lifelike portrait, to be savored forever. No finer portrait of his exists in any form, painted, metallic or sculpted.
Estimated Value $50,000 - 60,000.
Ex Sharps-Pixley Collection.


---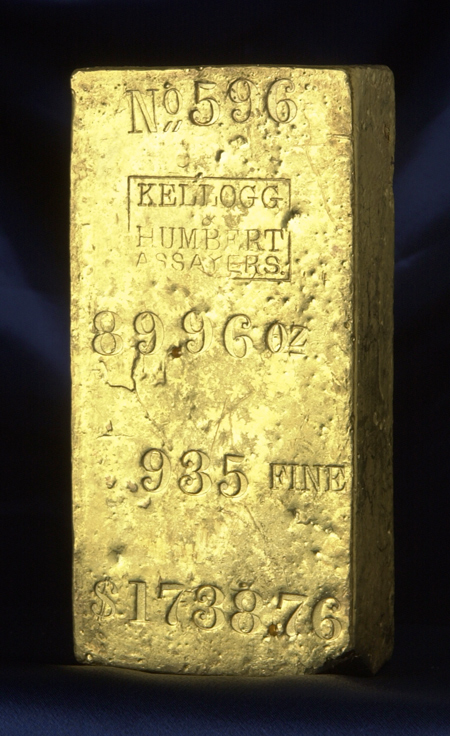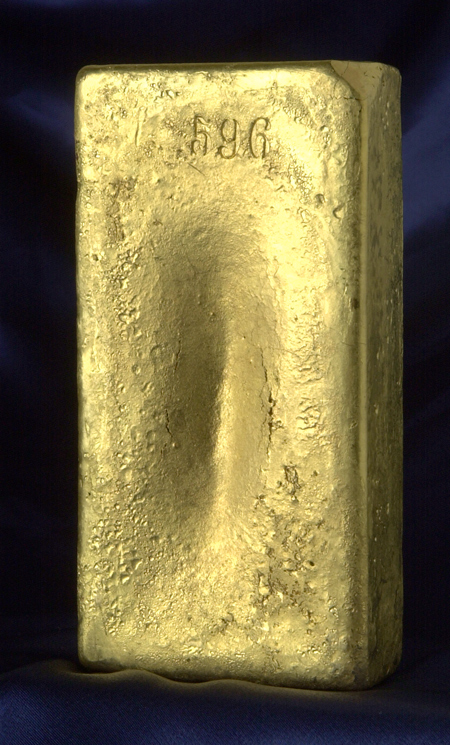 Lot 995

(1857) Kellogg & Humbert gold bar No. 596. 89.96 oz .935 fine gold, value at the time of issue $1738.76. A monumental and highly desirable gold bar from the S.S. Central America shipwreck. This particular bar is plated in Q. David Bowers A California Gold Rush History. The winner of this lot will receive the owner's deluxe leather edition of this important reference work with an enlarge color photo of this bar.

The surfaces show the usual minor bubbles from casting the molten gold. The lower right corner has been chiped away for assay purposes by the makers as on all genuine bars. As with other bars from these makers, the serial number #596 is stamped on the otherwise blank back of the bar. An impressive large bar that would be the center of any numismatic gold collection.
Estimated Value $60,000 - 80,000.


---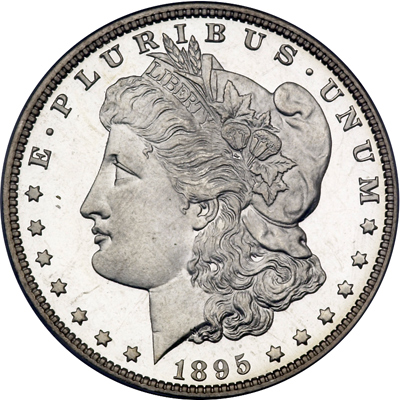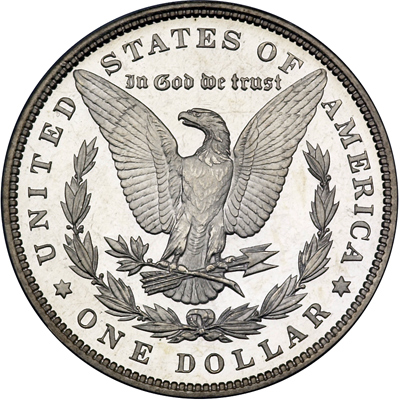 Lot 790

1895 Morgan Dollar. PCGS graded Proof 67 Cameo. A pure white beauty, featuring nice contrast between the frosted devices and brilliant fields. PCGS reports 4 in this grade, with no finer examples in the "Cameo" designation; in fact, the only better examples are 4 in 67DCAM and 1 in 68DCAM). From the CoinFacts website (www.coinfacts.com): "Called the 'King of Morgan Dollars', the 1895 is one of the most desirable and sought-after dates in the series. Although Mint records indicate a mintage of 12,000 circulation strikes, experts believe that only 880 Proofs were made in 1895. The existence of several circulated examples confuses the issue, but those are believed to have been Proofs that were spent inadvertently. Ownership of this popular rarity is the true measure of completeness for a collection of Morgan Dollars - the 1895 Proof is the only real 'stopper' in the series." The 1895 Morgan Dollar was recently included in the book "100 Greatest U.S. Coins."
Estimated Value $40,000 - 50,000.


---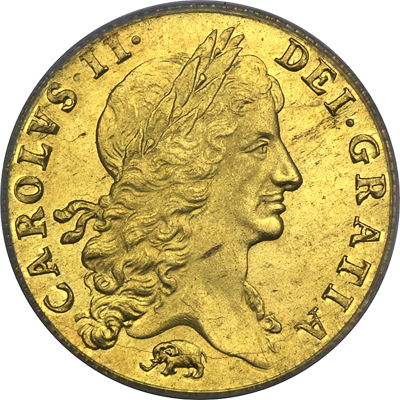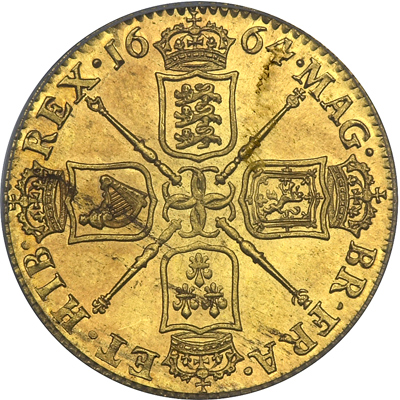 Lot 117

Great Britain. Guinea, 1664. Charles II, 2nd Laureate Bust. Elephant hallmark below bust. S-3341; Fr-288; KM-423.2, cited by Spink as extremely rare, and one of the few coins in that reference listed but unpriced. In fact, when this piece was purchased at auction in 1992, no reference we could locate had ever listed a value, in any condition. This is a famed specimen, too: ex Bridgewater House sale, lot 143. Despite some faint tin impurities in the flan (typical of this era), this coin is as struck with gorgeous eye-appeal and a remarkably bold strike for its time. Evidently it was made for some special purpose, and subsequently saved with great care. It glows with a luster found on very few other gold coins of the 1660s. It is one of the rarest and most important coins in the Terner Collection, a centerpiece of such stature that even a VF piece, could one be found, would fetch five figures. Its stature derives from this: the Guinea denomination was named for the original source of British gold ore in the mid-17th century, from the country in Africa then called Guinea; and this particular coin, as the first gold piece of this size to bear the distinctive Elephant hallmark, is thus the prototype for all guineas to come. Doubtless the finest known. A coin of such importance that its equivalent, in U.S. gold coins, would have to be the 1822 half eagle or the 1849 prototype double eagle. Most simply put, it is "the rarest of the rare" among historical English gold coins. PCGS graded MS-64.
Estimated Value $35,000 - 45,000.


---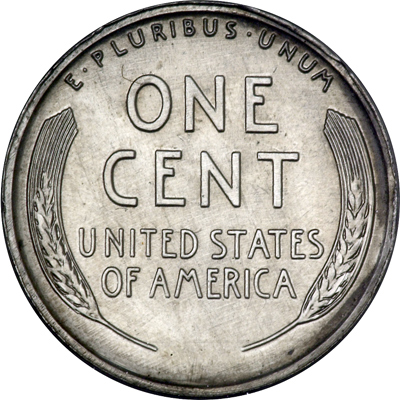 Lot 1202

1942 Lincoln Cent. PCGS graded MS-64. Unlisted in Judd, Pollock 2077. Metal composition listed on the holder as 93% Tin, 7% Antimony and the weight is listed as 3.9 grams. Pollock had never seen this pattern, but was aware of it, and assigned a number based on an observation by Walter Breen, who claimed to have seen "a 1942 cent struck on a thick white metal allow planchet (unknown composition)." By 1942, Mint official were well aware they would be facing a shortage of copper because of the war effort. To prepare for that eventuality, they tested a number of different metallic compositions, including zinc-coated steel, copper-zinc alloys, antimony and lead, using regular issue dies and fantasy dies created by John R. Sinnock. Several of the fantasy pieces, bearing a head of Liberty, have appeared on the market, but all of the Patterns made with regular dies were believed to have been destroyed. Happily, some survived. Today, three of these 1942 White Metal Cent Patterns are known -- this example (crossed over from an NGC MS-64); a PCGS MS-65 example; and an NGC graded Proof-65. With the current excitement generated by the off-metal 1943 and 1944 Cents, we fully expect this remarkable coin to set a record price.
Estimated Value $30,000 - 40,000.


---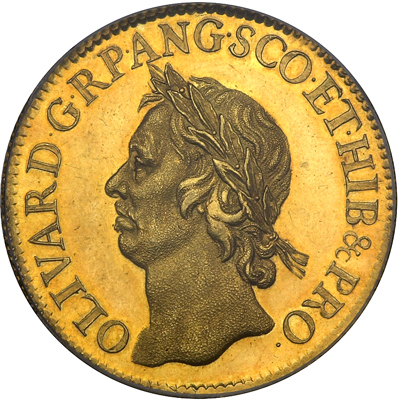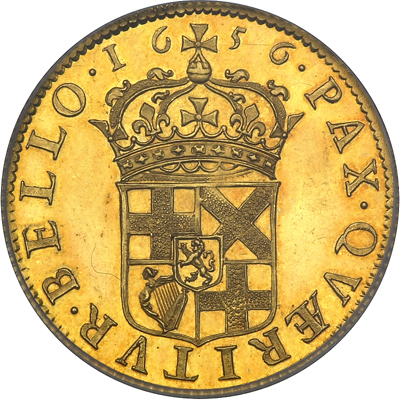 Lot 114

Great Britain. Pattern Broad, 1656. By Thomas Simon. Oliver Cromwell. Reeded edge. WR-39. S-3225; Fr-273. The so-called gold Broad, valued in 1656 at 20 shillings, was in effect the very first Guinea, which was invented in the following decade and also valued at 20 shillings. In earlier, hammered versions, it was known as the Pound. Cromwell's golden Broad brought back a tradition lost for some decades, that of placing the monarch's portrait on the "face" of the coin. Cromwell, however, famously declined the regal title, opting for Lord Protector in its stead. But in reality, Oliver Cromwell ruled with great personal authority and influence, much as had the long succession of monarchs before him. His Broad is considered very rare (R2 in Wilson & Rasmussen), but the R2 rating does an injustice to this particular specimen, in that most of these pieces, when seen, are heavily impaired by scratches, digs, cleaning, and other abuse. This sharp piece is an appealing cameo Proof with excellent surfaces and superior eye-appeal. In fact, in 22 years of looking at fine English gold coins, this is the best one seen. PCGS graded Proof 63 Cameo.
Estimated Value $10,000 - 15,000.


---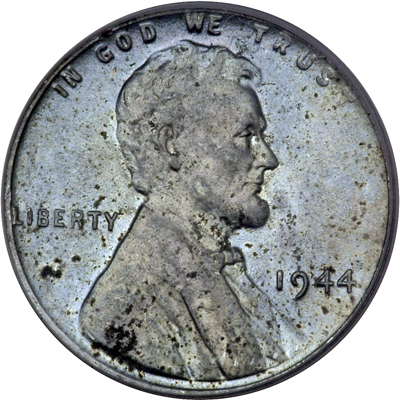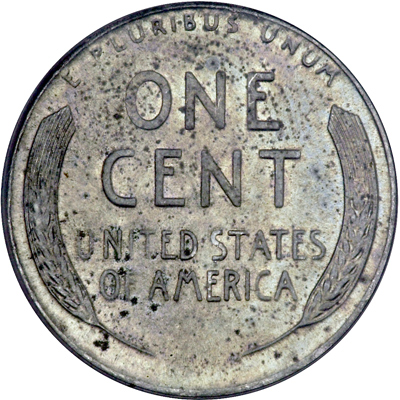 Lot 1203

1944 Lincoln Cent. PCGS graded MS-62. A wonderful follow-up to the raw AU-55 example we offered (and sold for $31,050 against a $15,000 estimate!) in our February 2003 sale. This example is a newcomer to the marketplace and it now ranks as one of only two pieces certified as Mint State by either PCGS or NGC! The finest is an NGC MS-63 (formerly the MS-62 displayed at the 2003 F.U.N/ show in orlando, Florida and subsequently upgraded). PCGS has graded only two examples -- this MS-62 and the above-mentioned AU-55. This example has strong, original luster and brilliance, but both sides have a smattering of small flyspecks, those on the reverse in the pattern of a fingerprint (hold your coins by the edges, please). With the rarity of the 1944 Steel Cents firmly established and the value hinted at by our previous sale, all that is left is the exciting moment when this coin crosses the auction block. Oh, here's an added incentive -- these were once classified as error coins by PCGS, but they are now numbered as part of the Lincoln Cent series and, we suspect (and hope), may one day make it into the PCGS Registry Set. Such an event would create unparalleled demand for this incredible coin.
Estimated Value $40,000 - 50,000.


---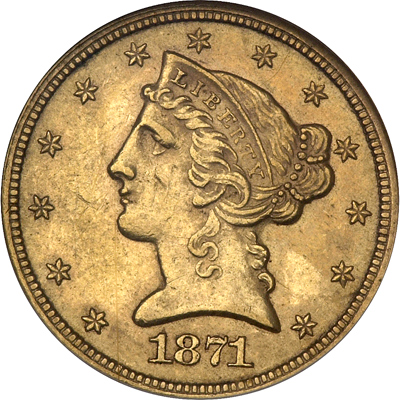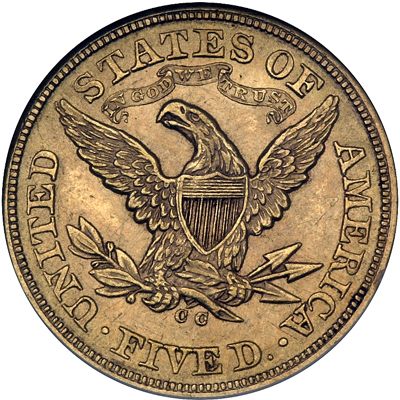 Lot 915

1871-CC $5 Liberty. NGC graded MS-61. Soft, subtle luster, some minor surfaces abrasions on both sides. A remarkable, extremely important coin from a popular mint and a long and popular series. The 1871-CC Half Eagle is tough in any grade -- most of the known examples grade EF or worse. AU examples are extremely rare and Mint State examples are represented by only two pieces, this being the second finest of the two (the only better one is a single NGC MS-63). To date, PCGS has graded NO Mint State examples of the date. A fabulous opportunity for the CC gold specialist.
Estimated Value $35,000 - 40,000.


---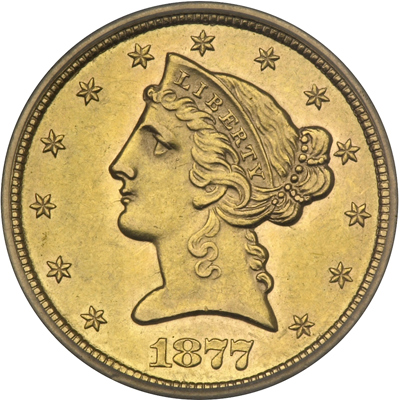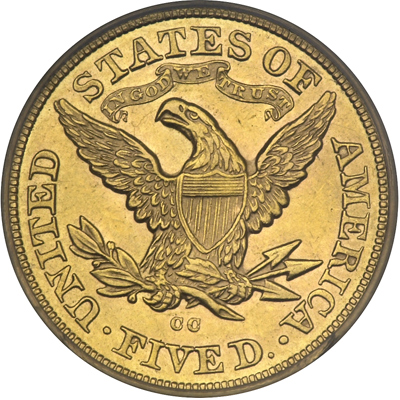 Lot 921

1877-CC $5 Liberty. SEGS graded MS-63. Soft golden luster and a nice, even strike. One of the classic, condition rarities of the CC-mintmarked Half Eagles. The low mintage of 8,680 pieces automatically limited the number of possible Mint State survivors, and virtually the entire mintage circulated heavily. At auction, this date appears perhaps twice a year, so the opportunities to buy any example in any grade is rare, indeed. The best example certified by PCGS is a single MS-62; NGC has yet to grade a Mint State example of this date! Thus, in theory at least, this may be the finest example known to exist. It is certainly the finest example we've ever handled.
Estimated Value $40,000 - 50,000.


---