Sale 14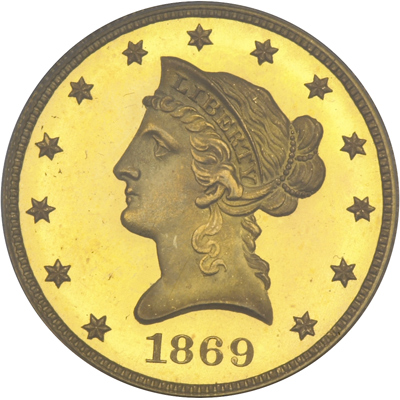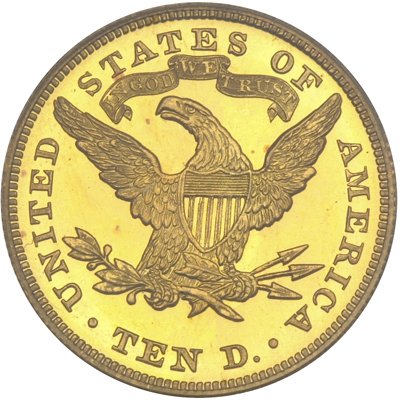 Lot 3779

1869 $10 Liberty. PCGS graded Proof 66. This is likely the finest known specimen of this date in Proof, and it is alone as the finest graded by PCGS or NGC! The surfaces are pristine, and obviously a coin that has been carefully preserved since the day of its striking. As a date, 1869 was an extremely low mintage year. Philadelphia coined only 1,830 for circulation, and a paltry 25 in proof. As stated, we believe this is the finest known of the proofs, and a regal coin it is. Gorgeous satiny frost on the devices while the mirror fields are undiminished by handling or similar problems. We note a delicate haze on the obverse which produces a halo around Liberty, and this somewhat enhances the contrast between the mirror fields and frosted devices. Similar on the reverse, again with desirable contrast between the devices and fields. A foremost rarity as a type in this grade, and with the rare date 1869 added in, the importance of this coin can scarcely be overstated. Identifiable by a few tiny planchet flakes through the first four stars on the obverse.
Estimated Value $65,000-UP.
Ex: Heritage's 1990 ANA Sale, lot 2841, later from Heritage's ANA sale, August, 1995, lot 7927 and from the Michael Riordan collection.


---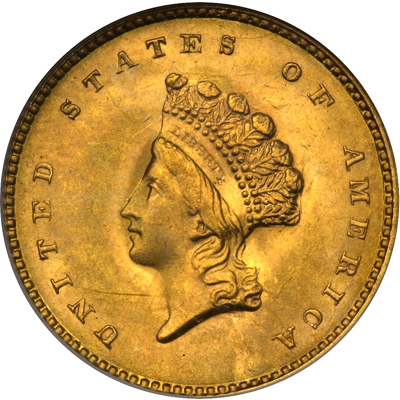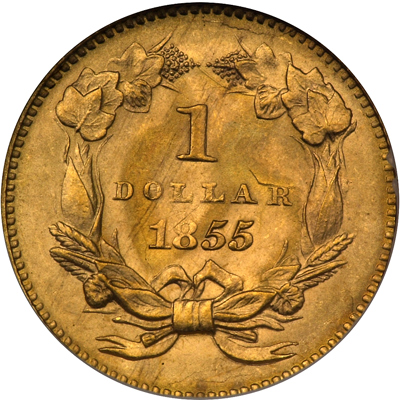 Lot 3467

1855 $1 Gold Indian. NGC graded Type 2. MS-66. This one has just a touch of haze over the brilliant luster, which is the only signs of age. Pristine fields and surfaces that show only the faintest signs of handling. Sharply struck throughout, with no signs of weakness even on the highest devices on the curls, or wreath. Lightly clashed dies, with Liberty's head outlined on the reverse, the only weakness this caused was at the top of the 8 in the date. NGC has graded only 3 this high, with 3 graded higher, all MS-67 above, similar at PCGS where they have graded 10 as MS-66, and a scant 3 graded higher, also all MS-67. It is reasonable that this is one of the very finest graded by either major service, and long known as one of the most difficult type coins to locate in gem grades. For the investor or type collector who must have a high end gem, then place a strong bid on this coin as they are seldom found or offered this nice.
Estimated Value $40,000-UP.


---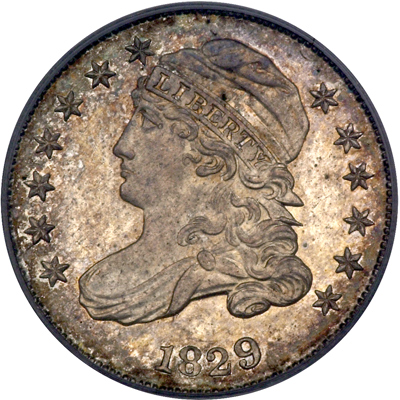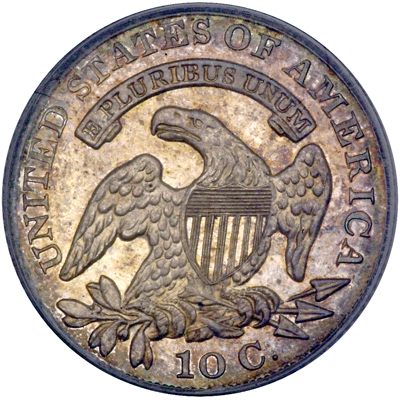 Lot 2128

1829 Capped Bust Dime. Small 10c. PCGS graded Proof 66" Eliasberg". Certainly the finest proof of this date in existence, this particular coin possesses steel gray fields overlayed with delicate gold toning on the obverse, a bit more on the reverse. Fully mirrored fields, and well frosted on the devices, this coin is obviously a proof, and carries its own credentials. Each star center and curl top is full and complete, on the reverse too, the neck feathers and even the tiny knobs on the eagle's claws show complete definition. As a final testament, the areas between the vertical shield stripes are fully mirrored. As to the grade, PCGS has seen a total of 3 of this date in Proof, one as a PR-62, another as PR-63 and this breakaway coin up at PR-66. Similar at NGC where 2 have been graded, a PF-63 and another as PF-64. As expected, the surfaces of this coin are superb, with no signs of handling or abuse, keeping this coin high in the superb category. Identifiable by a small speck of color above the E of LIBERTY, and of course, but the superb grade. If you demand the absolute finest known Proof, then here is a regal coin for the advanced numismatist.
Estimated Value $30,000-UP.
Ex: Bowers and Merena's Eliasberg Sale, May 1996, lot 1086, and the Michael Riordan collection.


---
Lot 3495

1848 $2.50 Liberty. CAL above eagle. NGC graded MS-62. One of the most important early quarter eagles of the Gold Rush, these were coined from a small amount of gold from the first shipment out of California. To mark the event, the California gold was designated for quarter eagles which were each stamped with the word "CAL." above the eagle's head on the reverse. Only 1,389 were coined, and most of those entered circulation. A few were saved in mint state, and we are proud to present one here. The surfaces show moderate handling marks, mostly in the fields, as expected for the grade. The fields are slightly prooflike, and the strike is especially sharp on the stars and curls on Liberty. NGC has graded 4 this high, with 9 graded higher of this early commemorative issue. Identifiable by a small nick at the top of the first star. Rich orange gold in color, and appealing in every way.
Estimated Value $30,000-UP.


---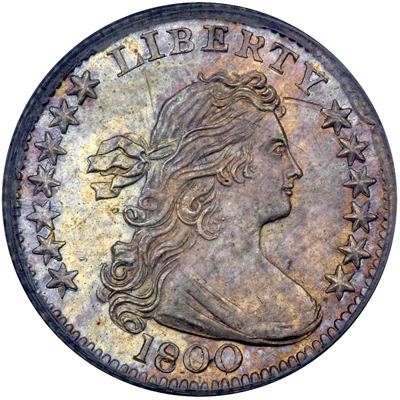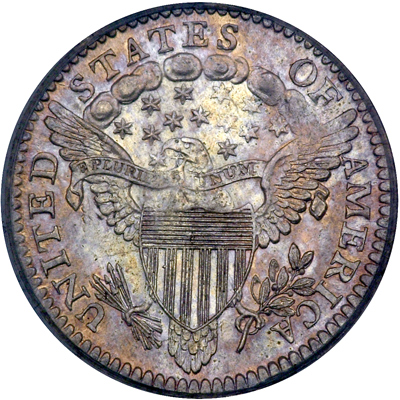 Lot 2034

1800 Draped Bust Half Dime. "LIBEKTY" error. PCGS graded MS-65. One of the very finest known of the variety, which is quickly identifiable by the open "R" on the obverse, which resembles an errant "K". The surfaces show a natural steel gray with lustrous iridescence in the fields. An early die state, hence Liberty's hair is sharp, the reverse die has the always seen swelling at the top left side of the shield and above, and on the right wing and cloud. Pristine surfaces, and nearly impossible to find in any mint state grade, to locate one in full gem might take a lifetime of searching. One of the highlights of this extensive collection, and worthy of a record price. Identifiable by a small planchet flaw from the field near Liberty's forecurl to the eighth star, and we note some doubling on the peripheral devices. The reverse die was rotated about 30 degrees counterclockwise when this one was struck, and both dies show very faint clash marks. In PCGS holder #6575381. As to the PCGS Population Report, it shows 4 as MS-64 below, and just this single coin at the top as MS-65. A sparkling jewel for the most advanced collection.
Estimated Value $19,000-UP.
From the Michael Riordan collection.


---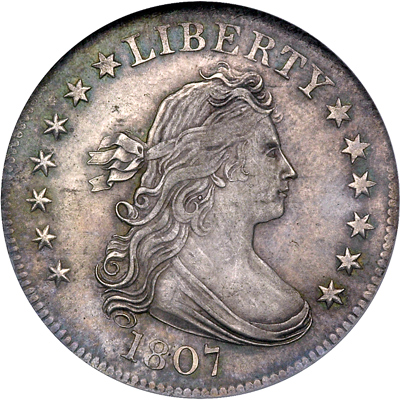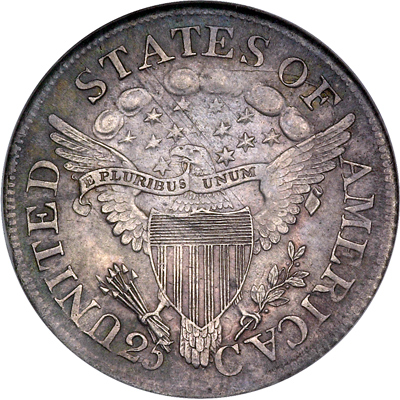 Lot 2201

1807 Draped Bust Quarter Dollar. . B-2. NGC graded MS-65. One of the most outstanding examples of this date known, this satiny gray gem will entice all collectors with its delicate greenish gold peripheral toning, and lovely silver gray centers. Fully struck by the dies, the obverse without clash marks while the reverse die is heavily clashed. We note a few very minor adjustment marks, a couple on the obverse rim above ERT of LIBERTY, and diagonally through the reverse, located behind and near the eagle's head, again these are very light and not distracting. Early bust coinage is very rare in mint state grades, and extremely rare in certified gem grades as seen here. NGC has graded only 2 coins of this date as such, with 2 graded higher, while PCGS has graded only 1 1807 quarter as high as MS-65, with none higher. Thus, it is reasonable to assume that this coin is tied for the third finest known with two others of the date. If you demand gem coins for your type or date set, then here is an opportunity to purchase the Draped Bust quarter, Large Eagle reverse design in full gem. In NGC holder #1656597-003.
Estimated Value $25,000-UP.
Ex: Heritage's Andre Dawson's Collection Sale, September 1998, lot 6646.


---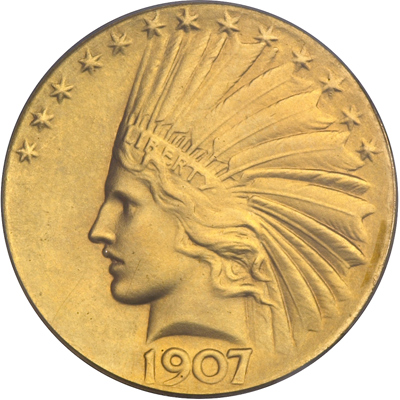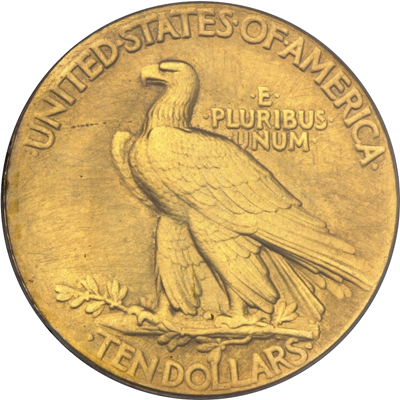 Lot 3922

1907 $10 Indian. Wire rim, periods. PCGS graded MS-64. A rare issue, which was closest to Augustus Saint Gauden's design and concept, and struck in the limited quantity of 500 pieces. The obverse shows the familiar Roman style finish which is soft and finely granular under a magnifier, while the reverse shows a similar surface but also extensive die polishing lines. Naturally, the surfaces remain in very choice condition and virtually the entire mintage was saved from the day it was struck and distributed to dignitaries and other VIps. Further, PCGS has graded 140 this high, and just 34 higher. Always popular with collectors, and arguably one of the more beautiful issues to be coined by our mints in the past 226 years.
Estimated Value $25,000 - 30,000.


---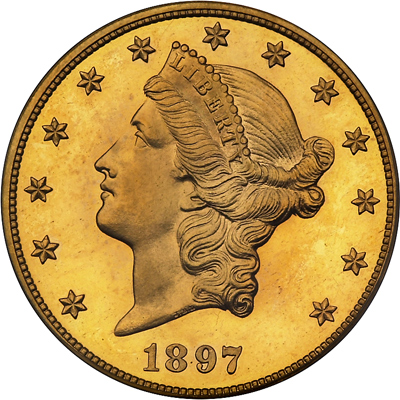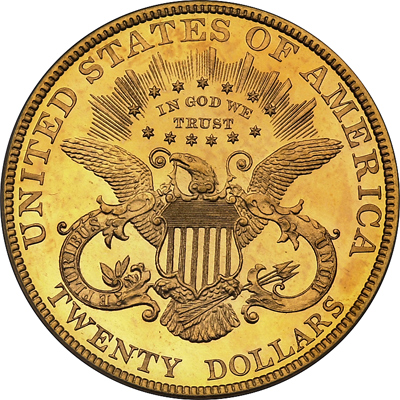 Lot 4066

1897 $20 Liberty. PCGS graded Proof 64 Premium Quality. One of the finest graded of this date in Proof, we note that the fields show magnificent orange peel texture which was absolutely perfected during the years 1870 to about 1900. This particular coin boasts well frosted devices with a touch of haze in the fields on both sides. Philadelphia coined just 86 pieces in proof, as demand was just not that strong, and few collectors could afford to order a coin that cost so much in face value, let alone pay a small premium. The fields show a few minor hairlines, as seen on virtually every proof gold coin to some degree. Identifiable by a small lint mark below the right side of the N in UNITED, and in PCGS holder #6582614. PCGS has graded only 10 this high (some are Deep Cameos which are included), and 3 higher.
Estimated Value $25,000-UP.


---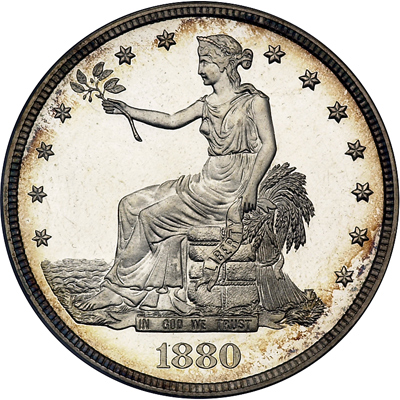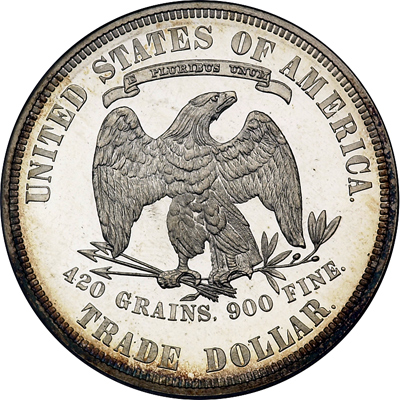 Lot 2365

1880 Trade Dollar. PCGS graded Proof 67 Cameo. Premium Quality. A stunning coin that boasts snowy white frost on all the lettering and devices which is naturally well contrasted by the deep, dark mirror fields. Ringed with a hint of gold at the periphery, this one will excite even the most advanced collector for its resplendent quality. A monumental grade and as nice as this date can be found, we note that PCGS has graded 5 this high, with none higher, and we don't know if any of the others are Cameo proofs or not. Perfectly struck and preserved, with such quality seldom available, and never inexpensive.
Estimated Value $18,000-UP.


---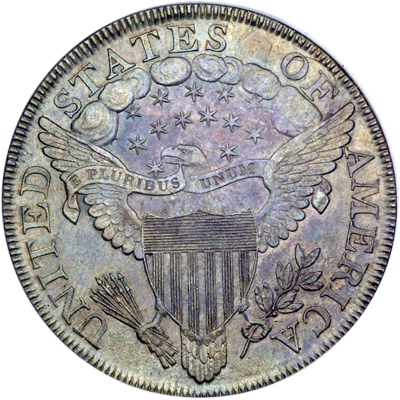 Lot 2348

1799 Draped Bust Dollar. 9 over 8, reverse with 15 stars. NGC graded MS-63. Certainly one of the finest examples of this popular overdate obverse which combines with the delightful corrected error reverse. The surfaces display a lovely lilac and gray tone over strong mint luster, with deep blue and green tones in the fields noted when examined with a light. Fully struck by the dies, with sharp stars on the obverse, curls on Liberty and similar on the reverse, with no signs of weakness worthy of note. Faint hairlines can be seen from a long ago wiping with a cloth or similar action, and this coin is identifiable by a small tick at the lower pocket of Liberty's throat and a horizontal line through her drapery into the field by the last star. The fifteen star reverse is unique to this one reverse die, and few are known in mint state grades. NGC reports only 5 graded this high (of both the thirteen and fifteen star reverse, as this is not differentiated on this holder) with a single coin graded higher. PCGS has graded just 1 as MS-63, with 4 graded higher, all MS-64 of this variety.
How did the fifteen star reverse come about? For a brief time, the engravers at the Philadelphia Mint added a star to the obverse and/or reverse as each new state joined the Union. This continued until Tennessee joined as the sixteenth state in 1796, and many silver and gold coins display 16 stars. At this point, Mint officials decided to return to the 13 stars to represent the thirteen original colonies. By 1799 most of the dies had been discarded which showed more than 13 stars, except for a couple of accidents where too many stars were engraved. Here is one of those accidents, apparently the die engraver put 7 stars in the top row, another 6 in the second row, then added the usual two stars on either side of the eagle's head, for a total of 15 stars. The error was noticed, but what to do? An ingenious solution was found, why not cover over two of the offending stars, but how? The engraver came up with a unique solution, he expanded the first and last cloud over the first row of stars to cover over the offending stars! Thus, only 13 stars now show, but the enlarged clouds show star points sticking out from the bottoms giving away the error. Die steel was quite expensive, and each die took time to engrave, so it was better to use this die rather than discard it. Later, this fifteen star reverse die was paired with a second obverse, and more coins were struck before it was retired. Here is one of the most popular "error" reverse dies, in choice mint state condition for your consideration.
Estimated Value $20,000-UP.


---