Sale 12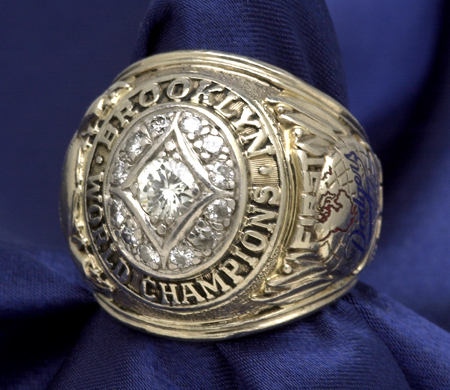 Lot 337

1955 Brooklyn Dodgers Championship Ring. The ecstasy and pandemonium that erupted in Brooklyn when Gil Hodges caught Pee Wee Reese's throw in the ninth inning of the seventh game of the 1955 World Series was likened to V-J Day and the biggest block party ever. Older fans who had waited 39 years for a Championship finally had it, and the kids who played ball while pretending they were Reese, Snider, Gilliam, Robinson, Podres or any other Dodger, got the biggest, most unforgettable gift of their young lives. The loyalty of the Bums' fans was rewarded in a big way that October 4 and we are delighted to offer one of the finest (and scarcest) mementos of that unforgettable day.

This Brooklyn Dodgers World Champions ring is decorated with diamonds and shows the gentle wear one would expect from years of being on the hand of Number 19. One shank is emblazoned with the word "FIRST 1955" and the other bears a facsimile signature "Junior Gilliam" and the distinctive "B" logo of the Dodgers. The size and substantial weight of this beautiful ring emphasizes the mythical quality of the 1955 Dodgers' win -- the only Championship they won in Brooklyn -- and is an outstanding piece for the fan or collector.
Estimated Value $20,000-UP.
From the Estate of James "Junior" Gilliam.


---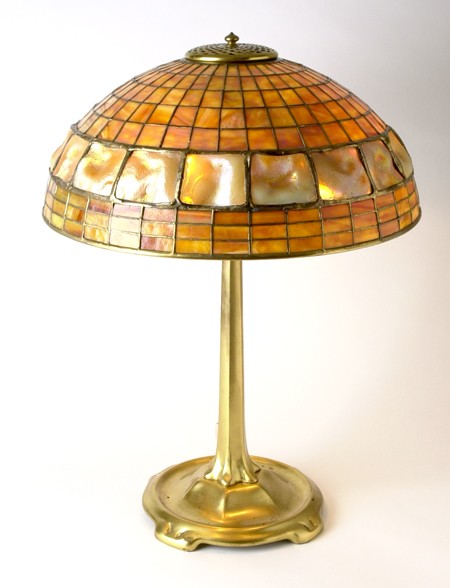 Lot 821

Tiffany Turtleback Tile Lamp. 21" high, 15.5" diameter. Beautiful golden and amber glass shade accented by elegant gold base. Shade marked "Tiffany Studios, New York 1434", base marked "Tiffany Studios New York 533". The base may be of later manufacture. Lightbulb sockets marked with November 26, 1907 patent. Minor finish wear on base, otherwise excellent condition.

"Turtleback" glass tiles were an innovation of the Tiffany Studios in which the iridescence characteristic of Favrile glass was combined with very organic, uneven surfaces to distinctive effect. When illuminated, turtleback glass appears to be lit from within and casts a subtle opalescent glow. The lamp offered here presents an outstanding example of Tiffany Studios' use of turtleback glass -- the soft, golden tones of the regular glass tiles, together with the striking golds and creams of the turtleback tiles, create a warm, uniquely inviting incandescence.
Estimated Value $12,500-UP.


---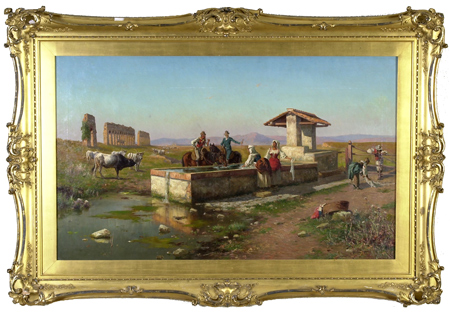 Lot 759

Barncci Roma (?) (Italian, 19th century). At the Well. Signed l/r: Barncci Roma (?). Oil on canvas. 43½ x 26". Framed in an elaborate gilt frame for an overall size of 54½ x 37½". In good to very good condition overall.

Italy, the dream destination for 19th century artists of every caliber, inspired paintings of every type. As Italy was also one of the stops on a Grand Tour, there were plenty of European and American tourists and collectors interested in buying the work offered there -- art and commerce working in concert. This wonderful rustic scene would have appealed to many a visitor, as it captures an idealized countryside with graceful ruins in the background, and industrious but lively peasants.

Comprehensive condition reports available upon request.
Estimated Value $5,000 - 7,000.


---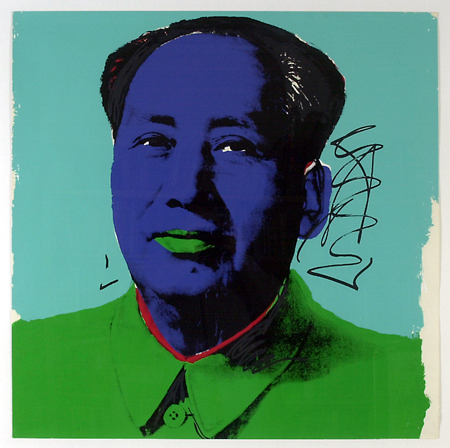 Lot 791

Warhol, Andy (American, 1928-1987). Mao #99. Signed verso: Andy Warhol; and numbered verso: 169/250. Acrylic and silkscreen on white paper. 36 x 36". Framed to an overall size of 44 x 44". In fine to very fine condition overall.
Note: Copyright 1972, printed by Styria Studio.
Comprehensive condition report available upon request.

(1928-1987) American artist and filmmaker, an initiator and leading exponent of the Pop art movement of the 1960s. Through calculated self-promotion, he projected the image of the artist as a celebrity, astute businessman, and social climber.

In 1965 Andy Warhol announced his retirement. Though he did continue to work sporadically, his announcement was most certainly premature. And in 1972 Andy Warhol chose to return to painting by presenting a monumental, or, iconic portrait: that of Mao Tse Tung.

While shocking as it might have been to immortalize such a controversial political figure, Warhol had well established a factory of art based on producing unconventional imagery, or rather, imagery that was so conventional it almost seemed void of artistic notice. While it is entirely possible that Warhol could have been commenting on the decadent lifestyle of the West, of which he had clearly partaken, it is more likely that he chose this image for more simplistic reasons.

First, Warhol himself is oft quoted flatly denying any deep meaning to his choices, stating: "If you want to know all about Andy Warhol, just look at the surface of my paintings and me, and there I am. There's nothing behind it." (italics added). In fact, from soup cans to car crashes, the artist had long favored using the "found object" in his artwork rather than dreaming up his own unique compositions, even to the point of asking others to suggest subjects to portray. He likewise preferred to take the practice one step further, by reproducing objects from images in photographs, effectively removing himself from the actual creation of an image; which is the case here. Warhol's inspiration derived from an official government portrait.
Most importantly though, is the fact that Warhol had already announced his retirement. After his noteworthy career of exploring printmaking, this monumental painting heralds Warhol's return to art, and it does so by presenting a strong image of power to announce, or equal even, this reemergence back into the artworld. The artist is not making a political statement, he's making a personal statement.

While Warhol did utilize the familiar printmaking format for this series, the post-retirement Mao's are marked by a new style, of freer brushwork. In contrast to the factory-produced images of his earlier career, Warhol added his own hand-painted strokes over the screened image, and this was an impressive change to his portraits. Warhol was returning to artwork, rather than just printmaking.
Estimated Value $4,000-UP.


---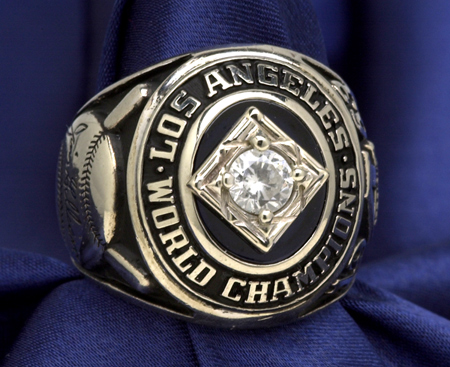 Lot 339

1963 Dodgers World Championship Ring. Commemorating the Dodger's amazing four game sweep of the Yankees, one of the biggest baseball surprises of the 1960s.
With Whitey Ford leading the Yankees and Sandy Koufax starting for the Dodgers, fans and players alike knew they were in for a spectacular pitching battle, however no one expected the Dodgers to beat the American League-dominating Bronx Bombers in four straight games. Whitey Ford pitched two good games, but inability of the Yankees' vaunted hitters (including Mickey Mantle) to put numbers on the board in the face of a hot Dodger pitching staff (Koufax, Don Drysdale and Johnny Poudres) left the door open for Los Angeles' surprise sweep. The Series scores recorded on the side of the ring; 5--2, 4--1, 1--0 and 2--1, are a true indicator of the Dodger's pitching dominance. The Dodgers' bullpen helped out their pitchers by coming up with the plays to keep them in the game and Jim Gilliam's contributions included the only score in Game Three and the go-ahead score in Game Four.

The diamond in this ring has been replaced with a synthetic stone and there is a tiny ding at the bottom front, but the ring is in otherwise fine condition.
Estimated Value $2,500 - 3,500.
From the Estate of James "Junior" Gilliam.


---
Lot 761

Cooper, Abraham (British, 1787-1868). Mr. Stillwell on his Hunter. Oil on canvas. 36 x 28". Framed to an overall size of 39 x 31". In very good condition overall.

Provenance: W. Russell Button Gallery of Chicago, Illinois.

A similar painting by this artist appeared in Christie's June 5, 1987 auction of British and American Sporting Paintings. Cooper's equestrian portraits are outstanding examples of the genre and quite sought after.

Comprehensive condition reports available upon request.
Estimated Value $10,000-UP.


---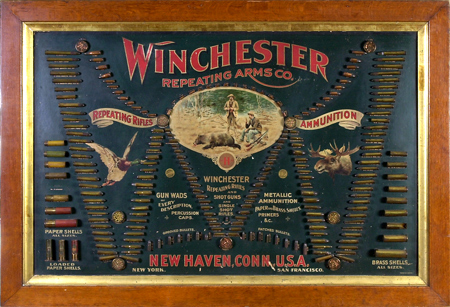 Lot 753

Winchester Repeating Arms Co. Display. Outstanding example of Winchester advertising. 57½ x 39¾" painted board with wooden frame. Dark green field with various outdoor motifs -- a moose, a mallard and a bear hunting scene. "Winchester Repeating Arms Co. / New Haven, Conn / New York San Francisco" painted in red, along with various trademark symbols. Winchester ammunition, grouped according to type, forms a "W" and decorative accents. A water spot at the top overlays, but does not obscure, the "W" in Winchester, various minor spots and abrasion throughout, two missing pieces of ammunition (the No. 12 Leader shell and the 32 Short bullet), a handful of other pieces of ammunition are missing their tips and one shotgun shell is broken. Overall, very good condition.
Estimated Value $1,000 - 1,500.
Please note the size and weight of this piece mean shipping costs will be quite high.


---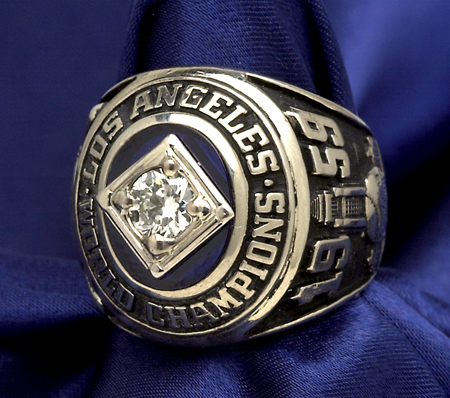 Lot 338

1959 Dodger World Championship Ring. After a disastrous 1958 season crushed the hopes of Los Angeles fans eager for a seamless transition for the boys from Brooklyn, the Dodger's victory over Milwaukee in the 1959 division championship bolstered hopes for Series success. In the first World Series played west of St. Louis, the games in Los Angeles set baseball attendance records, with the cavernous Coliseum hosting well over 92,000 people for each game. The Dodgers made up for 1958's disappointment with an exciting World Series, taking the series to six games before beating the White Sox in Chicago 9-3.
This ring, from the Dodger's second championship ever, has a picture of Los Angeles City Hall on one shank, bats and a baseball with Jim Gilliam's facsimile signature on the other and a diamond mounted on the face. There is minor wear on the shanks, but not very much (keep in mind, "Junior" Gilliam only had to wear this ring three years before the Dodgers won another one!), this piece is in very good to fine condition.
Estimated Value $2,500 - 3,500.
From the Estate of James "Junior" Gilliam.


---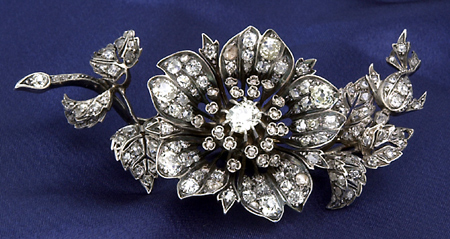 Lot 892

Antique Diamond Silver-Topped Yellow Gold Brooch. A post Civil War era diamond brooch designed as an entremblant flower, enhanced by 62 mine and approximately 83 rose-cut diamonds, weighing a total of approximately 8.25 cts., set in silver-topped yellow gold. Note: 2 diamonds missing, some minor evidence of repair. A most unusual piece of jewelry that should stir considerable bidder interest. A stunning collector's piece.
Estimated Value $6,000 - 8,000.


---
Lot 863

A Rare and Fantastic Set of Steel Dies for the Making of Apostle Spoons. United States, c. 1916. We are very pleased to offer this complete set of dies that were made up for the most famous and oldest of collectible spoons, the Apostle Spoons. Each Apostle forms a set comprised of a "trimmer" die and punch, plus the front and back dies, artfully engraved, which impart the modeled image to the spoon's handle. Each Apostle is depicted as a bearded male (except for one), with varying hair styles and degrees of baldness (or lack of), and in long robes. The figures stand on elaborate bases. Each has a specific attribute he carries, along with a book of Gospels. Sets can vary depending on which of 15 or so individuals, that made up the Apostles, are included. In this group, the following are seen: Die 151; St. Peter, with a key. Die 152; St. Paul, holding a sword. Die 153; St. James the Major holding a pilgrim's staff. Die 154; St. Simon with a saw. Die 155; St. Philip with a long staff surmounted with a ball; the staff should be topped by a cross, so presumably the sphere should represent a globus cruciger finial. Die 156; St. Andrew holding a cross. Die 157; St. Matthew holding an axe (a less frequent attribute). Die 158; St. Thaddeus, or Jude, holding a halberd. Die 159; St. John clasping a chalice. Die 160; St. Bartholomew with a butcher's knife. Die 161; St. Thomas with a set-square. Lastly, Die 162; St. James the Minor, with a club. The reverse dies have the word "STERLING" on it, and below, the maker's mark of a crossed pick and shovel, plus M, B. This emblem was used by Joseph Mayer & Brothers, who worked in Seattle, Washington around the turn of the century, and manufactured sterling flatware and souvenir spoons. The renderings of the Apostles are of very high quality, indicating that there was a costly investment in producing the dies. As already indicated, each Apostle consists of 4 pieces. In addition, there is a "blanker" punch and cutting die for 154, that of St. Simon, plus a jig, or template, apparently for setting the depth of the punches.The material is very well preserved, and should one desire so, most of what is essential to restart production is here in this lot. Lot consists of a total of 51 pieces. Collectors or manufacturers, this offering is too good to pass up! The estimate for this set of dies is a fraction of what the costs would be today -- for the die fabricating, engineering, and set ups for production, initial costs for such quality works of art could easily reach or exceed $60,000 to $75,000!
Estimated Value $7,500-UP.
Apostle spoons, in modern terms, are one of the oldest form of collector silver spoons available. The finial is designed in the shape of one of the 12 Apostles, although the specific details and attributes of each apostle often varies from culture to culture, or period and location. A full set of Apostle spoons will consist of twelve or thirteen spoons, usually silver, with a small figure of one of the twelve Apostles at the end of each stem -- if a set of thirteen, Jesus also is then included (the Master spoon). The Apostles are distinguished from each other by their respective emblems or attributes -- usually the instrument of their death. Some Apostle spoons have been dated to the 1500's but these are exceedingly rare. Generally, they begin to appear with any frequency from the 17th century on.
Researching the history of these spoons, it seems they were most frequently gifted individually, rather than as complete sets (such a gift being reserved only for the wealthy). The bestowal of such a spoon was a generous gift indeed, as the majority of spoons at this time were made of wood, or at best, pewter. Since they were luxury items at all times, affluent relations or grandparents would typically buy one spoon representing a baby's "Apostle" and it would be presented to the child at its Christening. This spoon would be used only by that person and it would be kept for life. Thus we see that most of the old Apostle spoons show considerable wear both at the finial, and at the bowl. It is thought that the phrase "to be born with a silver spoon" comes from this tradition.
As mentioned, were manufacturers of quality silver flatware, clocks, and other decorative items in the Seattle area. The dies were produced by Joseph Mayers & Bros. around 1916. E.J. Towle Co. produced and marketed the spoons. After both companies eventually ceased and were sold, one of the Mayers son's requested the return of the dies and they remained in the family's possesion until 1994, where they were disbursed in the family estate sale. The above pieces are all that remain of the total production pieces. Apparently the dies and forms for stamping out the bowls no longer exist.


---